Main content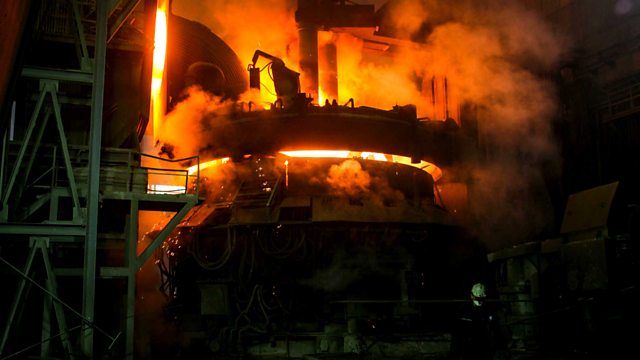 Scunthorpe's steel chaplain; Synod on the family; Henry V and God at Agincourt
Where now for the Catholic Church after the Synod on the family? Was God on Henry V's side at Agincourt? Plus an industrial chaplain on job losses in the steel town of Scunthorpe.
When TATA Steel announced the loss of 900 jobs at their plant in Scunthorpe, one of the first people on site was industrial chaplain Peter Vickers. Bob Walker spent the day with him to hear how he is galvanising support for those affected.
Scandals in the NHS, Parliament and religious groups have undermined the public's trust in these institutions. On Monday, Lord Blair chairs a discussion with the Archbishop of Canterbury and Chief Rabbi about the challenges religious leaders face. Lord Blair tells William Crawley why he believes organisations have lost the confidence of the public and what they need to do.
The battle took place in 1415 near modern-day Agincourt in northern France. King Henry V was victorious. Juliet Barker author of Agincourt: Henry V and the Battle That Made England, tells us about the faith driven king
A recent report claims the majority of British Jews will be from the ultra-orthodox community by the end of the century. Rosie Dawson visits one of the largest communities in Manchester to explore the changes this could bring.
It's been 3 weeks of 'Cardinals clashing' and our reporter Helen Grady has been in Rome observing Church politics during the Synod on the Family. Father Alexander Lucie-Smith and commentator John Thavis debate the direction they think the Church will head after this Synod.
A 400 year old Bible that encourages adultery will go on sale next month. The typo caused a scandal when the mistake was discover in 1631 and led to the downfall of the printers. Professor Gordon Campbell looks at this and other unholy printing errors.
Producers:
David Cook
Rosie Dawson
Editor:
Amanda Hancox.
Chapters
Bishop Rachel Treweek

First female bishop to sit in the house of lords

Duration: 04:38

Family Synod

Reporter Helen Grady has been amongst the bishops for the three week Synod

Duration: 03:26

Trust in Religious Leadership

William speaks to Lord Blair on public trust in big institutions

Duration: 03:50

Orthodox Jews

A growth in Jews from the strictly orthodox community

Duration: 06:24

Bible Typo

400 year-old Bible with one of the most famous printing errors in history is going on sale

Duration: 04:02

Agincourt

William speaks to the author of Agincourt: Henry V and the Battle That Made England

Duration: 04:49

End of the Synod

What will change in the Catholic Church as a consequence of the Synod?

Duration: 07:45

Steel

How will local churches help those affected by job losses

Duration: 07:04