Main content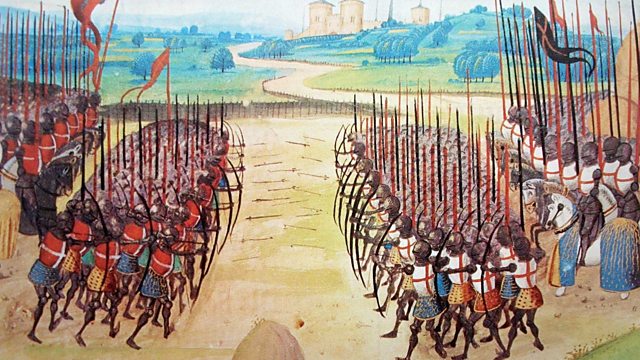 This Story Shall the Good Man Teach His Son - Agincourt, England and France
Marking over 600 years since the Battle of Agincourt, Adam Thorpe on what happened, what it means in Britain and France, and responses to it in literature, music, theatre and film.
"This story shall the good man teach his son," says Shakespeare's Henry V before the Battle of Agincourt. The tale of how Henry's bedraggled low-born archers, the 'happy few', overcame the French nobility and their huge army, has been spun down the ages ever since.
Novelist Adam Thorpe was born and lives in France, but his work, in books such 'On Silbury Hill', is rooted in England. In a programme first broadcast exactly 600 years after that fateful St Crispin's Day, Thorpe visits Azincourt, with Anne Curry, the leading authority on the battle, to find out what really happened. Christophe Gilliot, the director of the Museum there, gives a surprising assessment of Henry.
The actor Robert Hardy, an authority on the longbow, explains the crucial impact of this weapon. Gregory Doran, director of the Royal Shakespeare Company and its production of Shakespeare's Henry V, reveals how the British attitude to the battle is conditioned by the play, and how it is bent to the concerns of the day: Laurence Olivier's film morale boosting during the Second World War; Kenneth Branagh's, after the Falklands War, striking a different tone.
The battle is crucial to British identity, so Thorpe finds out how it is regarded in France with historians Stephen Cooper and Bertrand Schnerb, who trace the literary responses to it. David Owen Norris shows how composers have responded, almost always incorporating the Agincourt Carol, written at the time, into their music - even today.
Thorpe follows, too, the connection between French men-at-arms charging into the arrow storm and the English at the Battle of the Somme, during which his great-uncle was killed, marching, through the same mud, into machine-gun fire.
Producer: Julian May
First broadcast on October 25th, 2015.