Main content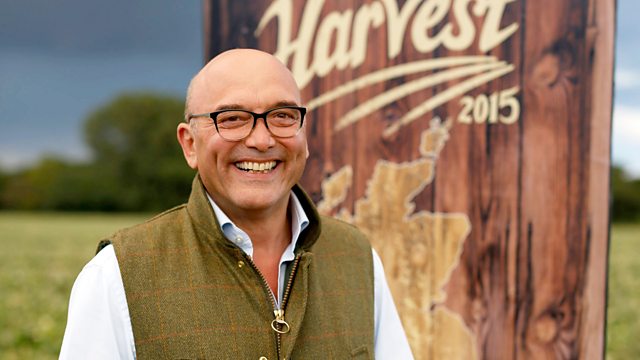 Gregg Wallace, Philippa Forester and James Manning witness the harvest unfold. The Hay family in Scotland await a dry spell to roll out their combine harvesters.
Harvest returns for a second series to celebrate British farming, and follow the fortunes of some of our top farmers as they battle to bring in the 2015 harvest. Gregg Wallace, Philippa Forrester and newcomer James Manning cross the country visiting farms that produce world class crops and meeting innovative and pioneering farmers. We'll witness the harvest as it happens up and down the country. Each episode will focus on three different locations in the UK - North, East and West. The team will follow this critical time of year as the nation's farmers find out whether all their hard work has resulted in a successful yield, and show the impact that Britain's harvest can have on the food industry and everyday consumers.
In this episode, the team report from the north of the UK, where the Hay family in Perthshire, Scotland, are anxiously awaiting a dry spell to roll out their combine harvesters. Having recently pulled their last ever potato harvest, the Hays have now switched to cereals, in particular oats, the rising star of British grains. The climate and landscape can make this region notoriously difficult to farm, yet well-watered soil and long daylight hours also help make world-class produce. Gregg visits fruit grower Ross Mitchell, who is taking advantage of Scotland's long summer days to produce world-class blueberries. Philippa meets Robert Doig, a seed potato grower, and learns why Scotland's seed potatoes sell all over the globe. And James Manning visits Robert Craig, a Cumbrian dairy farmer who believes that meticulous attention to the growth of his rye grass can yield premium quality milk.
Clips

Credits
| Role | Contributor |
| --- | --- |
| Presenter | Gregg Wallace |
| Presenter | Philippa Forrester |
| Presenter | James Manning |
| Executive Producer | Tim Martin |
| Series Producer | Lucy Bowden |