Main content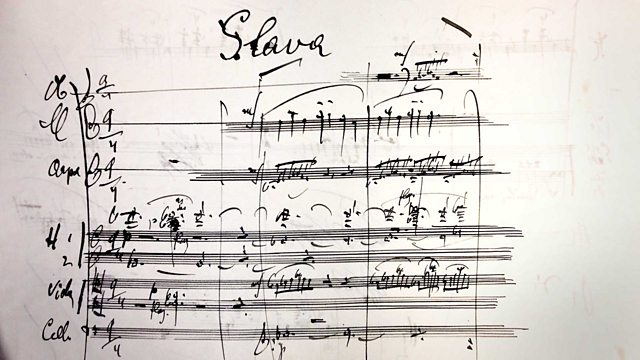 Janacek - Glagolitic Mass
Frances Fyfield is in Brno to see the wild manuscript fragments that form Leos Janacek's spectacular Glagolitic Mass.
Leos Janacek wasn't an obvious candidate for a setting of the Mass, but the suggestion from Archbishop Precan and his own profound sense of Czech Nationalism was enough to inspire him. In 1926, during a damp holiday at the Czech spa town of Luhacovice, he began work on his famous Glagolitic Mass. There was also inspiration in the form of his muse, Kamila Stösslová. Hundreds of letters to Kamila tell of his infatuation with her. The truth is that both she, and her husband, were somewhat bewildered by the attention of this relatively elderly man. However, he insisted to her that the Mass might be heard as an imagined wedding celebration. If that was purely a figment of his imagination it matters little. The piece is a dazzling dramatisation of the mass ordinarium with spell-binding music.
In this programme Frances Fyfield is joined by Janacek specialists Nigel Simeone along with Jan Spacek from the Janacek museum and archive and members of the Philharmonic choir of Brno, Hana Skarkova and Tomas Suchomel. The score they examine is fragmentary. Leaves of A4 sized paper scribbled out by the composer in a way that few could make head nor tail of. It was left to his copyists to piece together this astonishing material.
Producer: Tom Alban.
Last on