Main content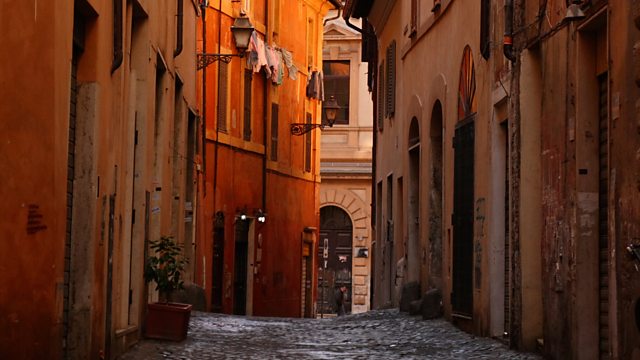 A Nazi officer arrives at the farmhouse where Chiara is hiding a Jewish boy, Daniele. Stars Juliet Aubrey and Greta Scacchi.
Italy 1943. A Nazi officer officer arrives at the remote farmhouse where Chiara is hiding her young Jewish charge, Daniele.
Thirty years later, in 1973, Chiara has lost touch with her troubled, junkie adoptive son, but she must now decide how to deal with the young Welsh teenager who keep phoning her and who claims to be Daniele's daughter.
Greta Scacchi, Juliet Aubrey and Sophie Melville star in Virginia Baily's powerful novel of love, loss and learning to be a mother.
Narrator.....Greta Scacchi
Chiara.....Juliet Aubrey
Maria.....Sophie Melville
Cecilia.....Alex Tregear
Daniele.....Adam Thomas Wright
Gennaro/ Adult Daniele.....Cesare Taurasi
Simone/ Nonna.....Jessica Turner
Antonio.....David Hounslow
Gabriele.....David Acton
Tommaso/ Nazi officer/ Brian.....Felix Auer
Edna.....Amelia Lowdell
Barry/ Goffredo.....Chris Pavlo
Gianni.....Sam Dale
Dramatised by Miranda Emmerson.
Director: Emma Harding
First broadcast on BBC Radio 4 in October 2015.
Credits
| Role | Contributor |
| --- | --- |
| Narrator | Greta Scacchi |
| Chiara | Juliet Aubrey |
| Maria | Sophie Melville |
| Cecilia | Alex Tregear |
| Daniele | Adam Thomas Wright |
| Gennaro | Cesare Taurasi |
| Adult Daniele | Cesare Taurasi |
| Simone | Jessica Turner |
| Nonna | Jessica Turner |
| Antonio | David Hounslow |
| Gabriele | David Acton |
| Tommaso | Felix Auer |
| Nazi Officer | Felix Auer |
| Brian | Felix Auer |
| Edna | Amelia Lowdell |
| Barry | Chris Pavlo |
| Goffredo | Chris Pavlo |
| Gianni | Sam Dale |
| Author | Virginia Baily |
| Adaptor | Miranda Emmerson |
| Director | Emma Harding |