Main content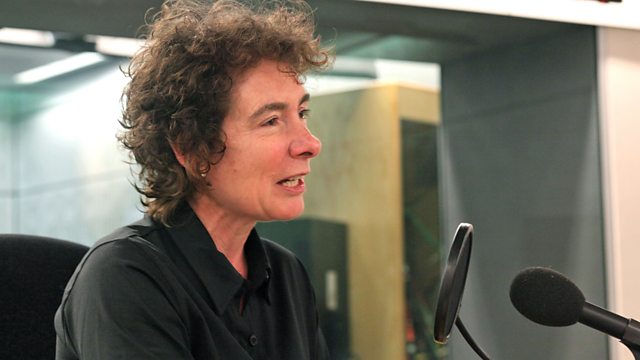 Wednesday - Sarah Walker with Jeanette Winterson
With Sarah Walker. Including Five Reasons to Love Purcell Ground Bass; Schoenberg: Chamber Symphony No 1; Artist of the Week: Ensemble Wien-Berlin in Spohr's Nonet.
9am
A selection of music including '5 reasons to love... Purcell ground bass'. Throughout the week Sarah shares some favourite examples of Purcell ground bass, highlighting their hypnotic nature, innate expressivity and imaginative harmonies in works including Dido and Aeneas, Ode for St Cecilia's Day and Come Ye Sons of Art.
9.30am
Take part in today's musical challenge: two pieces of music are played together. Can you work out what they are?
10am
Sarah's guest this week is the writer Jeanette Winterson, whose semi-autobiographical 'Oranges Are Not The Only Fruit' won the Whitbread Award for a first novel in 1985. Since then her writing has been praised for its startling originality in books about humanoid robots, witches, time travel, quantum physics, and above all the search for love. Her latest book is the first in a series of 'covers' of Shakespeare plays - a modern take on The Winter's Tale. Jeanette will be sharing a selection of her favourite classical music, including works by Handel, Gluck, Adams and Barber, every day at 10am.
10.30am
Sarah places Music in Time. The focus is on a Modern work, the first Chamber Symphony by Schoenberg, whose sparse forces and new approach to harmony shocked its first audience in Vienna.
11am
Sarah's Artists of the Week are the Ensemble Wien-Berlin. This esteemed wind quintet was formed in 1983 when five musicians, mostly principal players with the Vienna and Berlin Philharmonic orchestras, decided to join forces. The group has since built up an international reputation, performing at some of the most prestigious venues in the world and collaborating with string players and pianists to widen their repertoire. Throughout the week Sarah showcases some favourites from their catalogue of recordings, with works by composers including Mozart, Spohr and Debussy.
Spohr
Nonet Op.31
Ensemble Wien-Berlin.
Music Played
5 Reasons to Love... Purcell Ground Basses

Jeanette Winterson's Choice No. 1

Jeanette Winterson's Choice No. 2

Jeanette Winterson's Choice No. 3

Artist of the Week: Ensemble Wien-Berlin