Main content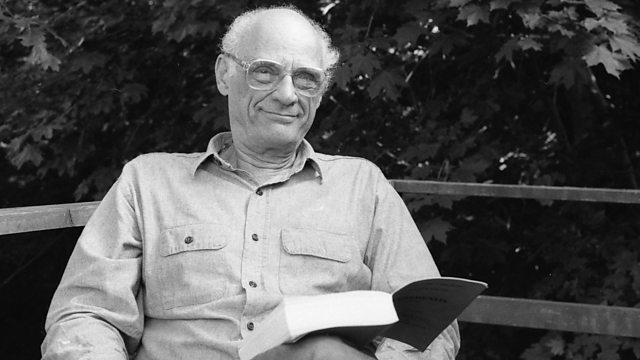 Attention Must Be Paid - Arthur Miller's Centenary
Arthur Miller wrote Death of a Salesman and The Crucible, and married Marilyn Monroe. Using archive recordings of the great playwright, Christopher Bigsby traces his life and work.
"Attention must be paid to such a person," says Linda of Willy Loman in Arthur Miller's 'Death of a Salesman' . Miller himself spent his long life paying close attention to the society and times in lived in. He scrutinised the American Dream in 'Salesman', in 'The Crucible' revealed its hysteria and in 'All My Sons' its corruption.
One hundred years, to the day, after the birth of Arthur Miller his biographer, Christopher Bigsby, mines the BBC's and his own archives, tracing the life and work of this towering American figure.
When Miller turned 80 Bigsby, with the radio producer Julian May, spent a weekend at Miller's Connecticut home and, on the porch with the birds singing, recorded him recalling his life. Miller talks about his early days as the son of an illiterate Polish immigrant in Harlem, surviving the Depression and his initial struggles as a writer. He remembers his first sight of Marilyn Monroe and his hearing before the Un-American Activities Committee which informed 'The Crucible'.
As well as these monumental events this programme includes his insights into lesser known aspects of his life. How his earliest performed dramas were written for radio in the 1940s, for stars such as Orson Welles, recordings of which Bigsby found. There is, too, the story of how be became a music collector, and how he was a carpenter.
There are contributions from Dustin Hoffman, Warren Mitchell and Brian Dennehy, who all played Willy Loman, and Ying Ruocheng, who played the role in Beijing. Henry Goodman speaks about working on his late play, 'Broken Glass'. We hear from Harold Pinter, Nicholas Hytner and John Malkovich. And there is previously unbroadcast material from Miller's brother and sister, and his wife, the photographer, Inge Morath.
Last on

Broadcast