Main content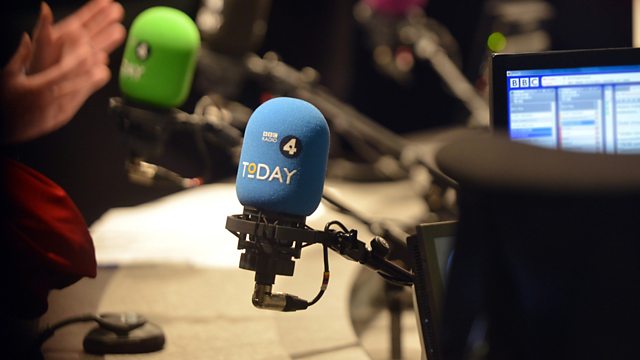 17/10/2015
Morning news and current affairs. Including Yesterday in Parliament, Sports Desk, Weather and Thought for the Day.
Last on
Saturday 17th October
0710
Later today, thousands of doctors will protest in London, Nottingham and Belfast against planned government changes to junior doctors' contracts. This morning, Jeremy Hunt says doctors are being misled by the BMA as to how they will be impacted by the proposed contract changes.
0713
Hungary has closed its border with Croatia to what it called "illegal migrants", saying it was acting to protect the citizens of Europe. Croatia is now sending migrants to its border with Slovenia - which has suspended rail links with its neighbour.
0728
Jeremy Corbyn has accepted a position as vice-president of CND. He had previously been the vice-chairman but stepped down when he was elected Labour leader. It's likely to deepen divisions in the party over its stance on Trident.
0723
Doctors who want to use untested medical treatments could be given greater legal protection under plans debated yesterday in Parliament. A controversial private member's bill, which is opposed by most of the medical establishment, cleared its first hurdle in the Commons - but faced fierce criticism.
0725
Conservatives who oppose, for example, the relaxation of the Catholic rules for couples who remarry after divorce have gone public with their disquiet; others are hoping for an important shift in attitudes from the synod which is seen as perhaps the most significant meeting by the leaders of the church since the Second Vatican Council fifty years ago.
Catherine Pepinster is Editor of The Tablet.
0730
On Friday the news emerged that next week Tata Steel will announce 1,200 UK job cuts, mostly in Scunthorpe. On Friday the SNP raised the prospect of taking the ailing plants into temporary public ownership.
Nic Dakin is Labour MP for Scunthorpe.
Vince Cable is former Business Secretary.
0740
The international boom in fracked oil has put pressure on Saudi Arabia's dominance of the oil market.
Roula Khalaf is the Foreign Editor for Financial Times.
Zaid Belbagi is from the Oxford Gulf and Arabian Peninsula Studies Forum.<?xml:namespace prefix = o ns = "urn:schemas-microsoft-com:office:office" />
0750
A significant decision this week in the Court of Appeal may make clearer as to how much weight a court should give to the views of children when their parent separate. This comes after a case involving 4 children: the oldest is now 13, the youngest 9.
Anne-Marie Hutchison is specialist international lawyer who represented the children in this case.
0810
Further analysis of BMA (See 0710)
Dr Dagan Lonsdale is specialist registrar working in intensive care medicine.
Jeremy Hunt is Health Secretary.
0820
The American screen writer Aaron Sorkin returns to Silicon Valley for his latest release - a biopic tackling the life of the Apple founder Steve Jobs, who is played by Michael Fassbender. 
Aaron Sorkin is Oscar-winning screen-writer.
0835
Further analysis of Saudi Arabia in the oil market (See 0740)
Sheikh Ahmed Zaki Yamani is Saudi Arabia's oil minister.
0845
The shooting of a seven-year-old boy and his mother in Salford this week focused attention on violence in parts of the city and its causes. Some have put this down to a turf war over drugs - others say this is down to a struggle for power among crime families. 
Tony Lloyd is Greater Manchester Police and Crime Commissioner and interim Mayor of Greater Manchester.
0850
England Captain Alistair Cook batted for 836 minutes this week in the first test against Pakistan in Abu Dhabi and as a result became the Englishman with the longest single Test innings in history and the longest ever by an Englishman. He is being praised for his 'masterpiece of patience.'
Geoffrey Boycott is former Yorkshire and England Cricketer.
Simon Barnes is Writer on Sport and Wildlife.
All timings subject to change. 
Broadcast