Main content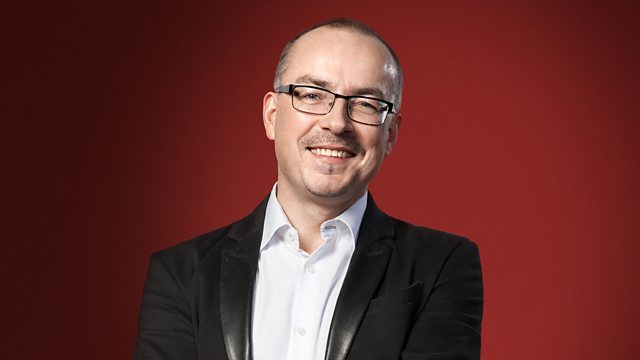 17/10/2015
Andrew McGregor and guests review Rebecca Clarke's Viola Sonata and Sir David Willcocks - The Complete Argo Recordings, featuring the Choir of King's College, Cambridge.
with Andrew McGregor
0930 Building a Library
Helen Wallace compares available versions of Rebecca Clarke's Viola Sonata and makes a personal recommendation. The Viola Sonata was written in 1918 and 1919, Clarke started it in Honolulu and finished it in Detroit. She submitted it to the international competition for chamber music run by Elizabeth Sprague Coolidge at her 1919 Berkshire Chamber Music Festival. 73 scores were submitted and two scores for viola and piano tied-Bloch's Suite and Clarke's Sonata. The prize went to Bloch on Coolidge's casting vote.
1030
Andrew talks to Jeremy Summerly about the release of a 29 disc set featuring The Choir of King's College, Cambridge, and celebrating the late Sir David Willcocks's tenure as Director of Music from 1957-1973. Six of these albums will be released on CD for the first time. Included in the set, titled The Complete Argo Recordings, are many of the choral greats: Bach's St John Passion, Tallis's Spem in Alium, Haydn's Nelson Mass, Allegri's Miserere - all recorded in the gorgeous acoustic of King's College Chapel.
1145
Andrew chooses an outstanding recording for his Disc of the Week.
9.00am
MOZART: Die Entfuhrung aus dem Serail, K384
Mari Eriksmoen (Blondchen), Robin Johannsen (Konstanze), Maximilian Schmitt (Belmonte), Julian Pregardien (Pedrillo), Dimitry Ivashchenko (Osmin), Cornelius Obonya (Bassa Selim), RIAS Kammerchor, Akademie fur Alte Musik Berlin, Rene Jacobs (conductor)
HARMONIA MUNDI HMC902214/15 (2CD)
Brahms: Symphony No. 4
BRAHMS: Symphony No. 4 in E minor Op. 98; Hungarian Dance No. 3 in F major; Hungarian Dance No. 7; Hungarian Dance No. 11
Istvan Kadar (violin), Andras Szabo (viola), Attila Martos (bass), Budapest Festival Orchestra, Ivan Fischer (conductor)
CHANNEL CCSSA35315 (Hybrid SACD)
Berg, Schoenberg & Webern: Chamber Music
BERG: Lyric Suite - for string quartet (1926)
SCHOENBERG: Verklarte Nacht Op. 4
WEBERN: Langsamer Satz, (slow movement) Op. post. (1905); Five movements for String Quartet Op. 5 (1909)
Belcea Quartet, Nicolas Bone (violin), Antonio Meneses (cello)
ALPHA ALPHA209 (CD)
9.30am Building a Library
Helen Wallace compares recordings of Rebecca Clarke's Sonata for Viola and Piano and makes a personal recommendation.
Top recommendation:
Zimmermann & Gerstein: Sonatas for Viola & Piano Vol. 1
BRAHMS: Viola Sonata No. 2 in E flat major Op. 120 No. 2
CLARKE, REBECCA: Viola Sonata
VIEUXTEMPS: Viola Sonata in B flat Op. 36
Tabea Zimmermann (viola), Kirill Gerstein (piano)
MYRIOS MYR004 (CD)
10.15am Contemporary Newcomers
Andrew considers several new releases of new music.
Sounds & Clouds: Works by Hosokawa & Vivaldi
HOSOKAWA: Singing Garden in Venice
VIVALDI: Concerto in G major, RV101; Flute Concerto Op. 10 No. 1 in F major, RV 433 'La tempesta di mare'; Flute Concerto Op. 10 No. 2 in G minor, RV 439 'La notte'; Flute Concerto Op. 10 No. 3 in D major, RV 428 'Il gardellino'
Jeremias Schwarzer (recorder), Holland Baroque
CHANNEL CCSSA37615 (Hybrid SACD)
Triptych
HENDERICKX: Nada Brahma; On the Road; Atlantic Wall
Hendrickje Van Kerckhove (soprano), Karin De Fleyt (bass flute), Mireille Capelle (mezzo), Jorrit Tamminga (electronics), HERMESensemble, Wim Henderickx (conductor)
HERMESensemble HMES002 (CD)
Sally Beamish: The Singing
BEAMISH: Concerto for accordion and orchestra 'The Singing'; A Cage of Doves; Under the Wing of the Rock; Reckless for chamber orchestra; Trumpet Concerto
James Crabb (accordion), Branford Marsalis (alto saxophone), Hakan Hardenberger (trumpet), National Youth Orchestra of Scotland, Royal Scottish National Orchestra, Martyn Brabbins (conductor)
BIS BIS2156 (Hybrid SACD)
Eddie McGuire: Entangled Fortunes
MCGUIRE, E: Elegy; Euphoria; String Trio; Entangled Fortunes; Quintet 2
Red Note Ensemble
DELPHIAN DCD34157 (CD)
PENDERECKI: A Sea of Dreams Did Breathe on Me
Olga Pasichnyk (soprano), Ewa Marciniec (mezzo-soprano), Jaroslaw Brek (bass baritone), Warsaw Philharmonic Choir and Orchestra, Antoni Wit (conductor)
NAXOS 8573062 (CD budget)
Roger Doyle: Time Machine
DOYLE, R: Back from hospital; Back in time; Birth; Chalant; Coat-hanger kisses; Departure; It's very serious; Jonathan Prelude; Salome at the gate; Voices of Parents; Wassane
Roger Doyle
HERESY RECORDS HERESY017 (CD)
10.50am Jeremy Summerly on King's College, Cambridge and David Willcocks
Jeremy Summerly joins Andrew to discuss a new limited edition box set: the complete Argo recordings of the Choir of King's College, Cambridge under the late Sir David Willcocks.
The Choir of King's College Cambridge: The Complete Argo Recordings
BACH, J S: Motet BWV227 'Jesu, meine Freude'; St John Passion, BWV245
BYRD: Magnificat; Nunc dimittis; Ave verum Corpus; Mass for three voices; Mass for four voices; Mass for five voices
CROFT: The Burial Service
HANDEL: Coronation Anthems Nos. 1-4; Chandos Anthems Nos. 1-11; Ode for St Cecilia's Day, HWV76
HAYDN: Mass, Hob. XXII:11 in D minor 'Nelsonmesse'
PALESTRINA: Stabat mater
TALLIS: Spem in alium for eight five-part choirs '40-part Motet'; Lamentations of Jeremiah I & II
TAVERNER: Mass 'The Western Wynde'
VIVALDI: Gloria in D major, RV589
The Choir of King's College Cambridge, David Willcocks (conductor)
DECCA 4788918 (29CD budget)
11.45am Disc of the Week: Rachel Podger plays Biber's Rosary Sonatas
BIBER: The Rosary Sonatas (Mystery Sonatas)
Rachel Podger (violin), Marcin Swiatkiewicz (harpsichord/organ), Jonathan Manson (cello/viola da gamba), David Miller (theorbo/archlute)
CHANNEL CCSSA37315 (2Hybrid SACD)