Main content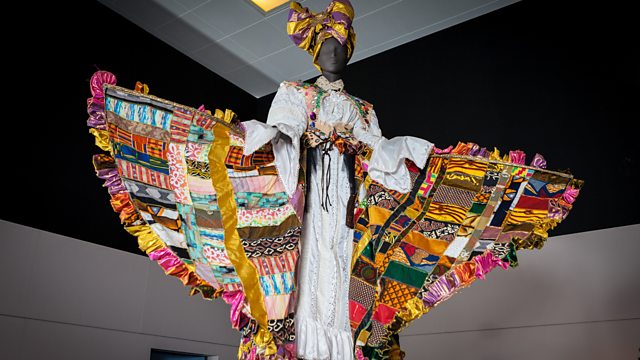 The Last Kingdom; Guillermo del Toro; West Africa: Word, Symbol, Song; haiku master Buson poems rediscovered
Kirsty Lang talks to Mexican director Guillermo del Toro about his film Crimson Peak, visits a huge exhibition of West African literature and music, and reviews a new Viking Drama.
In Front Row tonight: The Last Kingdom, the BBC's epic new drama series about the Vikings' invasion of Anglo-Saxon England. Nina Ramirez reviews.
Kirsty Lang visits a huge exhibition at the British Library of literature and music from West Africa - from the great African empires of the Middle Ages to the cultural dynamism of the region today.
The director Guillermo del Toro, who has made films in many genres - fairy tale, horror, monsters - embraces the Gothic in his latest, Crimson Peak, and tells Kirsty how, for a Mexican such as he, ghosts are an every day reality.
More than 200 poems by the great 18th century haiku author and painter Yosa Buson have just been discovered in a library near Kyoto. Stephen Gill, a poet and translator who lives nearby reports on the significance of this find.
Kirsty speaks to Robert Seethaler whose A Whole Life describes the world of a man of few words in the Austrian Alps. A slim novel, it condenses the story of Andreas Egger into the episodes that shaped his life, amid the magnificent and dangerous mountains that take the lives of those he loves. His novel is part of the Radio 4 series, Reading Europe and can be heard next week every night at 22.45pm.
Chapters
The Last Kingdom

Duration: 05:34

Guillermo del Toro

Duration: 11:36

Haiku master Buson

Duration: 03:19

West Africa: Word, Symbol, Song

Duration: 07:18

Guillermo del Toro

Crimson Peak is in cinemas now, certificate 15. 

Yosa Buson

Three of the found Yosa Buson poems, translated by Stephen Gill.

傘(からかさ)も / 化(ばけ)て目のある / 月夜哉(かな」

The torn paper umbrella / Has just become a ghoul / With moonlit eyes

我(われ)/ 焼(やき)し  野に  驚(おどろく)や / 屮(くさ)の花

Startled to find / Some flowering grasses / In this burnt sooty field

吟(とんぼ)や / 眼鏡(がんきょう)をかけて / 飛歩行 とびあるき (◎「吟」は「蛉」を指すとみられる)

The dragonfly – / It zaps about, here and there / Wearing glasses

West Africa: Word, Symbol, Song

West Africa: Word, Symbol, Song is at the British Library until  16 February 2016 .

Main image: West Africa Carnival costume designed by Ray Mahabir, photographed by Toby Keane

Right: A gold-weight in the shape of a two-headed crocodile made in Ghana and used for weighing gold dust, made c 18th – 20th century. This item is on loan from the British Museum.

Credits

| Role | Contributor |
| --- | --- |
| Presenter | Kirsty Lang |
| Interviewed Guest | Guillermo del Toro |
| Interviewed Guest | Nina Ramirez |
| Interviewed Guest | Stephen Gill |
| Interviewed Guest | Robert Seethaler |