Main content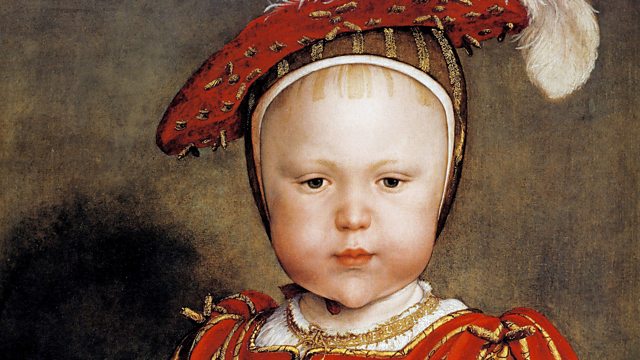 Holbein at the Tudor Court
Melvyn Bragg and guests discuss Hans Holbein's role in the Tudor Court, painting Henry VIII as he asserted himself as supreme head of the Church during the Reformation.
Melvyn Bragg and guests discuss the life and work of Hans Holbein the Younger (1497-1543) during his two extended stays in England, when he worked at the Tudor Court and became the King's painter. Holbein created some of the most significant portraits of his age, including an image of Henry VIII, looking straight at the viewer, hands on hips, that has dominated perceptions of him since. The original at Whitehall Palace was said to make visitors tremble at its majesty. Holbein was later sent to Europe to paint the women who might be Henry's fourth wife; his depiction of Anne of Cleves was enough to encourage Henry to marry her, a decision Henry quickly regretted and for which Thomas Cromwell, her supporter, was executed. His paintings still shape the way we see those in and around the Tudor Court, including Cromwell, Thomas More, the infant Prince Edward (of which there is a detail, above), The Ambassadors and, of course, Henry the Eighth himself.
With
Susan Foister
Curator of Early Netherlandish, German and British Painting at the National Gallery
John Guy
A fellow of Clare College, University of Cambridge
And
Maria Hayward
Professor of Early Modern History at the University of Southampton
Producer: Simon Tillotson.
Last on
LINKS AND FURTHER READING
Maria Hayward at the University of Southampton
Hans Holbein the Younger - National Gallery
Royal Collection – including works by Hans Holbein
Hans Holbein - Thyssen-Bornemisza Museum, Madrid
Hans Holbein the Younger - Wikipedia
READING LIST:
Sydney Anglo, Images of Tudor Kingship (Batsford Ltd, 1992)
Jane Ashelford, A Visual History of Costume: The Sixteenth Century (Drama Publishing, 1983)
Jane Ashelford, The Art of Dress: Clothes and Society 1500-1914 (National Trust, 1996)
Xanthe Brooke and David Crombie, Henry VIII Revealed: Holbein's Portrait and its Legacy (Paul Holberton Publishing, 2003)
Susan Foister, Holbein and England (Yale University Press, 2005)
Susan Foister (with Tim Batchelor), Holbein in England: exhibition catalogue (Tate Britain, 2006)
Susan Foister, Ashok Roy and Martin Wyld, Making and Meaning: Holbein's Ambassadors (National Gallery, 1997)
Philippa Glanville, Silver in Tudor and Early Stuart England (V & A Publications, 1997)
John Guy, Henry VIII: The Quest for Fame (Allen Lane, 2014)
Maria Hayward, Dress at the Court of Henry VIII (Maney Publishing, 2007)
Maria Hayward, Rich Apparel: Clothing and the Law in Henry VIII's England (Ashgate, 2009)
Maurice Howard, The Tudor Image (Tate Publishing, 1996)
David Howarth, Images of Rule: Art and Politics in the English Renaissance, 1485-1649 (University of California Press, 1997)
Ann Rosalind Jones and Peter Stallybrass, Renaissance Clothing and the Materials of Memory (Cambridge University Press, 2012)
John N. King, Tudor Royal Iconography: Literature and Art in an Age of Religious Crisis (Princeton University Press, 1989)
Christopher Lloyd and Simon Thurley, Henry VIII: Images of a Tudor King (Phaidon Press Ltd, 1990)
David Loades, The Tudor Court (Headstart History Publishing, 1992)
Diana Scarisbrick, Tudor and Jacobean Jewellery (Tate Publishing, 1996)
David Starkey (ed.), Henry VIII: A European Court in England (Collins & Brown, 1991)
David Starkey, The Reign of Henry VIII: Personalities and Politics (Vintage, 2002)
Roy Strong, Splendour at Court: Renaissance Spectacle and Illusion (Littlehampton Book Services Ltd, 1973)
Simon Thurley, Whitehall Palace: An Architectural History of the Royal Apartments, 1240-1690 (Yale University Press, 1999)
Alan Young, Tudor and Jacobean Tournaments (Sheridan House Inc, 1987)
Credits
| Role | Contributor |
| --- | --- |
| Presenter | Melvyn Bragg |
| Interviewed Guest | Susan Foister |
| Interviewed Guest | John Guy |
| Interviewed Guest | Maria Hayward |
| Producer | Simon Tillotson |
Broadcasts

Featured in...
Browse the 16th Century era within the In Our Time archive.

Popular culture, poetry, music and visual arts and the roles they play in our society.

Historical themes, events and key individuals from Akhenaten to Xenophon.