Main content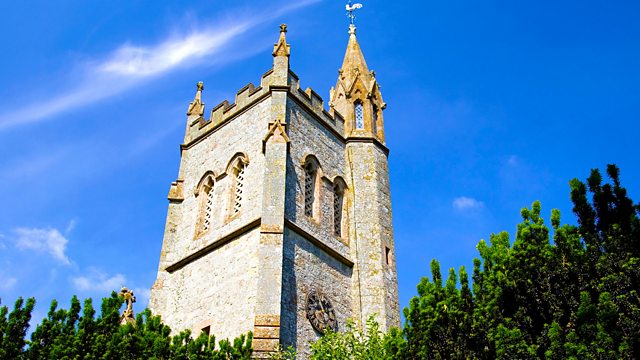 'A nurse who tried to do her duty'
One hundred years after her execution, vicar's daughter and nurse Edith Cavell is commemorated in Norwich Cathedral by the people of her native Norfolk.
Norwich Cathedral is the last resting place of Edith Cavell, where her life is commemorated each year on the Sunday nearest to the day of her death, this year, on the 100th anniversary of her execution by German firing squad in First World War Belgium. The British nurse was part of a secret underground network helping hundreds of Allied soldiers escape to safety - many of them carrying secret information gained by spying. The story of this Norfolk vicar's daughter who did her duty as a nurse, treating wounded men of both sides equally, and who faced her death with great faith and courage gained her the status of folk heroine and martyr - but she maintained that all she did was inspired by the life of Christ. In words and music, Norwich Cathedral Choir, and the people of her native Norfolk celebrate this aspect of her life.
Last on
Script
Please note:
This script cannot exactly reflect the transmission, as it was prepared before the service was broadcast. It may include editorial notes prepared by the producer, and minor spelling and other errors that were corrected before the radio broadcast.
It may contain gaps to be filled in at the time so that prayers may reflect the needs of the world, and changes may also be made at the last minute for timing reasons, or to reflect current events.
BBC RADIO 4:  It's 10 past 8 and time to go direct to Norwich Cathedral for Sunday Worship, which marks the centenary of  the death of a devout Christian woman who became famous across the globe during the First World War. She is regarded variously as a spy, heroine, and martyr… - or was she simply a nurse who tried to do her duty?

Mattie Ziegler
'... It is not enough to love one's own people.  One must love all men and hate none……tell my loved ones later on, that I believe my soul is safe, and that I am glad to die for my country.'
Peter Doll
Some of the last words of Nurse Edith Cavell, before she was executed by a German firing squad on the morning of the 12th of October, 1915. Edith was the daughter of the vicar of Swardeston, a village just to the south of  here.  Having trained as a nurse in Britain, she worked in pre-war Belgium, and chose to return to Brussels at the outbreak of war.  Using her clinic as a safe house for Allied soldiers caught behind enemy lines, she paid the price for her care of others with her own life. At the end of the war her body was brought back to Norwich to be reburied at this Cathedral.
 
As this morning our service reflect s on the life of this Edith Cavell, our thoughts inevitably recall the brutal period of World War One – but neither can we forget the heroic, the wounded and the needy in today's world: a world which can be equally brutal and unforgiving.  We only need to recall the accidental bombing of the hospital in Kunduz last weekend.  Throughout, we will be remembering Edith Cavell's Christian faith, that 'imitation of Christ' that was the driving force in her life of service and her commitment to walk in the way of the Cross.  And in our first hymn, Charles Wesley invites God to fill all of our lives:  Christ whose glory fills the skies. 
HYMN [Congregation & Choir]:
         [Tune: Ratisbon]
  Christ, whose glory fills the skies,
 
Peter Doll
Every year, the Church of England designates this Sunday to remember Edith Cavell.  This is the set prayer to her memory:
Eternal God,
whose servant Edith Cavell placed her duty to you above all things
and laid down her life in protection of others:
make us, after her example, steadfast in all adversity,
and abide with us until, with all your faithful ones,
we share the joy of heaven;
through Jesus Christ your Son our Lord,
who is alive and reigns with you,
in the unity of the Holy Spirit,
one God, now and for ever.
Amen.
Peter Doll
Edith Cavell's execution made headlines across the world. Allied propaganda successfully used her fate to inspire a doubling of recruitment of soldiers from Britain to fight to avenge her death and in the years since many individuals and groups have invoked her memory in support of all manner of causes.     A memorial outside the gate of this Cathedral sums up her contribution as 'Nurse, Patriot, and Martyr', and this morning we will use these as headings to reflect on her life and allegiance to Christ.

 
READING  [Matthew 5.1—12] 
A reading from the Gospel of Matthew Chapter 5.
When Jesus saw the crowds, he went up the mountain; and after he sat down, his disciples came to him. Then he began to speak, and taught them, saying: 'Blessed are the poor in spirit, for theirs is the kingdom of heaven. Blessed are those who mourn, for they will be comforted. Blessed are the meek, for they will inherit the earth. Blessed are those who hunger and thirst for righteousness, for they will be filled. Blessed are the merciful, for they will receive mercy. Blessed are the pure in heart, for they will see God. Blessed are the peacemakers, for they will be called children of God. Blessed are those who are persecuted for righteousness' sake, for theirs is the kingdom of heaven. Blessed are you when people revile you and persecute you and utter all kinds of evil against you falsely on my account. Rejoice and be glad, for your reward is great in heaven, for in the same way they persecuted the prophets who were before you.'       
Thanks be to God.
Peter Doll
Priscilla Gavita is a Norwich-based actress who has played Edith in a variety of contexts and productions over the last fifteen years. She reflects on Edith's Norfolk background and on the faith which from her earliest years had been her inspiration.
 
Priscilla Gavita
At the end of May 1915 a young Private, Robert Mapes, was treated at Edith Cavell's clinic in Brussels.  She recognised his accent and discovered that he was from a village just a few miles from her own home village of Swardeston. He reported that she wept, hugged him and kissed him and said, "Dear old Norfolk! I would do anything to help a Norfolk man."
I first came across Edith when I agreed to assume her character and lead walks around Swardeston.  I got to know the village as she had known it, playing tennis, skating in winter, and accompanying her father on parish visits. I learned how hard daily life was then, and how Edith's compassion for people in need was nurtured.
In 2012, I was persuaded to take on the role of Edith in a stage play, which meant inhabiting her character at the other end of her life. The scene set in her cell the night before her execution – taking communion, singing Abide with me, repeating Edith's actual words, was especially moving for me – and a great privilege.
The play was subtitled The Imitation of Christ, after the spiritual classic by the 14th century priest Thomas a Kempis.  Along with the Bible, it was Edith's favourite devotional reading.  It begins with the words: 'Whoever follows me will not walk into darkness.'   Edith carried a copy on her walk with God right up until the moment of her death.  While in prison, she marked the words: "It were just that thou shouldest accuse thyself, and excuse thy brother." 
In other words she took full responsibility for her actions and took the burdens of others on herself.  Those writings sustained me throughout the production, and they still do.
[Edith loved her family, and Norfolk, but she loved Christ most of all]

Peter Doll
Anto Morra is a Norfolk-based folk singer and song-writer who has written and composed, in honour of Edith, this traditional ballad, of the kind sung by soldiers in the trenches: My faith in God will guide the way. It speaks of Edith's early life in the first person.
SONG [Anto Morra]: Now the ice it is slowly melting
    
Peter Doll
Edith had been a pioneer of professional nurses' training in Belgium from 1907.  Under her Directorship, the numbers presenting themselves for training had grown from just four to more than fifty.   Edith wrote this farewell letter to her nurses two days before she was shot.
Mattie Ziegler
My dear nurses, it is a very sad moment for me because I write to say my goodbyes…
 If I speak to you of the past it is because it is good sometimes to stop and consider the path we have travelled and to take account of our progress and mistakes. …
 To my sorrow I have not always been able to talk to each of you privately. You know I have always had much to do, but I hope you will not forget our evening conversations. In them I told you devotion would bring you true happiness and the thought that before God and in your own eyes you have done your duty well and with a good heart will sustain you in the hard moments of life and in the face of death. …
 If any of you has a grievance against me I beg you to forgive me; I have perhaps sometimes been too strict but never knowingly unjust, and I have loved you all much more than you can know.
 
Peter Doll
Christina Edwards originally qualified as an acute nurse and has since worked in many roles, receiving the CBE for services to the National Health Service.  A trustee of the Cavell Nurses' Trust, she reflects on Edith as a nurse and the way she faced her death.
PRE-REC [Christina Edwards]:
Late on the evening before her execution, Edith Cavell was relieved to see the Reverend Stirling Gahan, who gave her her last communion.  After they had shared the Eucharist and she had asked for forgiveness of her sins, the priest observed, 'We shall remember you as a heroine and martyr'.  Edith replied 'Don't think of me like that; think of me as a nurse who tried to do her duty'.
Being a child of the vicarage, Edith was formed for a life of service to others from an early age. As a young woman she revealed her determination and compassion, writing, 'Someday, somehow, I am going to do something useful for people. They are, most of them, so helpless, so hurt and so unhappy.'
Trained as a nurse in the Nightingale method at the London Hospital, she sought out the most challenging situations, nursing patients with such diseases as Diphtheria, Typhoid, Cholera and Smallpox.  Even at the beginning of Edith's training her formidable matron Eva Luckes found her self-sufficient, seeing her patients as her main priority and having little regard for herself.  Invited to Brussels in 1907 to set up the first Belgian training school for nurses, Edith relished the battles to set up the school, to train her nurses and to nurse patients herself.
Edith's faith and her sense of priorities and proportion have sustained me in my own work as a nurse and administrator. When she reminded her nurses that devotion to their duty would bring them true happiness, she speaks to me and to all nurses today: 'The thought that before God and in your own eyes you have done your duty well and with a good heart will sustain you in the hard moments of life and in the face of death.'
MUSIC [Choir]:  Ubi caritas et amor, Deus ibi est.
Peter Doll
'Where charity and love are, there is God.'  Ubi caritas, by Maurice Duruflé. The Catholic culture of Belgium had a deep effect on Edith's spirituality, as her  reading of 'The Imitation of Christ' deepened her understanding of the truth that 'God is love'  - a love that is with all of us, even – if not especially – in our darkest hours.  In Edith's darkest hour, on the night before her execution, the Anglican chaplain in Brussels visited her and they recited the hymn,  Abide with me.  His recollection of her final thoughts and words is well documented:
Mattie Ziegler
I have no fear or shrinking. I have seen death so often that it is not strange or fearful to me. Life has always been hurried and of difficulty. This time of rest [in prison] has been a great mercy. Everyone here has been very kind.
But this I would say, standing as I do in view of God and Eternity: I realise that patriotism is not enough. I must have no hatred or bitterness towards anyone.
Peter Doll
General the Lord Dannatt, former Chief of the General Staff, is churchwarden of a village next to Edith's Swardeston.  He reflects on Edith as a patriot.
 
Lord Dannatt
The German military chaplain who attended Edith Cavell's execution, and afterwards gave her a Christian burial, recorded that:
"She was brave and bright to the last.  She professed her Christian faith and that she was glad to die for her country."
These two things, patriotism and Christian faith, are very important to me as to all Christian soldiers – even though today, patriotism is not always a popular sentiment – indeed, many hold it in suspicion. 
Edith herself famously said:
"Patriotism is not enough. I must have no hatred or bitterness towards anyone."
Those words are inscribed on her memorial in St Martins Place, London.  But how can anyone about to be shot by firing squad say, in all honesty,
"I must have no hatred or bitterness to anyone"?
The answer has to be that there is a deeply loving and forgiving core to that person's heart.  For Edith Cavell, that core was her Christian faith which recognised that  Jesus had given up His life to give life to all those who believed and trusted in Him.
Such sacrifice is born of love and hope, in total contrast to hatred and bitterness.  It is in imitation of Jesus, who asked that we forgive even our enemies – as he forgave those who put him to death on the Cross.
Sir Cecil Spring-Rice, who died in 1918, had a decade earlier written a poem which later became the famous hymn:
"I vow to thee my country, all earthly things above,
Entire and whole and perfect, the service of my love."
Whether Edith Cavell had ever read that poem, history does not record, but she knew that:
"…there's another country, I've heard of long ago
…and her ways are ways of gentleness and all her paths are peace."
Edith Cavell, the Patriot, died first and foremost, for that "other country" – God's country – His Kingdom on Earth, and His Kingdom in Heaven.
MUSIC - [Choir]: The Lord is my shepherd : therefore can I lack nothing.
[Chant: Walford Davies]
Peter Doll
In his letter to the Church in Rome, St Paul expresses that same confidence showed by the Psalmist:  that all those who put their trust in Christ can never be separated from his love. This is Romans Chapter 8.
READING [Beatrice Heywood]: 
What then are we to say about these things?  If God is for us, who is against us?  He who did not withhold his own Son, but gave him up for all of us, will he not with him also give us everything else? Who will bring any charge against God's elect?  It is God who justifies. Who is to condemn? It is Christ Jesus, who died, yes, who was raised, who is at the right hand of God, who indeed intercedes for us. Who will separate us from the love of Christ?  Will hardship, or distress, or persecution, or famine, or nakedness, or peril, or sword?  As it is written,
 'For your sake we are being killed all day long:
 We are accounted as sheep to be slaughtered.'
No, in all these things we are more than conquerors through him who loved us. For I am convinced that neither death, nor life, nor angels, nor rulers, nor things present, nor things to come, nor powers, nor height, nor depth, nor anything else in all creation, will be able to separate us from the love of God in Christ Jesus our Lord. Thanks be to God.
Peter Doll
Inspired by mediaeval East Anglian narrative art on the lives of the saints, Norwich Cathedral commissioned artist Brian Whelan to paint fourteen panels on the theme of The Passion of Edith Cavell: The Way of the Cross.  Now hanging in the Cathedral's Romanesque arcades, Brian's paintings rescue Edith from the limbo of formal photography and patriotic propaganda and reveal a life lived in imitation of Christ.  Here, he reflects on Edith as a martyr.
Brian Whelan
For me, art is prayer. The relationship between an artist and his subject is intimate.  I paint Christ on the cross; the prodigal son embraced by his father, St Edmund martyred on a tree and most recently, a modern woman: Edith Cavell's spiritual life on 14 panels.  I must admit, taking on the Edith commission was daunting.  It required my own leap of faith.
I got to know two Ediths. The first Edith was depicted in photographs and memorialized in stone.  Despite her insistence that 'patriotism is not enough', Edith after her execution was wrapped in patriotic sentimentality and coated in a thick dusting of Edwardian romanticism, which as we've heard was so successfully used in recruiting, and was an unwitting instrument in sending many thousands more men to their deaths.
The second Edith, a dedicated nurse devoted to caring for the sick and dying, found herself in an unforgiving dilemma when men caught behind enemy lines – some of them no doubt spies - came to her for shelter.  Refuge she could not refuse, even when she was risking her own life and those around her. She was herself shot for espionage, though we'll never know quite how much she herself knew.
I had to literally 'draw' the second Edith, struggling to discern right amidst the moral ambiguity of the brutality and chaos of war, before I could arrive at something deeper, more spiritual, more reflective, painted in what I believe are her true colours.  Edith gave back far more than I was expecting.  The more I learned about her -- her commitment to duty as a nurse,  her fearlessness, her giving of herself to serving the needs of others -- the more Edith took shape before me: prepared, for the love of Christ and her fellow men, to walk as a martyr the way of the Cross.
Edith rewarded my leap of faith.
She opened doors from the moment I opened my mind and my heart.
Peter Doll
And so to our prayers.  [possibly insert any other prayer that needs to reflect the news here…or…just before the Lord's Prayer.]
 
Intercessor
For nurses and doctors, for service men and women, for refugee men, women and children whose lives are blighted by war or terror or want. Particularly at this time, we remember Syria, Iraq and Ukraine  - and all those displaced to other countries … We think of those patients and aid workers killed last weekend in the tragedy at the hospital in Kunduz.

Choir sing  I need thy presence every passing hour,
   What but thy grace can foil the tempter's power?
   Who like thyself my guide and stay can be?
   Through cloud and sunshine, O abide with me.

Intercessor
For peacemakers and peacekeepers who seek to keep this world secure and free; for all who bear the burden of leadership, asking for them the gifts of wisdom and gentleness in the search for reconciliation and peace:

Choir sing  I fear no foe with thee at hand to bless;
   Ills have no weight, and tears no bitterness.
   Where is death's sting? where, grave, thy victory?
   I triumph still, if thou abide with me.

Intercessor
For all the faithful departed, that we, rejoicing in the fellowship of the Blessed Virgin Mary, all the saints, and Edith Cavell, may have a share in Christ's eternal victory over sin and death:
Choir and congregation sing
  Hold thou thy cross before my closing eyes;
  Shine through the gloom, and point me to the skies:
  Heaven's morning breaks, and earth's vain shadows flee;
  In life, in death, O Lord, abide with me!

Peter Doll
We sum up all our prayers, saying together the words our Saviour Christ himself has taught us:
Our Father, who art in heaven, hallowed be thy name; thy kingdom come; thy will be done; on earth as it is in heaven. Give us this day our daily bread. And forgive us our trespasses, as we forgive those who trespass against us. And lead us not into temptation; but deliver us from evil. For thine is the kingdom, the power and the glory, for ever and ever. Amen.

Peter Doll
When Edith was confirmed at the age of eighteen, she inscribed into her confirmation Bible the words of our final hymn, O Jesus, I have promised to serve thee to the end.  She was faithful to the commitment all Christians make to Jesus Christ – may we too be upheld by His strength even to our earthly end. 
HYMN [Choir & Congregation]:
[Tune: Wolvercote]
  O Jesus, I have promised
  
THE BLESSING [Dean]: 
God give you strength to show forth
the passion of Christ, with all the saints,
and to love others both in word and in deed.
And the blessing of God almighty,
the Father, the Son, and the Holy Spirit,
be with you, now and always.
[All]: Amen.
[Organ Postlude: J.S. Bach Prelude in A B WV 536]
Broadcast