Main content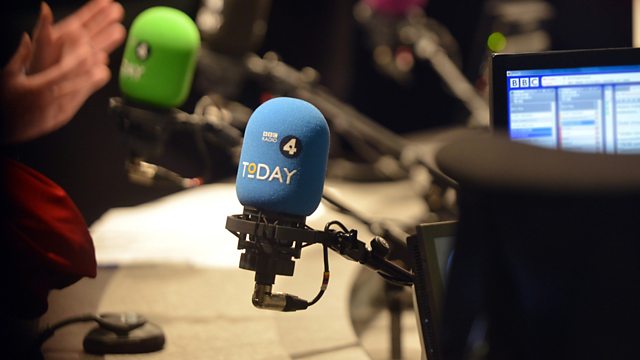 10/10/2015
Morning news and current affairs. Including Sports Desk, Weather and Thought for the Day.
Saturday 10th October
0710 
The former boss of Marks & Spencer Lord Rose is to lead the campaign for Britain to stay in the European Union.
Robin Brant is the BBC's political correspondent.
0715
The United States says Russia has agreed to resume talks on how to avoid their forces clashing during bombing campaigns over Syria. The US has also said that they are changing their approach to training anti-Assad forces. 
Jim Muir is the BBC's Middle East correspondent live in Beirut.
0720
In the last 24 hours Russian fighter jets have been bombing Syria. Russia says its strikes are directed at Islamic State militants,  but a new poll shows Russians are worried about getting involved in the conflict in the long term - and they have no real, deep feeling for the cause.
Sarah Rainsford is the BBC's Moscow correspondent.
0725
90% of hospices in England are caring for and supporting people in a compassionate way at the end of their lives, according to new research from the Care Quality Commission. The ratings come a year after the watchdog introduced a more rigorous, expert-led approach to its assessments. This assessment follows a report earlier in the week which praised Britain for its standards of palliative care.
Jonathan Ellis is Head of Policy and Advocacy at Hospice UK.
0730
Beef is becoming a source of tension in India - recently a Muslim man was lynched after being suspected of killing a cow for its meat. This week, a Kashmiri politician was punched by members of the governing Hindu nationalist BJP for eating beef. Since the BJP led by Prime Minister Narendra Modi came to power last year, it has tightened laws against the slaughter of cows - regarded as holy in Hinduism. But a wave of violence over the issue has led to fears that India is becoming decidedly less tolerant of religious minorities.
Sanjoy Majumdar is the BBC's reporter.
0740
Meryl Streep is widely regarded as one of the greatest film actors of all time. And yet she told Today this week that she does not get paid as much as her male co-stars. Research by Forbes showed the film industry's top ten female actors were paid half the amount the top ten male actors received in 2014. She suggested there should be more transparency about pay. Would that close the gap between what men and women earn? According to the Fawcett Society, last year across all sectors men earned 19.1% more per hour than women.
Deborah Hargreaves is director of the High Pay Centre.
Gillian Wilmot is CEO of Board Mentoring.
0745
Yesterday the Business for Britain campaign launched their 'Vote Leave' campaign promising to support plans for 16 and 17 year old to vote in the referendum. The campaign is aiming to focus more on its website to win over the young, wavering voters.
Ben Page is Chief Executive of IPSOS Mori.
0750
It was revealed yesterday that NHS trusts in England have racked up a £930m deficit in the first three months of the financial year - that is more than the entire overspend last year. Regulators said the problems were the "worst for a generation" and demanded immediate action be taken.
Dr Margaret McCartney is NHS GP and author of The Patient Paradox.
0810
Two of Britain's leading clean energy firms went into administration this week. The Department for Energy and Climate Change cut some subsidies to green energy schemes in July. Some in the industry - and some conservative MPs - say that was a mistake and will damage the solar industry in the long term.
John Moylan is BBC's Industry correspondent.
Lord Barker is former Conservative Minister for Climate Change.
0820
A collection of bones from a North Yorkshire cave - that includes the remains of rhinos, bears and hyenas - is to go on public display more than a century after it was first discovered. Excavated from Victoria Cave in the dales, some of the animal bones date back more than a hundred thousand years.  Archaeologists from the organisation DigVentures have set out to transform the site and unique collection into a digital museum.
Lisa Westcott Wilkins is lead archaeologist and Managing Director at DigVentures.
0830
Further analysis on US talks with Russia on Syria (see 0715).
John Simpson is World Affairs Editor.
Peter Ford is British ambassador to Bahrain from 1999-2003, and to Syria from 2003-2006, and adviser to the UN on Palestinian refugees until last year.
0840
The Times is reviving its Latin crossword after 85 years. The paper writes that the aim is to preserve and amplify everything that is most appealing about learning the language: its oddness, its rigour, the Romans' spirit of whimsy and affection for wordplay. The first Times crossword was published on February 1, 1930. It quickly became very popular, so much so that one month later The Times ran a crossword in Latin for those of a more "exacting intellectual standard".
Oliver Kamm is the Times' Languages columnist.
0845
It's fifty years this year since the recording of Bob Dylan's 'Like a Rolling Stone' and his iconic 'Highway 61 Revisited' album. It was Dylan's first fully electrified album, one which - it can be argued -  changed the direction of popular music. A documentary to be broadcast this weekend on Radio 4 explores the impact that these recordings had and the remarkable way they were put together. "Highway 61: Fifty Years On" will feature previously un-released material from the recording session.
Andy Kershaw is a journalist and broadcaster.
0850
Wales's football team will be playing Bosnia Herzegovina later today hoping to secure the point they need to qualify for Euro 2016. If they do it will be the first time in 57 years that they've made it into a major tournament.  A few hours before they take to the pitch, the Welsh rugby team will be at Twickenham in a match that will determine how hard their route through the world cup is.
Ruth Jones is Welsh TV actress and writer.
Robbie Savage is Former Welsh International.
All subject to change