Main content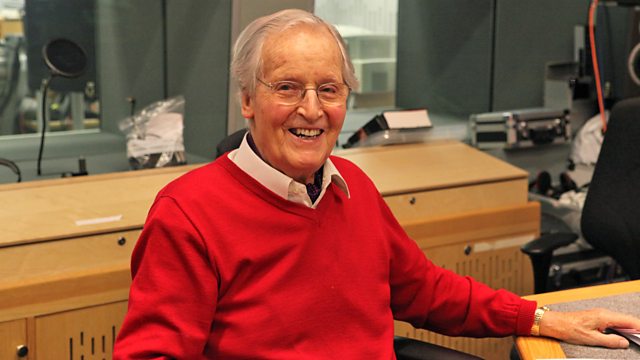 Monday - Sarah Walker, plus Rob Cowan with Nicholas Parsons
With Sarah Walker. Including Five Reasons to Love Concert Overtures; Haydn: Trumpet Concerto; Artist of the Week: Leonard Bernstein conducting his West Side Story Symphonic Dances.
9am
A selection of music including '5 reasons to love... concert overtures'. Throughout the week Sarah explores how composers have created colourful pieces that might tell a dramatic narrative (Beethoven's Egmont), represent humour (Malcolm Arnold's A Grand, Grand Overture), depict the action or characters from Shakespeare's plays, and celebrate a historical anniversary.
9.30am
Take part in today's challenge. Two pieces of music are played together - can you work out what they are?
10am
Rob talks to his guest, Nicholas Parsons. Actor, cabaret performer, stand-up comedian, panel show host and quizmaster, Nicholas has had a long and varied career in show business since he first started working in repertory theatre in the 1940s. He became a household name in the 1970s as the host of game show Sale of the Century, but is perhaps best known as the chairman of BBC Radio 4's Just a Minute. Nicholas has chaired the hit comedy panel game since its inception in 1967 and hasn't missed a show in 48 years and over 900 performances. Nicholas will be talking about the seven decades he has spent working in radio, theatre and television, and sharing a selection of his favourite classical music every day at 10am.
10.30am
Sarah features the Building a Library Ten Pieces recommendation from last Saturday's CD Review.
Haydn
Trumpet Concerto
11am
Sarah's Artist of the Week is one of the most charismatic conductors of the 20th century, and one of the first American-born conductors to gain worldwide recognition, Leonard Bernstein. Bernstein's prodigious talent as a pianist coupled with lessons from composer Aaron Copland and conductor Fritz Reiner catapulted him into the limelight in the years following the Second World War. His Young People's Concerts for CBS were particularly influential in drawing people to classical music, and his work with the New York Philharmonic and other orchestras led to an international career. He performed Beethoven's Ninth Symphony on Christmas Eve and Christmas Day in 1989 as part of the celebrations marking the fall of the Berlin Wall. Throughout the week Sarah features a selection of Bernstein's glittering recordings.
Bernstein
Symphonic Dances from "West Side Story"
New York Philharmonic
Leonard Bernstein (conductor).
Music Played
ARTIST OF THE WEEK: LEONARD BERNSTEIN

5 REASONS TO LOVE...CONCERT OVERTURES

NICHOLAS PARSONS' CHOICE NO.1

NICHOLAS PARSONS' CHOICE NO.2

NICHOLAS PARSONS' CHOICE NO.3

THE BUILDING A LIBRARY RECOMMENDATION FROM LAST SATURDAY'S CD REVIEW

ARTIST OF THE WEEK: LEONARD BERNSTEIN
Imperfect Harmony
The music played:
Tchaikovsky
Symphony No.6 'Pathetique': 1st movement (conclusion)
London Philharmonic Orchestra
Vladimir Jurowski (conductor)
LPO
 
Handel
L'Allegro, il Penseroso ed il Moderato: "Or let the merry bells ring round"
Gillian Webster (soprano)
Gabrieli Consort & Players
Paul McCreesh (conductor)
SIGNUM
Enter the Essential Classics Proms Competition 2019!