Main content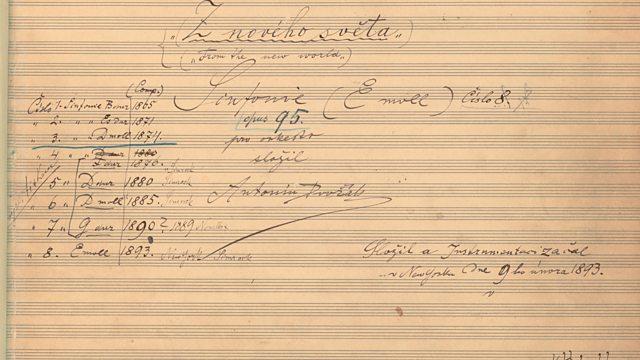 Dvorak's New World Symphony
Frances Fyfield and her guests explore the fascinating evolution of one of the most popular symphonies ever written, Dvorak's Symphony No 9, 'From the New World'.
Frances Fyfield begins a new series of Tales from the Stave with one of the most popular Symphonies ever written. Dvorak's Symphony 'From the New World' was composed during his time working in American in the 1890's. There have been claims and counter-claims about his use of spirituals and native American music but the manuscript, held at the Czech National Museum of Music in Prague, and the accompanying sketchbooks, tell a story of both inspiration and craft.
Frances is joined by the world renowned Czech conductor Jiri Belohlavek, the American music historian David Beveridge and, given the famous tune from the second movement, the Cor Anglais player Vladislav Borovka. To Vladislav and most Czechs it's difficult to imagine this melody having anything to do with 'bread' (let alone Hovis!) but so it is for British audiences.
However, the sketchbooks reveal a fascinating evolution of both this tune and several others that make this work so beloved of audiences the world over. The first movement, for example, was originally conceived in a major key. 'How strange' as an American songwriter was to opine some time later 'the change from Major to Minor.'
Producer: Tom Alban.