Main content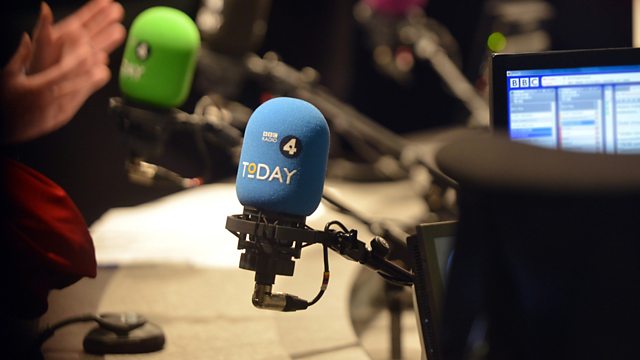 13/10/2015
Morning news and current affairs. Includes Sports Desk, Yesterday in Parliament, Weather and Thought for the Day.
Last on

Clips

Tuesday 13th October
0650
A new publicity campaign has been launched to encourage people who look at online images of child sexual abuse to seek help. A charity, which works with offenders, has put together a series of videos modelled on anti-knife crime and anti-drink-driving initiatives.
Donald Findlater is director of Research and Development at Lucy Faithfull Foundation.
0655
It is nine months since two gunmen stormed into the offices of the satirical newspaper Charlie Hebdo in Paris, killing 12 people.  The shootings prompted an outpouring of sympathy and solidarity with what had been a niche and often controversial publication. The magazines best-known remaining cartoonist - the man who drew its first cover after the attacks is leaving, along with another senior journalist.
Lucy Williamson is the BBC's Paris Correspondent.
0710
Shadow chancellor John McDonnell told MPs they would oppose the chancellor's plan in Wednesday's vote, despite previously saying they would back it. The Shadow Chancellor, John McDonnell, has said he won't now support the government's proposals that all future administrations should run a budget surplus. He had said he'd back the policy and his U-turn sparked anger from Labour MPs at a meeting last night. Some MPs called the situation a shambles.
Chris Leslie is former Shadow Chancellor and former chief Secretary to the Treasury.
0715
Barclays will name investment banker Jes Staley as its new chief executive in the next two weeks. John McFarlane, the man who recently replaced Anthony Jenkins as executive chairman of Barclays, has approached the American to take the bank in a new direction.
Kamal Ahmed is the BBC's Business Editor.
0720
The Health Select Committee is starting a short inquiry into childhood obesity. But it won't have access to a report drawn up by Public Health England which looks at the evidence of the impact of measures to reduce sugar consumption.
Neena Modi is Professor of neonatal medicine at Imperial College, London and President of the Royal College of Paediatrics and Child Health.
 0730
The Dutch Safety Board will publish its final report into the cause of the Malaysian Airlines MH17 plane crash over eastern Ukraine in 14 July 2014. 298 people were killed, including ten from Britain. The Safety Board report is not the results of the separate criminal investigation; therefore the authors say they will not be concerned with "questions of blame or liability".
Barry Sweeney is father of MH17 crash victim Liam Sweeney.
Graham Braithwaite is Professor of Safety and Accident Investigation at Cranfield University which trains Air Accident Investigators.
0740
Elvis Costello - one of Britain's most prolific singer-songwriters - releases his autobiography today. His career began in the 1970s and has spanned a huge range of musical styles.
Will Gompertz is the BBC's Arts Editor.
0750
The British Government has been asked to intervene in the case of a 74-year-old man sentenced to 350 lashes in Saudi Arabia. Simon Andree's grandfather, Karl, has been held in jail since being arrested a year ago. He was sentenced to a year in prison and the lashes in January after being found with home brew wine.
Simon Andree is grandson of Karl Andree who's been held in a Saudi prison for 14 months.
0810
Further analysis of Labour U-turn over budget surplus vote (See 0710)
Diane Abbott is Shadow International Development Secretary.
Laura Kuenssberg is the BBC's Political Editor.
0820
This year, there are two American authors on the shortlist for the Man Booker Prize for fiction - if either win they will become the first American to do so. Hanya Yanagihara, is the bookmakers' favourite to win for her novel A Little Life. Anne Tyler at 73 is the oldest writer on the 2015 list.
Rebecca Jones is the BBC's Arts Correspondent.
0830
Black people are three times more likely to be involved in Taser incidents than those who are white. The statistics, released to the BBC from all 43 police forces in England and Wales, follow a Freedom of Information Act request to the Home Office.
Daniel Sylvester was tasered by police in North London and won damages for assault and false imprisonment.
Neil Basu is Deputy Assistant Commissioner at the Metropolitan Police Service and the lead on Taser for the National Police Chief Council.
0835 
Further analysis on MH17 final report (See 0730)
0840
The Edinburgh born economist Angus Deaton has been awarded the 2015 Nobel Prize for his pioneering work on consumption, welfare and measuring poverty around the world.
Angus Deaton is Scottish Economist and Princeton Professor.
0845
The world's last remaining airworthy Vulcan bomber will make its final flight later this month. Thousands turned out over the weekend to see the last national tour of the bomber, named Avro Vulcan XH558 'The Spirit of Great Britain', which was used by the RAF during the Cold War. The plane's CAA certificates expire at the end of October and will be grounded in an exhibition partly because of the falling number of people with the expertise to maintain the 55 year old plane.
Dr Robert Pleming is Chief Executive of Vulcan To The Sky Trust.
Broadcast