Main content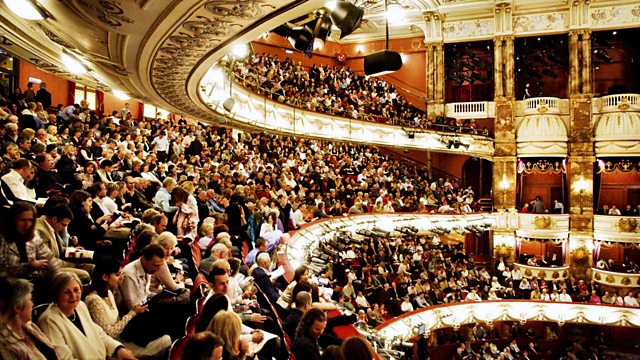 Handel's Saul
A performance from the 2015 Glyndebourne Festival conducted by Ivor Bolton, with Christopher Purves as Saul, Iestyn Davies as David, Lucy Crowe as Merab and Sophie Bevan as Michal.
Handel's Saul, recorded at this year's Glyndebourne Festival, conducted by Ivor Bolton.
Presented by Andrew McGregor.
Cast:
Saul ..... Christopher Purves (baritone)
David ..... Iestyn Davies (countertenor)
Merab ..... Lucy Crowe (soprano)
Michal ..... Sophie Bevan (soprano)
Jonathan ..... Paul Appleby (tenor)
Abner/High Priest/Amalekite/Doeg ..... Benjamin Hulett (tenor)
The Witch of Endor ..... John Graham-Hall (tenor)
Orchestra of the Age of Enlightenment
Ivor Bolton (conductor)
When young David is hailed as a hero after defeating the Philistine champion Goliath, he arouses the envy of King Saul. Finding himself at the heart of the Royal Family as it's torn apart by Saul's increasingly obsessive jealousy, David is drawn into a complicated love story of his own with members of the royal family. In Georgian London in 1738, Handel and his librettist Charles Jennens used the story as the subject of one of the first English oratorios; now Australian director Barrie Kosky, making his Glyndebourne debut, has turned Handel's Saul into an opera as a series of vivid tableaux, a combination of dreamscape and Baroque nightmare in which a Lear-like King loses his grip on his sanity, and his family and nation crumbles around him.
Last on

Synopsis
Part I
The Israelites give thanks to God and sing praises to David for his victory over Goliath, the Philistine giant. David is welcomed by Saul, King of Israel, his son Jonathan, his two daughters Michal and Merab, and Abner, his commander-in-chief. Jonathan swears eternal friendship to David. Saul offers David Merab's hand in marriage, but she scorns his humble origins. Her sister Michal, however, is in love with him. The women of Israel offer further tributes to David, which makes Saul furiously jealous and fearful for his crown. After he leaves, Jonathan reproaches the women for their rash words and urges David to soothe Saul by playing his harp.
Abner returns to report Saul's madness. Saul reappears venting his anger and attempts to kill David, who manages to escape unharmed. Saul commands Jonathan to destroy David, while Merab comments on her father's capricious behaviour. Jonathan feels torn between his conflicting loyalties to David and to his father. The High Priest and the Israelites pray for David's safety.
The people of Israel ponder the destructive power of jealousy. Jonathan confesses to David that Saul has ordered him to kill him, but that he will never harm David. He tells David that Saul has given his daughter Merab to another man, but David is undisturbed, since he loves Michal. Jonathan urges David to escape. Saul arrives and asks Jonathan if he has obeyed his command to kill David, and Jonathan pleads with his father to spare his friend. Saul seemingly relents, asking Jonathan to summon David back to court. Jonathan welcomes David back, while Saul feigns friendship, offering David Michal's hand and appointing him commander of the Israelite army. David promises loyalty. Saul voices his secret hope that David will be slain by the Philistines. Michal and David declare their love for one another. The chorus praises David's virtue.
Part II
Upon his return from battle, David tells Michal of Saul's anger, treachery and attempt to kill him. Michal urges him to escape. Doeg, Saul's messenger, arrives to arrest David, but David once again escapes. Merab, who has softened toward David, expresses her fear for his safety and her faith that Jonathan will save him. At the Feast of the New Moon, Saul declares his intention to destroy David. He questions Jonathan about David's absence and reproaches him siding with his enemy. When Jonathan defends David, Saul flies into a rage and attempts to murder his own son. The Israelites warn of the dire consequences of Saul's anger.
In disguise, Saul goes to consult the Witch of Endor, whose magic he had previously outlawed. The Witch complies with Saul's request to conjure the ghost of Samuel. The ghost of Samuel tells Saul that Israel will be defeated by the Philistines, and Saul and his sons killed, after which the kingdom will pass to David. After the battle, David questions an Amalekite about its outcome and learns of the deaths of Saul and Jonathan and the defeat of the Israelites. The Israelites, David and Merab mourn the deaths of Saul and Jonathan. The High Priest urges the Israelites to celebrate the return of David, and the people extol David and entreat him to lead them into battle and redress the defeat of their nation.
Broadcast