Main content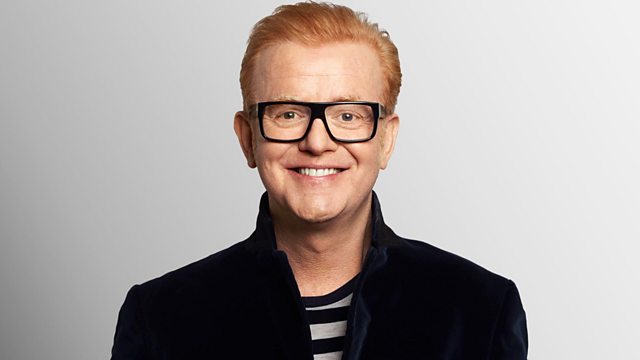 Philippa Forrester
Chris chats to Philippa Forrester about the harvest season, and knowledgeable Norwegian Lars Mytting gives us his top tips for log stacking. Plus an autumnal Pause for Thought.
Last on

Music Played
Lynyrd Skynyrd

Sweet Home Alabama

The All Time Greatest Rock Songs ....
Columbia.

Rod Stewart

Please

(CD Single).
Capitol.
001.

The Pointer Sisters

Jump (For My Love)

The Best Of The Pointer Sisters.
RCA.

The Banana Splits

The Tra La La Song (One Banana, Two Banana)

Television's Greatest Hits Vol. 5: In Living Color (Various Artists).
TVT Records.

Jamie Lawson

Wasn't Expecting That

Jamie Lawson.
Gingerbread Man Records.
001.

Michael Jackson

Don't Stop 'Til You Get Enough

Michael Jackson - History.
Epic.

Noah and the Whale

5 Years Time

Johnny Preston

Running Bear

Rediscover The 50's - Here Comes Summ.
Old Gold.

Kings of Leon

Use Somebody

Dean Martin

&

Helen O'Connell

How D'Ya Like Your Eggs In The Morning?

Cool Couples (Various Artists).
Sanctuary.

Van Morrison & Bobby Womack

Some Peace Of Mind

The Christians

Harvest For The World

The Best Of The Christians.
Island.

Stealers Wheel

Stuck In The Middle With You

Free

All Right Now

Back To The 70's (CD1) (Various).
EMI.
15.

The Beatles

Norwegian Wood (This Bird Has Flown)

David Gilmour

Today

(CD Single).
Columbia.
001.

Blondie

Hanging On The Telephone

Atomic: The Very Best Of Blondie.
EMI.
1.

Little Big Town

Girl Crush

Pain Killer.
Capital Records Nashville.
5.

Bellowhead

Roll The Woodpile Down

Broadside.
Navigator Records.
003.
Pause For Thought
From Reverend Sharon Grenham-Thompson, Anglican Priest and Prison Chaplain:
For the last couple of weeks I've been quite a domestic goddess. I've been making jam and chutney, and I've baked, stewed and pickled, even made wine - all with fruit and veg that I've either grown in the garden, or that we've found in the wild locally. The last of the bumper harvest is a huge bag of apples that we picked this weekend - eaters, cookers - all from some trees that are growing in the woods nearby.
As we get into the second half of October a lot of communities are celebrating 'Apple Day'. That sounds like a really ancient tradition, but in fact it was something started in 1990 as a way to celebrate variety and diversity, as well as the joy of being in touch with the land and growing things.  
There's a song by the group Harbour Lights called 'Apple Day'. One of the lines goes 'meet me down at Apple Day, come and bring the fruit that's fallen, we'll turn it into something new, a gentle truth is calling.' I was reminded of that song on Friday, as I attended an awards ceremony for people who'd been in prison, but who had come out, changed their lives for the better, and really made a positive difference to their community and the people around them. It's an echo of words from the book of Isaiah, where God says 'Do not call to mind the former things, Or ponder things of the past. Behold, I will do something new.'
We often think of Autumn as the time when everything's winding down, even dying - leaves and fruit falling off trees, nights getting darker. But as my jam and wine making proves, Autumn's just as much a season for making something new.
When life feels as if it's hit a bit of an Autumn phase, maybe things not going so well, or coming to an end, I believe it's possible to gather up whatever it is that's fallen down around us, gather it up, find the hidden sweetness, and celebrate a new season.
Broadcast