Main content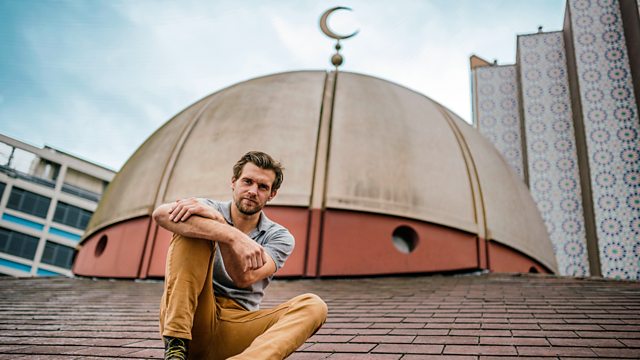 Welcome to the Mosque
Documentary filmmaker Robb Leech explores Europe's biggest Muslim community, in the heart of London's East End, with unprecedented access to the East London Mosque.
With unprecedented access, documentary filmmaker Robb Leech enters Europe's biggest Muslim community, in the heart of London's East End. Leech first came to the East London Mosque with his stepbrother. He'd converted to an extreme brand of Islam, and in 2013 was convicted of preparing terrorist acts and jailed for six years. Now the Mosque has invited Robb back, to find out what life is really like inside for some of the two million people who attend every year.
'After years of trying to make sense of extremism, I want to understand the lives of ordinary Muslims, to go behind the walls and dispel the mystery and suspicion felt by non-Muslims on the outside', says Leech.
Robb finds a diverse group of individuals hidden from public view behind the Mosque's brick walls. He captures key moments, from the rituals of washing before Friday prayers to preparing Muslim couples for marriage at the centre's match-making service. Robb discusses British values with young Muslims at the Mosque's school. Older community members tell him about the racism they experienced growing up in the East End. He witnesses segregation and attempts to understand its cultural value and meets younger community members fearful of the dangers of free-mixing with the opposite sex.
During filming, the story breaks about the London schoolgirls who fled Britain to join Isis jihadists in Syria. Robb explores the Mosque's response to events that shocked the community. Whether capturing the frantic first phone call to the Mosque's media manager from a distraught sister of one of the girls or travelling to Istanbul with the girls' families to try and track them down, Robb's hand-held camera gives an intimate feel to the events.
Music Played
Timings (where shown) are from the start of the programme in hours and minutes
Credits
| Role | Contributor |
| --- | --- |
| Presenter | Robb Leech |
| Director | Robb Leech |
| Producer | Ray Tostevin |
| Executive Producer | Simon Ford |
| Production Company | GRACE Productions |
| Production Company | Vagabond Films |