Main content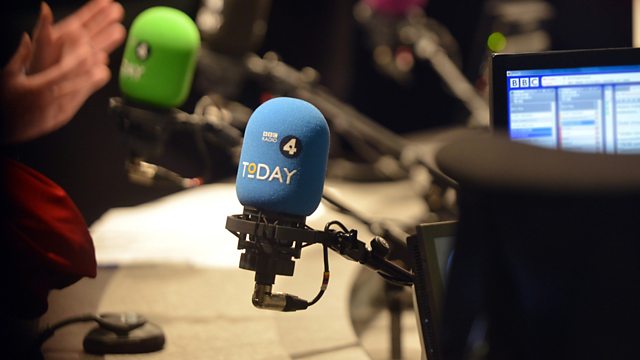 08/10/2015
Morning news and current affairs. Including Sports Desk, Weather and Thought for the Day.
We British spoken word sessions featuring Kate Tempest, Testament and Toby Campion.
Today's running order
0650
President Obama has telephoned the head of the medical charity, Medecins Sans Frontieres (MSF), to apologise personally for the US air strike on its hospital in Kunduz in Afghanistan. The White House said Mr Obama extended his condolences to Joanne Liu for the 22 staff and patients killed, in what the US has said was a mistaken attack.
Vicki Hawkins is UK director of Medecins Sans Frontieres.  
0710
NATO defence ministers are meeting in Brussels in an atmosphere of tension between the alliance and Russia. In particular the incursions by Russian planes into Turkish airspace, which has irritated the government in Ankara, is prompting the alliance to declare its solidarity with Turkey.
Suat Kiniklioglu is head of the think tank 'Center for Strategic Communication' in Ankara and former member of Turkish parliament.
0715
A new heart attack test could help drastically reduce the number of patients admitted to hospital with chest pain. New research in The Lancet suggests that a simple new test could identify two-thirds of patients that arrive at A&E with chest pain as 'very low risk'; low enough to be sent home.
Professor David Newbie is co-lead author of The Lancet paper and Professor of Cardiology at the University of Edinburgh.
0720
To mark National Poetry Day, Andrew Marr and some of Britain's most loved poets will be exploring British history and identity through poetry with 'We British: An Epic In Poetry' from the medieval Church, the court of Henry VIII, the English Civil War and Restoration to the Industrial Revolution, the Slave Trade, the Victorian Empire, mass immigration and the two World Wars.
Daljit Nagra is a poet and he has been appointed as Radio 4's 'Poet in Residence'.
0730
The president of FIFA, Sepp Blatter, is facing the threat of a 90 day suspension, following a recommendation by the body's ethics committee. The final decision is expected to be made today.
Mark Palios is former FA chief executive.
0740
The Great British Bake Off has drawn to a close for another year. Millions tuned in last night to watch the 3 finalists battle it out over their sugar filled, finely decorated masterpieces. Nadiya Hussein was crowned the sixth winner of the contest.
Richard McKerrow is Founder and Creator of Love Productions.
Charlotte Higgins is Guardian Chief Culture writer.
0750
New Hollywood release 'Suffrage' is about the violent protests that led to women being given the vote in the UK. Before its premiere last night Sarah Montague interviewed Meryl Streep and Carey Mulligan.
Actors' Meryl Streep and Carey Mulligan play the main characters in new Hollywood release 'Suffragette'.
0810
Further analysis of NATO meeting on Syria (see 0710).
Sir John Sawers is Former Chief of MI6 and Chairman of Macro Advisory Partners.
0820
Further coverage of National Poetry Day (see 0720).
Andrew Marr is presenter of 'We British: An Epic In Poetry'.
Tamsin Greig is an actor.
Jonathan Pryce is an actor.
0830
The problem of how to investigate allegations of historic sexual abuse involving children and youngsters is extraordinarily difficult. On the one hand, there's recognition that in the past complaints were not taken as seriously as they should have been. On the other, there's the danger that clouds of suspicion can be generated on the basis of evidence that's shaky, and can't be tested, with consequent damage to people who can't answer back, not least because some of them are dead. This week's extended Panorama on BBC1 looked at some of the allegations surrounding alleged cover-ups involving establishment figures and children and aired some doubts about the process.
Roger Graef is a film maker and criminologist who made the Panorama programme on child abuse and murder investigations.
Lord Paddick is a Liberal Democrat peer and a former senior officer in the Metropolitan Police.
0840
"Politics is the most noble of callings" the words of the great Roman statesman, orator and philosopher Cicero a couple of thousand years ago. His extraordinary life spanned the collapse of the Roman republic and the birth of the Roman Empire. He outlived Caesar by nearly two years and made a valiant last struggle to restore the republic to life before he was finally slaughtered on the orders of the next warlord, Caesar's great nephew Octavian.
Robert Harris is a novelist who has written a trilogy on Cicero's life.
0845
Further analysis on NATO meeting on Syria (see 0710 & 0810.)
Bridget Kendall is the BBC's Diplomatic correspondent
0850
The 2015 Nobel Prize in Chemistry has been awarded for discoveries in DNA repair. Tomas Lindahl, Paul Modrich and Aziz Sancar were named the winners on Wednesday. Their work uncovered the mechanisms used by cells to repair damaged DNA, a fundamental process in living cells and important in cancer.
Professor Tomas Lindahl is retired staff scientist at Cancer Research UK, and Nobel Prize winner.
0855
Clare Hollingworth turns 104 this weekend. You may never have heard of her, and that's a pity because she's had the most remarkable career as an utterly fearless war correspondent. Now her friends have launched a campaign to win her some recognition and get a biography published. Her most memorable achievement was breaking the news of the start of World War Two.
Christiane Amanpour is CNN's Chief International Correspondent.
All times subject to change.