Main content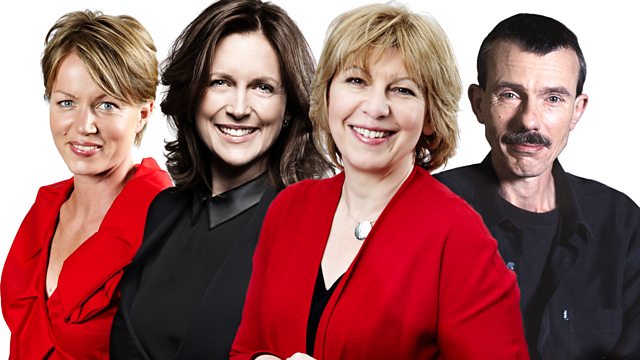 Rossini - La Gazzetta
Penny Gore presents a performance of Rossini's satirical opera La Gazzetta given at the Rossini Opera Festival in Pesaro in August 2015.
Penny Gore presents this week's Opera Matinee: Rossini's 'La Gazzetta', which satirizes the influence of newspapers on people's lives, recorded at the Rossini Opera Festival in Pesaro in August. The pompous Don Pomponio Storione travels the world in search of a husband for his daughter, putting ads in the newspapers, but learns that this might not be the route to his daughter's happiness. Rossini's second opera written for Naples was the only comedy he wrote there, but there are conflicting reports on whether or not it was well received.
Rossini: La Gazzetta
Madama la Rose ..... José Maria Lo Monaco (mezzo-soprano)
Doralice ..... Raffaella Lupinacci (soprano)
Lisetta ..... Hasmik Torosyan (soprano)
Don Pomponio Storione ..... Nicola Alaimo (bass)
Monsù Traversen ..... Andrea Vincenzo Bonsignore (bass)
Alberto ..... Maxim Mironov (tenor)
Filippo ..... Vito Priante (baritone)
Anselmo ..... Dario Shikhmiri (bass)
Andrea Faidutti (chorus director)
Chorus and Orchestra of the Teatro Comunale, Bologna
Enrique Mazzola (conductor)
Recorded 11/08/2015
Pesaro - Rossini Theatre.
Synopsis
Act One
In a Parisian garden, through shady walks, by fountains, statues and booths selling drinks, Madama La Rose, Traversen, Alberto and various gentlemen are promenading. Alberto is cross because he has been searching in vain for a woman who can satisfy all his desires, and his complaints are interrupted by the arrival of a newsboy carrying "La gazzetta" with all the latest news. Anxious to know whatever spicy things have been going on, the characters grab the gazzette one from another, reading eagerly. Don Pomponio, who has now joined the others, showing off his wealth and ambition, has published in this very number of the gazzette an advertisement offering his daughter Lisetta in marriage. This advertisement sends everyone present into fits of laughter, and they call the advertiser a madman and an animal, not knowing that they are talking about the man who has just come in, dressed in an exaggeratedly rich and showy costume. This gaffe is then transformed into yet another opportunity to continue to make fun of Don Pomponio, who does not have much success in his efforts to defend himself from their mockery.
At Filippo's inn Anselmo arrives with his daughter Doralice, followed by the exuberant and flighty Lisetta, who is worried that her secret engagement to the innkeeper will be compromised by her father's untimely advertisement in the gazzette. Alberto's arrival sets off a whole chain of misunderstandings: he thinks that Lisetta must be the young lady mentioned in the advertisement but has to change his mind because Filippo claims to be her husband. So Alberto begins to pay court to Doralice, believing now that she must be the young lady of the gazzette: the muddle increases in the dialogue between Don Pomponio and Alberto, who, in order to increase his own importance, claims to be a descendant of Philip of Macedonia. Don Pomponio is delighted to give his daughter in marriage to a man of such noble origins but first he must oppose the complaints of Lisetta, who does not want to end up in the bed of an unknown man, though then she gets excited when she learns the name of her future husband: Filippo. When she sees Alberto, whom Don Pomponio had called "Philip" in order to impress his daughter, Lisetta is confused and gradually involves all around her in her contagious dismay, until everyone gets over-excited. At the end of the Quintet, Madama La Rose and Doralice come on, and decide to play a trick on Don Pomponio; he, in order to get even with his daughter, has decided to cut her out of her inheritance by marrying again and getting another child. Doralice, with the assistance of Madama La Rose, pretends to yield to the overtures of Don Pomponio, who has picked her out as a possible future wife and is won over by her polite manners.
Filippo tries to confuse the suspicious Don Pomponio by pretending to be the husband of Madama La Rose, and arouses his hopes by announcing the impending arrival of a rich Quaker who is interested in the advertisement in the gazzette. This Quaker will, in fact, be none other than Filippo himself, in disguise; Lisetta knows about this impersonation, but when she hears about her fiancé's supposed marriage to Madama La Rose she thinks that he has been unfaithful to her and becomes furiously angry. She will not listen to any marriage proposals from a Quaker, and her scornful attitude makes Don Pomponio lose all patience with her. Filippo comes in, dressed up as a Quaker, and begins to admire Lisetta's charms; she, however, continues to treat him with scorn. Everything is plunged into total confusion: Filippo is worried about the success of his plan, Alberto can no longer understand which girl is Don Pomponio's daughter, Lisetta realises that she has gone too far in rejecting Filippo! The tension is wound up to breaking point; Filippo and Don Pomponio threaten each other whilst the others try to calm them down.
Act Two
Traversen, who until now has remained rather in the background, comes forward and asks Anselmo for the hand of his daughter Doralice in marriage. Doralice is in love with Alberto, and when she shows unwilling Madama La Rose intervenes, openly encouraging the young girl to take full advantage of this sure opportunity. Alberto, seeing Doralice walking arm-in-arm with Traversen, believes that she has betrayed him and goes to look for Filippo to ask his advice. Meanwhile the innkeeper meets his beloved and, after a few initial skirmishings, peace is restored between them: Filippo and Lisetta look forward to love and happiness together.
Alberto remains alone with his sorrow and he expresses himself in song, in which the torments of jealousy alternate with hope, a «tender voice» seeming to offer glimpses of a happier destiny. And it is Filippo who comforts him, removing all his suffering by reassuring him that Doralice loves him, and proposing a new scheme to gain time and fool the two fathers, Anselmo and Don Pomponio. The latter finds himself mixed up in a phony "duel" which changes him from a bombastic hero into a coward who begs an armistice and wriggles away as soon as he can. This frightening episode makes him hurry on his preparations for departure, whilst Lisetta tries to gain time first by fainting and then by pretending to go mad. With the excuse that some Turks are about to arrive, Filippo organizes a masked ball, persuading Don Pomponio that this will give his daughter the opportunity to meet some interesting suitor. The father is terrified at the idea of marrying Lisetta to a Turk, and Filippo gives him hope that his own name may end up among the mighty ones of the world. Don Pomponio turns up at the party in a Turkish costume but finds the four lovers dressed identically and cannot tell Lisetta from Doralice or Alberto from Filippo; however, he begins to get angry and creates a general upheaval in which the four lovers manage to get away. Madama La Rose tells the perplexed fathers and Traversen that by now the boys and girls have formed permanent couples: all they can do is bless the young lovers, who come back to ask their fathers for understanding and forgiveness.