Main content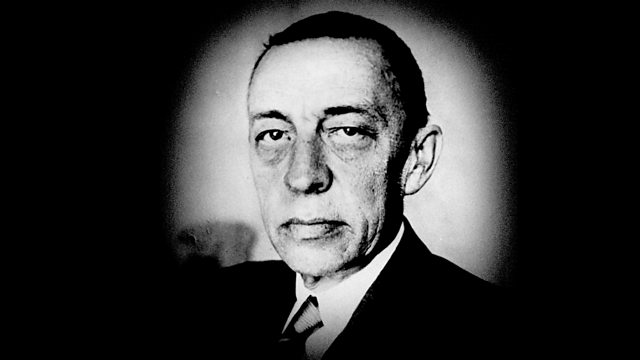 Donald Macleod explores a work that failed to reflect the spirit of its time: Rachmaninov's Fourth Piano Concerto.
This week Donald Macleod explores Rachmaninov the pianist-composer, focusing on his concertante piano works. Today, a work that failed to reflect the spirit of its time: his Fourth Piano Concerto.
Sergey Rachmaninov spent the first two-thirds of his life in Russia. In the fateful year of 1917, at the age of 44, he realized that he must now uproot himself and his family and flee abroad. Someone from his landowning background would not have fared well under the new regime - perhaps he wouldn't have survived at all. As luck would have it he received an invitation to play a concert in Stockholm in the new year, and despite the chaos at home he managed to get permission from the authorities to travel.
He made the journey with his family, taking only what could be carried in their luggage. They made the final leg, across the Swedish border, in an open sled during a blizzard, arriving in Stockholm on Christmas Eve. Stockholm, however, was to be only a temporary resting-place. Some years earlier he had undertaken a concert tour of America, and now he decided that America was where he had the best chance of carving out a living as a concert pianist. Before the year was done, the Rachmaninovs were chugging across the Atlantic on a Norwegian steamer, arriving in New York almost a year after they had fled Russia.
Rachmaninov's first American work was the ill-fated Fourth Piano Concerto, which received a critical panning after its première and fared no better in Europe in a hastily revised version. Perhaps it just seemed too old-fashioned for the Roaring Twenties. Rachmaninov made one further revision, in 1941, but the piece still failed to capture the imagination of the concert-going public. In today's programme, Arturo Benedetti Michelangeli makes an electrifying case for the work. Rachmaninov's final piece for solo piano, the Variations on a Theme of Corelli, inhabits a totally different world from the concerto. Iit has its moments of passion, but overall it's cooler, more restrained, wistful - subdued even. Rachmaninov related how in performance he would make impromptu cuts in the work, depending on the amount of audience coughing.
Rimsky Korsakov, arr Rachmaninov
Flight of the Bumble Bee (The Tale of Tsar Saltan)
Sergey Rachmaninov, piano
Piano Concerto No 4 in G minor, Op 40
Arturo Benedetti Michelangeli, piano
Philharmonia Orchestra
Ettore Gracis, conductor
3 Russian Songs, Op 41: 2. 'Oh Vanka, what a hothead you are'
Chorus of the Mariinsky Theatre
BBC Philharmonic
Gianandrea Noseda, conductor
Variations on a Theme of Corelli, Op 42
Mikhail Pletnev, piano
Producer: Chris Barstow.