Main content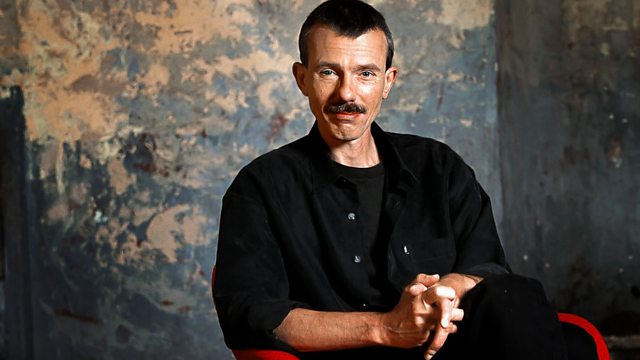 Proms 2014: Alexandre Tharaud with the BBC Philharmonic under Juanjo Mena
Jonathan Swain's selection includdes Ravel's Piano Concerto for the Left Hand, with soloist Alexandre Tharaud and the BBC Philharmonic conducted by Juanjo Mena.
Alexandre Tharaud is the soloist in Ravel's piano concerto for the left hand with BBC Philharmonic conducted by Juanjo Mena. Jonathan Swain presents.
12:31 AM
Harrison Birtwistle [b.1934]
Night's Black Bird
BBC Philharmonic, Juanjo Mena (conductor)
12:44 AM
Ravel, Maurice [1875-1937]
Concerto in D major for piano (left hand) and orchestra
Alexandre Tharaud (piano) BBC Philharmonic, Juanjo Mena (conductor)
1:02 AM
Scriabin, Alexander [1872-1915]
From 2 Pieces Op.9 for piano (left hand): No.1 Prelude in C sharp minor
Alexandre Tharaud (piano)
1:05 AM
Mahler, Gustav [1860-1911]
Symphony No.5 in C sharp minor
BBC Philharmonic, Juanjo Mena (conductor)
2:14 AM
Stravinsky, Igor (1882-1971)
Octet for wind instruments
Canadian Chamber Ensemble, Raffi Armenian (conductor)
2:31 AM
Weber, Carl Maria von (1786-1826)
Missa sancta No.1 in E flat major, (J.224) 'Freischutzmesse' for soli, chorus & orchestra
Norwegian Soloist Choir, Norwegian Radio Orchestra, Grete Pedersen Helgerød (conductor)
3:04 AM
Beethoven, Ludwig van (1770-1827)
Violin Sonata No.9 in A major 'Kreutzer' (Op.47)
Mats Zetterqvist (violin), Mats Widlund (piano)
3:38 AM
Schickhard, Johann Christian (c.1682-c.1760)
Flute Sonata in C major
Vladislav Brunner jr. (flute), Herta Madarova (harpsichord)
3:47 AM
Donizetti, Gaetano (1797-1848)
Overture to La Fille du régiment
Oslo Philharmonic, Nello Santi (conductor)
3:56 AM
Grieg, Edvard (1843-1907)
3 Pieces from Slåtter (3 Pieces from Norwegian Peasant Dances) (Op.72)
Havard Gimse (piano)
4:05 AM
Kodály, Zoltán (1882-1967)
Adagio for violin and piano
Tamás Major (violin), Zoltán Kocsis (piano)
4:14 AM
Saint-Saëns, Camille (1835-1921)
Sérénade d'hiver (Henri Cazalis)
Lamentabile Consort: Jan Stromberg & Gunnar Andersson (tenors), Bertil Marcusson (baritone), Olle Sköld (bass)
4:20 AM
Haydn, Joseph (1732-1809) or possibly Pleyel, Ignace (1757-1831) arr. Perry, Harold
Divertimento (Feldpartita) (H.2.46) in B flat major arr. for wind quintet (attributed to Haydn, possibly by Pleyel)
Bulgarian Academic Wind Quintet: Georgi Spasov (flute), Georgi Zhelyazov (oboe), Petko Radev (clarinet), Marin Valchanov (bassoon), Vladislav Grigorov (horn)
4:31 AM
Abel, Carl Friedrich (1723-1787)
Symphony in C major, Op.10/4
La Stagione, Frankfurt, Michael Schneider (conductor)
4:40 AM
Chopin, Fryderyk (1810-1849)
Two Nocturnes (Op.32)
Kevin Kenner (piano)
4:50 AM
Gombert, Nicolas (c.1495-c.1560)
Benedicto mensae
BBC Singers, Bo Holten (conductor)
5:00 AM
Zagar, Peter (b. 1961)
Blumenthal Dance No.2 for violin, viola, cello, clarinet and piano (1999)
Opera Aperta Ensemble
5:08 AM
Wolf, Hugo (1860-1903)
Italian Serenade for string quartet
Ljubljana String Quartet
5:17 AM
Schumann, Robert (1810-1856)
Theme and variations on the Name 'Abegg' (Op.1)
Seung-Hee Hyun (piano)
5:25 AM
Verdi, Giuseppe (1813-1901)
Overture - Nabucco
Bergen Philharmonic Orchestra, Alun Francis (conductor)
5:33 AM
Brahms, Johannes (1833-1897)
Cello Sonata No.1 (Op.38) in E minor
Monica Leskhovar (cello), Ivana Schwartz (piano)
5:58 AM
Mozart, Wolfgang Amadeus (1756-1791)
Piano Concerto No.27 in B flat major (K.595)
Clifford Curzon (piano), Royal Concertgebouw Orchestra, Bernard Haitink (conductor).