Main content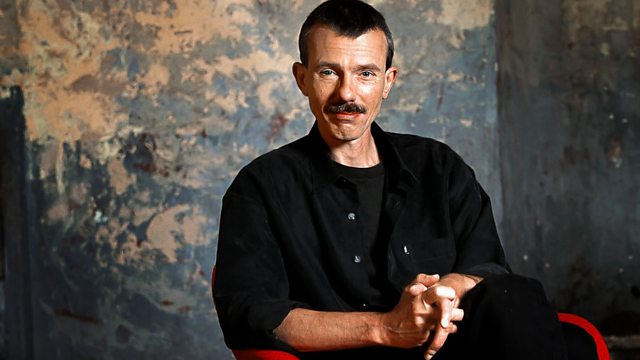 Proms 2010: Simon Rattle Conducts the Berlin Philharmonic
Jonathan Swain's selection includes Simon Rattle conducting the Berlin Philharmonic in Mahler a performance given at the 2010 Proms.
Sir Simon Rattle conducts the Berlin Philharmonic in a performance of Beethoven's Fourth and Mahler's First symphonies from the 2010 BBC Proms. Jonathan Swain presents.
1:01 AM
Beethoven, Ludwig van (1770-1827)
Symphony No. 4 in B flat major Op.60
Berliner Philharmoniker, Simon Rattle (conductor)
1:36 AM
Mahler, Gustav (1860-1911)
Symphony No. 1 in D major
Berliner Philharmoniker, Simon Rattle (conductor)
2:34 AM
Schumann, Robert [(1810-1856)]
Waldszenen - 9 pieces for piano (Op.82)
Stefan Bojsten (piano)
3:01 AM
Kania, Emanuel (1827-1887)
Trio Sonata in G minor
Maria Szwajger-Kulakowska (piano), Andrzej Grabiec (violin), Pawel Glombik (cello)
3:31 AM
Poulenc, Francis (1899-1963)
Gloria for soprano, chorus and orchestra in G major
Annick Massis (soprano), Choeur de Radio France, Orchestre National de France, Georges Prêtre (conductor)
4:00 AM
Paganini, Niccolò (1782-1840)
Cantabile
Peter Michalica (violin), Elena Michalicova (piano)
4:05 AM
Kuula, Toivo (1883-1918)
Tranquillamente from 3 Satukuvaa (Fairy tale pictures) for piano (Op.19 No.3)
Liisa Pohjola (piano)
4:11 AM
Corelli, Arcangelo (1653-1713)
Sonata a quattro in G minor
La Stagione, Michael Schneider (director)
4:17 AM
Mozart, Wolfgang Amadeus [1756-1791]
Rondo in C major (K.373)
James Ehnes (violin), Mozart Anniversary Orchestra
4:24 AM
Schoenberg, Arnold (1874-1951) text: Johannes Schlaf (1862-1941)
Waldsonne - No.4 from 4 lieder (Op.2)
Arleen Augér (soprano), Irwin Gage (piano)
4:29 AM
Chopin, Frédéric (1810-1849)
Rondo in E flat major, Op.16
Ludmil Angelov (piano)
4:39 AM
Bach, Carl Philipp Emanuel (1714-1788)
Trio sonata in A major for flute, violin and continuo (Wq.146/H.570)
Les Adieux
4:52 AM
Rossini, Gioachino (1792-1868)
Overture - from Il Barbiere di Siviglia (The Barber of Seville)
Polish Radio Orchestra, Wojciech Rajski (conductor)
5:01 AM
Scarlatti, Domenico (1685-1757)
Sinfonia in G major
András Keller (violin), Concerto Köln
5:04 AM
Schumann, Clara (1819-1896)
Scherzo for piano in D minor, Op.10 No.1
Angela Cheng (piano)
5:09 AM
Karlowicz, Mieczyslaw (1876-1909)
Chant de l'éternelle aspiration, première partie du tryptique symphonique 'Chants éternels' (Op.10) (1904-1906)
Orchestre Français des Jeunes, Marek Janowski (director)
5:21 AM
Ravel, Maurice (1875-1937)
Cinq mélodies populaires grecques
Catherine Robbin (mezzo-soprano), André Laplante (piano)
5:30 AM
Hummel, Johann Nepomuk (1778-1837)
Piano Quintet in E flat major/minor (Op.87) (1825)
Tobias Ringborg (violin), Ingegard Kierkegaard (viola), John Ehde (cello), Håkan Ehrén (double bass), Stefan Lindgren (piano)
5:50 AM
Peterson-Berger, Wilhelm (1867-1942), lyrics also by Peterson-Berger
Danslek ur 'Ran' (Singing Games from the opera 'Ran')
Swedish Radio Choir, Olov Olofsson (piano), Eric Ericson (conductor)
5:53 AM
Wirén, Dag (1905-1986), lyrics by Gustaf Fröding
Titania
Women's choir from the Swedish Radio Choir, Eric Ericson (conductor)
5:54 AM
Malmfors, Åke (1918-1951), traditional lyrics
Hans und Grethe
Swedish Radio Choir, Eric Ericson (conductor)
5:56 AM
Tulindberg, Erik (1761-1814)
String Quartet No.3 in C major
Ostrobothnian Quartet
6:17 AM
Tartini, Giuseppe (1692-1770)
Violin Concerto (D.28) in D major
Stavanger Symphony Orchestra, Fabio Biondi (violin/conductor)
6:34 AM
Rachmaninov, Sergey (1873-1943)
Etudes-Tableaux (Op.39) (I - VI only)
Nicholas Angelich (piano).