Main content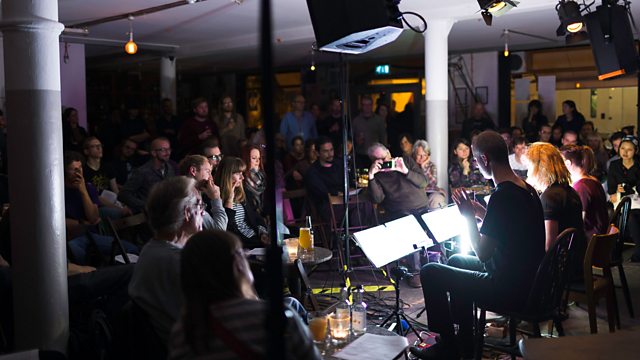 Music from the 2015 Cut and Splice music festival, by Luc Ferrari, Clara Iannotta, Dawn Scarfe, Henry Cowell, Cathy van Eck, Simon Loffler, Agostino di Scipio and Michael Pisaro.
BBC Radio 3's ground-breaking festival of experimental sound Cut & Splice returns to the airwaves with recordings from last weekend's event at London's Cafe Oto, curated by the composer Joanna Bailie and featuring the group Ensemble Plus-Minus. Bailie's programme links the work of the early pioneers of the avant-garde to the trail-blazers of today and explores the relationships between music machines and the environment.
Presented by Robert Worby.
Luc Ferrari: Presque Rien No.1 (1970) for pre-recorded media
Clara Iannotta: The people here go mad. They blame the wind. (2013-14) for bass clarinet, cello, piano and 12 music boxes
Dawn Scarfe: Air Traffic (2006) for pre-recorded media
Henry Cowell: Aeolian Harp (1923) for solo piano
Cathy van Eck: Groene Ruis (2007) - performance project for a sounding tree
Simon Løffler: b (2012) for 3 players, neon lights, effect pedals and a loose jack cable
Agostino di Scopio: Audible Ecosystems, n.3a (background noise study) (2004-5)
Michael Pisaro: Fields have ears 1 (2009) for piano and pre-recorded media
James Saunders: like you and like you (2015) for 3 performers
Ensemble Plus-Minus: Mark Knoop (piano), Vick Wright (clarinet), Alice Purton (cello)
Clara Iannotta (music box)
Owen Green (electronics)
Cathy van Eck (performer)
Recorded at Café Oto, London, 25-26 September. Cut & Splice is a partnership between Sound and Music, the national charity for new music, and BBC Radio 3's Hear and Now.
More episodes
Previous
You are at the first episode
Stockhausen's Gruppen – What's the Big Deal?