Main content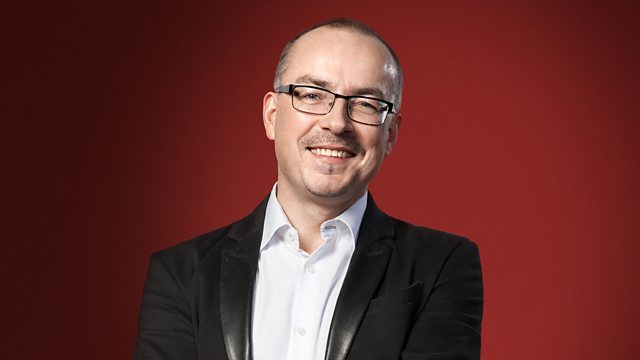 Building a Library: Verdi: Requiem
With Andrew McGregor. Including Building a Library: Verdi: Requiem; Chamber music releases: Korngold, Taneyev, Szymanowski, Berg and Vaughan Williams; Disc of the Week.
with Andrew McGregor
0930 Building a Library
As part of BBC Music's Ten Pieces Secondary, which aims to open up the world of classical music to children aged 11 and above, Flora Willson considers the available versions of Verdi's Requiem. Verdi was an anti-Papist, and a rationalist with very little time for the Roman Catholic Church. But the words of the Requiem ignited his imagination. Written in the same white-hot musical language he used for his great operatic melodramas, Verdi brings to life the dramatic text of the Requiem Mass with apocalyptic visions of the last judgement and ethereal evocations of a celestial paradise.
1030
Andrew talks to Sarah Devonald about a handful of intriguing new releases of chamber music from the late Romantic period and early 20th century, including discs of Korngold, Taneyev, Szymanowski, Berg and Vaughan Williams.
1145
Andrew chooses an outstanding recording for his Disc of the Week.
9.00am
VERDI: Requiem
Anja Harteros (soprano), Elina Garanca (mezzo), Jonas Kaufmann (tenor), Rene Pape (bass), Orchestra e coro del Teatro alla Scala, Milan, Daniel Barenboim (conductor)
DECCA 4785245 (2CD budget)
Le Concert Royal de la Nuit
Violaine le Chenadec (soprano), Marie-Frederique Girod (soprano), Caroline Bardot (soprano), Caroline Weynants (soprano), Amandine Trenc (soprano), Caroline Meng (soprano), Lucile Richardot (mezzo-soprano), Dagmar Saskova (mezzo-soprano), Stephanie Leclerc (contralto), Stephen Collardelle (countertenor), Davy Cornillot (tenor), Etienne Bazola (baritone), Renaud Bres (bass), Nicolas Brooymans (bass), Ensemble Correspondances, Sebastien Dauce
HARMONIA MUNDI HMC952223/24 (2CD mid-price)
Max Richter: from SLEEP
RICHTER, MAX: Dream 3 (in the midst of my life); Path 5 (delta); Space 11 (invisible pages over); Dream 13 (minus even); Space 21 (petrichor); Path 19 (yet frailest); Dream 8 (late and soon)
Max Richter (piano, organ, synthesizers, electronics), Grace Davidson (soprano), American Contemporary Music Ensemble (ACME)
DG 4795257 (CD)
Objects At An Exhibition
BARRY, G: The One-Armed Pianist
GUY: Mr Babbage is coming to dinner
MAYO: Supermarine
MOLITOR, C: 2TwoLO
MUSGRAVE: Power Play
SAWER: Coachman Chronos
Aurora Orchestra, Nicholas Collon
NMC NMCD215 (CD)
Chopin: Argerich/Maisky/Kaspszyk/Sinfonia Varsovia
CHOPIN: Piano Concerto No.1; Sonata for piano and cello op.65
Martha Argerich (piano), Mischa Maisky (cello), Sinfonia Varsovia, Jacek Kaspszyk (conductor)
Narodowsky Institute Fryderyka Chopina NIFCCD038 (CD)
9.30am Building a Library
Flora Willson compares recordings of Verdi's Requiem and makes a personal recommendation.
Top recommendation:
VERDI: Requiem
Anja Harteros (soprano), Sonia Ganassi (mezzo), Rolando Villazon (tenor), Rene Pape (bass), Orchestra e Coro dell'Accademia di Santa Cecilia, Antonio Pappano (conductor)
EMI 6989362 (2CD)
10.25am
Saint-Saens: Symphonies, Vol. 3
SAINT-SAENS: Symphonie en fa Urbs Roma; La jeunesse d'Hercule; Danse macabre Op. 40
Marika Faltskogh (violin), Malmo Symphony Orchestra, Marc Soustrot (conductor)
NAXOS 8573140 (CD budget)
Saint-Saens: Piano Concertos Nos. 2 & 5
SAINT-SAENS: Piano Concerto No. 2 in G minor Op. 22; Piano Concerto No. 5 in F major Op. 103 'Egyptian'
Louis Schwizgebel (piano), BBC Symphony Orchestra, Fabien Gabel, Martyn Brabbins (conductor)
APARTE AP112 (CD)
Poulenc: Piano Concertos & Aubade
POULENC: Piano Concerto; Concerto in D minor for Two Pianos & Orchestra; Aubade; Sonata for Piano Four Hands (a mademoiselle Simone Tilliard); Elegie for two pianos, FP175; L'Embarquement pour Cythere, for 2 pianos
BBC Philharmonic, Edward Gardner (conductor), Helene Mercier (piano), Louis Lortie (piano)
CHANDOS CHAN10875 (CD)
10.40am New Chamber Music Releases with Sarah Devonald
Sarah Devonald joins Andrew to discuss resecntly released chamber music recordings.
Vaughan Williams & Goetz: Piano Quintets in C Minor
GOETZ: Piano Quintet in C minor Op. 16
VAUGHAN WILLIAMS: Piano Quintet in C minor
Yoko Kikuchi (piano), Faberge Quintet
ES-DUR ES2056 (CD)
Hahn & Szymanowski: Works for Violin & Piano
HAHN, R: Nocturne for violin & piano; Sonata in C major for violin & piano; Romance in A major for violin & piano
SZYMANOWSKI: Violin Sonata in D minor Op. 9; Nocturne & Tarantella Op. 28
Tamsin Waley-Cohen (violin), Huw Watkins (piano)
SIGNUM SIGCD432 (CD)
The Korngold Project, Part 1
KORNGOLD: Piano Trio in D major Op. 1; Suite Op. 23 for 2 Violins, Cello & Piano (Left hand)
Daniel Rowland (violin), Priya Mitchell (violin), Julian Arp (cello), Luis Magalhaes (piano)
TWO PIANISTS TP1039282 (CD)
Taneyev: The Complete Quintets
TANEYEV: Piano Quintet in G minor Op. 30; String Quintet in G major Op. 14; String Quintet in C major Op. 16
Olga Vinokur (piano), Jiri Barta (cello), Jitka Hosprova (viola), Martinu Quartet
SUPRAPHON SU41762 (2CD)
Berg: Lyric Suite
BERG: Lyric Suite - for soprano and string quartet
WELLESZ: Sonnets For Elizabeth Barrett Browning Op. 52
ZEISL: Komm, susser Tod
Renee Fleming (soprano), Emerson String Quartet
DECCA 4788399 (CD)
11.40am Disc of the Week
VERDI: Aida
Anja Harteros (Aida), Jonas Kaufmann (Radames), Ekaterina Semenchuk (Amneris), Ludovic Tezier (Amonasro), Erwin Schrott (Ramfis), Marco Spotti (Il Re d'Egitto), Paolo Fanale (Un Messaggero), Eleonora Buratto (Sacerdotessa), Coro e Orchestra dell'Accademia di Santa Cecilia, Roma, Antonio Pappano (conductor)
WARNER CLASSICS 2564610663 (3CD budget)