Main content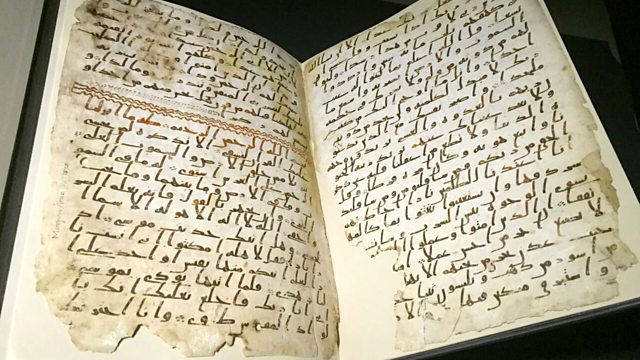 Birmingham Qur'an, Germany reunification, Cardinal Vincent Nicholls
One of the oldest Qur'an manuscripts goes on display in Birmingham this week, and William Crawley speaks to Cardinal Nichols about the Catholic Synod on the family.
The two-week long Catholic Synod of Bishops at the Vatican, beginning this weekend, will consider how the Church can work better with families in the modern world. The question is: will anything change as a result of this gathering of senior clergy? Bob Walker reports. William Crawley speaks to Cardinal Vincent Nichols, who's leading the Synod delegation from England and Wales.
A Qur'an manuscript dated among the oldest in the world has gone on display in Birmingham this week. Its discovery has led to the questioning of the dating of Qur'an. Kevin Bocquet reports.
As the Saudi authorities launch an investigation into the Hajj stampede, what does last week's event tell us about the Saudi Royal Family? Can they sustain the support of the Muslim world and carry on being custodians of Islam's two holiest shrines? William speaks to Middle East analyst Bill Law.
William talks to Alister McGrath, author of ' Inventing the Universe: Why We Can't Stop Talking About Science, Faith and God'.
Bishop Michael Nazir Ali, expresses his concerns on the latest stage of the government's plans for 'countering extremism' which will be discussed at the Conservative Party Conference this week.
This weekend Germany will be celebrating 25 years of unification but will it be overshadowed by a sense of unease about the influx of up to 1 million asylum seekers into the country? William will discuss this with the Rev Dr Christophe Tylermann and Dr Riem Spielhaus.
Producers
Carmel Lonergan
Zaffar Iqbal
Editor
Amanda Hancox.
Last on
Chapters
Counter-Extremism Bill

Bishop Michael Nazir Ali and his concerns on plans for 'countering extremism'

Duration: 03:23

Hajj

Saudi Royal Family and the Hajj stampede.

Duration: 05:09

Qur'an

A Qur'an manuscript dated among the oldest in the world has gone on display in Birmingham

Duration: 06:43

Germany Reunification

Germany 25 years of unification, is it working?

Duration: 06:41

New Atheism

William talks to Alister McGrath, author of ' Inventing the Universe'

Duration: 05:44

Catholic Synod

The Catholic Synod of Bishops on the family.

Duration: 08:01

Cardinal Vincent Nichols

William speaks to the Cardinal who's leading the Synod delegation from England and Wales

Duration: 06:36

Broadcast

All the colours of the rainbow