Main content
Last on
Migneint Blanket Bog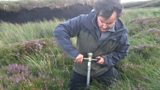 Today Adam is exploring the Migneint blanket bog in the heart of Snowdonia. As you drive from Ysbty Ifan to Ffestioniog the Migneint just looks like a wide, rather bleak expanse of soggy ground. But in this week's programme Adam discovers the vital importance of peatlands like the Migneint in controlling flooding, providing clean drinking water and even helping to control climate change.
Adam's guide is Dr. Christian Dunn from Bangor University's School of Biological Sciences. He explains how a peat bog forms over thousands, even millions of years: because the bog is very wet and acidic, organic matter like sphagnum moss doesn't decompose – it just builds up into a brown 'sludge' which we call peat. Christian takes a sample peat core to show Adam the process.
They're also joined by Andrew Roberts, the National Trust's Lead Ranger for the area. He explains the history of the Migneint and the Trust's role in restoring the landscape after a century or more of attempts to drain it for farming and grouse shooting.
Adam also meets Chris Freeman, Professor of Wetland Science and Head of the School of Biological Sciences at Bangor University. He discovered the 'enzymic latch' that locks up carbon in peat bogs. If a peat bog is drained it allows microbes access to oxygen so that they can start the process of decomposition, releasing carbon dioxide into the atmosphere. Chris explains that, while peatlands cover only 3% of the planet's surface, they contain more carbon than all the world's forests put together. If peatlands are degraded they will contribute to global warming. On the other hand, there's a way that healthy peatlands could be actually be used to prevent climate change.

Broadcasts