Main content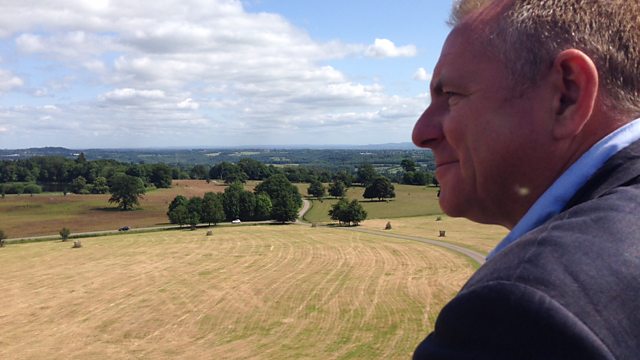 Jamie is charmed by Chirk Castle and heads for Holywell, meeting a US woman who has travelled to visit her Welsh granddaughter.
More episodes
Previous
You are at the first episode
Jamie's Blog: Castles of the north east
It's a fact of life that our generation is so used to cheap flights and hoping on planes  - that perhaps some of us are better acquainted with our favourite destinations abroad  - than places on our own doorstep.
So I'm trying to put that right and spending my time off exploring this country we call home – and in particular the parts of Wales  which I'm not so familiar with.
In the first of this new series of Jamie Owen's Wales  I'm exploring the north east corner of the country.
 It's along way from my home and somewhere I'm not too familiar with – but the places I'm visiting would have been etched into the minds of travellers and pilgrims to Wales for hundreds of years.
 Despite all the efforts to rebrand modern Wales by the tourism boffins  - when many visitors head to Wales, it's our castles that many of them want to explore - and no wonder  - we've got plenty of them to shout about. On my itinerary in the first programme, there's two of them - and a place of religious pilgrimage.
 I start my day walking up the hill to Chirk Castle, built in 1295 as part of  Edward I's chain of fortresses across north Wales. This year Chirk launched a new tour offering the chance to climb the steps up the tower and walk onto the battlements.
As long as you like heights its certainly worth the climb.
When you reach the top and survey the surrounding land,  you begin to understand why they built the castle where they did  - and the great wealth of the families who once lived there.
I'm also exploring St Winifred's Well in Holywell –a place of pilgrimage for Catholics since the 7th century. It claims to be the oldest continually visited pilgrimage site in Britain.
The healing waters have been said to offer miraculous cures. The well is known as "the Lourdes of Wales" and is mentioned in an old rhyme as one of the Seven Wonders of Wales.
Also on my itinerary - Flint Castle.
I've seen pictures in guidebooks of the romantic ruin staring across the water  - but I've never been to actually see the first of the series of castles built during King Edward I's campaign to conquer Wales.
It's my last port of call in fading afternoon sun  - almost ghostly in the lengthening shadows and, unlike Chirk Castle - which is really more of a home than a castle  - Flint's stone sentinel is a roofless romantic ruin staring out across the sea.
Overshadowed by its larger and more celebrated sisters strongholds to the west, Flint stands at the eastern doorway into North Wales.
Edward I's stronghold is a haunting image of desolation and solitude, the stark contrast between our modern world and the Middle Ages.
I hope you'll join me in a new series of my journeys around home.
Sundays at 6 PM from 27 September 2015, available on-demand for 30 days on BBC iPlayer Radio.