Main content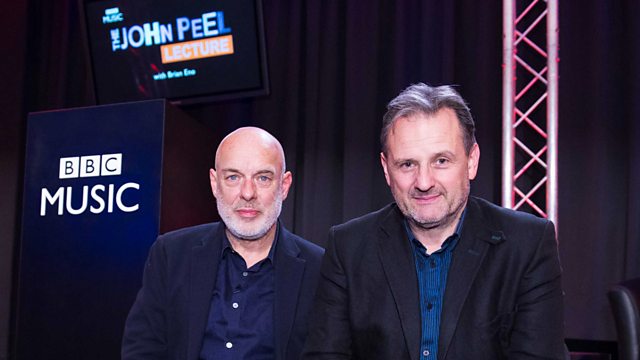 2015 with Brian Eno
Brian Eno examines the ecology of culture and how the complexity of individuals and institutions are symbiotically connected parts of a single huge organism known as culture.
Another chance to hear Brian Eno deliver the annual John Peel Lecture.
The lecture invites a notable figure from the music industry to shape a debate and create insight around music and music-related media. Taking its inspiration from one of the greatest radio broadcasters of all time, and a figure who perpetually challenged the status quo, the John Peel Lecture has been a part of the Radio Festival since 2011.
This year's John Peel Lecture examined the ecology of culture. Brian Eno demonstrated how the whole complex of individuals and institutions engaged in culture - artists, broadcasters, gallerists, promoters, DJs, managers, lawyers, fans - are symbiotically connected parts of a single huge organism which we call Culture. He outlines some of his thinking on this very unpredictable ecology and explores the interconnected relationships between the elements and components that combine to create our culture, and shows how cultural processes confer essential and important benefits on society.
Brian Eno joined a list of high profile speakers who have delivered the John Peel Lecture. These are The Who's Pete Townshend in 2011, who explored the implications of digital music media in an age of free downloads and a disposable attitude to music; Billy Bragg in 2012 whose speech explored how music and radio need mavericks to keep moving forward; and in October 2013, Charlotte Church delivered an insightful speech on the theme of women and their representation in the music industry. Last year 6 Music's Iggy Pop gave a speech on the topic of Free Music in a Capitalist Society.
Last on
Brian Eno examines whether art is a luxury in the 2015 BBC Music John Peel Lecture.

Brian Eno visits Peel Acres and takes the opportunity to explore John Peel's archive.
Music Played
Eno And The Winkies

Baby's On Fire / Totalled (Radio 1 Session, 26 Feb 1974)
Broadcasts

Five Peelisms that still inspire today
Presenters' memories of John Peel