Main content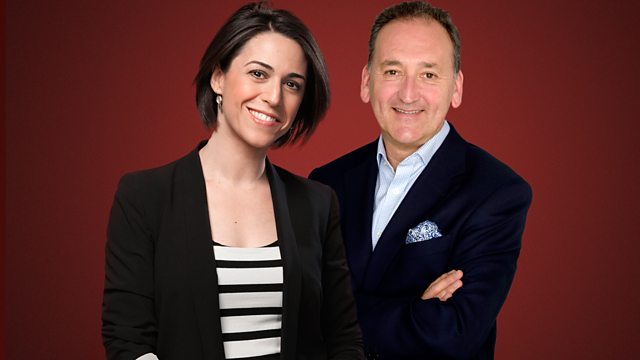 Friday - Rob Cowan with Nitin Sawhney
With Rob Cowan. Including Five Reasons to Love Bach Organ Works; musical challenge; Artist of the Week: cellist Steven Isserlis, featured in Saint-Saens's Cello Concerto No 2.
9am
Rob presents '5 reasons to love... Bach organ works'. Throughout the week Rob puts Bach's organ works centre stage, showcasing their complexity, and the virtuosity required to perform them. He highlights their flashes of humour, as well as their gravitas and sheer power, plus the way Bach often reinvented pre-existing works. Rob hand-picks recordings by organists including Helmut Walcha, Simon Preston and Ton Koopman.
9.30am
Take part in today's challenge. Two pieces of music are played together - can you work out what they are?
10am
Rob's guest this week is Nitin Sawhney. A composer, producer, songwriter, DJ and multi-instrumentalist, Nitin is one of the BBC's Ambassadors for the new Ten Pieces project. His musical credentials include collaboration with artists from Sir Paul McCartney to The London Symphony Orchestra. As a child Nitin trained as a classical pianist, moving on to classical and flamenco guitar and learning to play sitar and tabla. He has since toured the world with his band, and recorded nine studio albums, winning accolades for his amalgamation of styles including jazz, flamenco, electronica and classical Indian ragas. He has composed for theatre, film, television and video games with credits including writing the BAFTA-winning soundtrack for The Human Planet, scoring ad campaigns for brands such as Yves Saint Laurent and Nike and writing a new score for Alfred Hitchcock's The Lodger. Nitin will be sharing a selection of his favourite classical music with Rob, every day at 10am.
10.30am Ten Pieces
The BBC has just launched the new Ten Pieces for secondary schools, opening up the world of classical music to children and inspiring them to respond creatively to what they hear. To celebrate this Rob chooses music that complements this exciting selection of works.
11am
Rob's featured artist is the cellist Steven Isserlis. A musician who wears his considerable virtuosity lightly, Isserlis has received worldwide acclaim for his technique, musicianship and command of the instrument. Throughout the week Rob presents recordings by Isserlis including an elegant interpretation of Haydn's Cello Concerto No.1, a lyrical performance of Grieg's Cello Sonata and a rendition of Prokofiev's Cello Concerto that captures the bittersweet language of the work.
Saint-Saëns
Cello Concerto No. 2 in D minor, Op. 119
Steven Isserlis (cello)
NDR Symphony Orchestra
Christoph Eschenbach (conductor).
Music Played
5 REASONS TO LOVE...BACH ORGAN WORKS

NITIN SAWHNEY'S CHOICE NO.1

NITIN SAWHNEY'S CHOICE NO.2

NITIN SAWHNEY'S CHOICE NO.3

ARTIST OF THE WEEK: STEVEN ISSERLIS
Imperfect Harmony
The music played:
Bruch
Violin Concerto No.1 in G minor: 1st Movement
Daniel Hope (violin)
Royal Stockholm Philharmonic Orchestra
Sakari Oramo (conductor)
DG
 
Vaughan Williams
The Turtle Dove
Gabriel Crouch (baritone)
Tenebrae
Nigel Short (conductor)
SIGNUM
Time Travellers: the podcast