Main content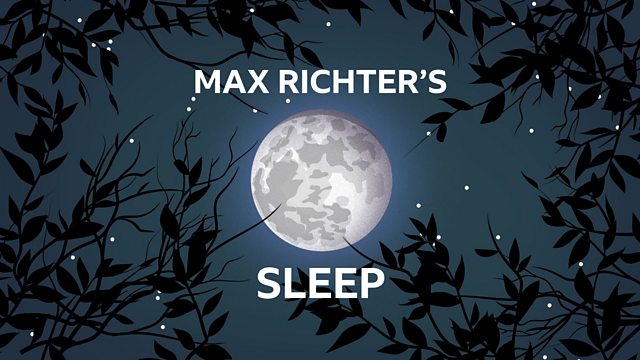 Max Richter's Sleep
An all-night performance of Max Richter's eight-hour epic, Sleep, his 'lullaby for a frenetic world'.
Part of Slow And Mindful, BBC Radio 3's offering of music for the mind in the time of lockdown, Max Richter's eight-hour epic Sleep, his 'lullaby for a frenetic world', returns home to the station's airwaves with a simulcast with the European Broadcasting Union - uniting quarantined nations across the continent in a search for sleep and moments of meditative stillness.
This was the world premiere performance, a live Radio 3 broadcast in September 2015 – since then, the piece has been staged across the globe, with landmark concerts in Paris, Los Angeles and Sydney. The album of Sleep has recently returned to number one in the USA Billboard classical album charts – which Billboard attributes to 'consumers in coronavirus quarantine at home, seeking out peaceful music'.
On the night of Saturday 26th September 2015, in the Reading Room of the Wellcome Collection in London, Max Richter on piano and electronics was joined by soprano Grace Davidson plus five string players, and an audience who were encouraged to lie on beds and sleep through the performance. The work seeks to examine the relationship between music and the subconscious mind: instead of giving the music full concentration, listeners are encouraged to experience it in a state of sleep. The piece indeed provides an apt soundtrack for these times of lockdown – when hours seemingly stretch into the distance. Sleep offers a mindful way to forget everything going on around us and to enter another world.
Max Richter says of the piece in today's context: "Five years ago I wrote SLEEP as an invitation to pause our busy lives for a moment. Now we are all facing an unexpected and involuntary pause. It is far from easy to adjust to this new normal, which shifts continuously, and brings anxiety and suffering to those we love and to ourselves. At such times the magical ability of creativity to elevate our days and to connect us is more important than ever, and I'm really happy that the EBU allows us to listen all together across the whole of Europe. Please enjoy this eight-hour place to rest."
Radio 3's 8-hour live broadcast broke two Guinness World Records - for the longest broadcast of a single piece of music, and the longest live broadcast of a single piece of music.
Grace Davidson (soprano)
Steve Morris and Natalia Bonner (violins)
Reiad Chibah (viola)
Ian Burdge and Chris Worsey (cellos)
Chris Ekers (sound design)
Max Richter (piano, keyboards and electronics)
'Sleep' by Max Richter:
1. "Dream 1 (before the wind blows it all away)"
2. "Cumulonimbus"
3. "Dream 2 (entropy)"
4. "Path (7676)"
5. "whose name is written on water"
6. "Patterns (cypher)"
7. "Solo"
8. "Aria 1"
9. "Return 2 (song)"
10. "nor earth, nor boundless sea"
11. "Dream 11 (whisper music)"
12. "moth-like stars"
13. "Path 17 (before the ending of daylight)"
14. "Space 26 (epicardium)"
15. "Patterns (lux)"
16. "Constellation 1"
17. "Constellation 2"
18. "Space 2 (slow waves)"
19. "Chorale/glow"
20. "Dream 19 (pulse)"
21. "Cassiopeia"
22. "Non-eternal"
23. "Song/echo"
24. "Aria 2"
25. "never fade into nothingness"
26. "Return 16 (time capsule)"
27. "if you came this way"
28. "Space 17 (chains)"
29. "Sublunar"
30. "Dream 17 (Alpha)"
31. "Dream 0 (till break of day)"
Last on

Radio 3 presents an all-night broadcast of Max Richter's SLEEP, recorded live in 2015.

In 2015, Radio 3 invited listeners to sleep through a live world premiere – overnight.
Broadcasts

Featured in...
Exclusive music mixes curated by the BBC's music experts, artists and special guests.

We broadcast more live and specially-recorded concerts and opera than any other station.