Main content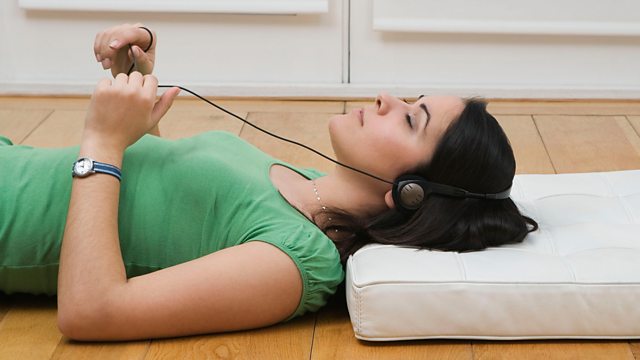 The Ear's Delight
Tamsin Greig and Alex Jennings read texts on the power of music, from Shakespeare to PG Wodehouse, St Augustine to Proust, and Baudelaire to Nick Hornby, including music spanning ten centuries, from Hildegard of Bingen to Beethoven and beyond.
David Papp (producer).
Music Played
Timings (where shown) are from the start of the programme in hours and minutes
Walter De la Mare

Music read by Tamsin Greig

Charles Baudelaire (Trans: William Aggeler)

La musique read by Alex Jennings

EM Forster

Howard's End read by Tamsin Greig

PG Wodehouse

The Mating Season read by Alex Jennings

Nick Hornby

High Fidelity read by Alex Jennings and Tamsin Greig

St Augustine

The Confessions (ed James McKinnon) read by Alex Jennings

Hildegard of Bingen

Ave generosa read by Tamsin Greig

Bible

1 Samuel Chapter 16, vs 14 – 23 read by Tamsin Greig

Robert Herrick

To Music, to becalm his fever read by Alex Jennings

Emily Dickinson

The fascinating chill that music leaves read by Tamsin Greig

Peter Schaffer

Amadeus read by Alex Jennings

Anita Lasker-Wallfisch

Inherit the Truth read by Tamsin Greig

Walt Whitman

Beat! Beat! Drums! read by Alex Jennings

Siegfried Sassoon

Everyone Sang read by Alex Jennings

Melvin B Tolson

Satchmo read by Tamsin Greig

Marcel Proust (trans C. K. Scott Moncrieff)

Swann's Way read by Alex Jennings

William Shakespeare

The Merchant of Venice, Act 5, Scene 1 read by Alex Jennings and Tamsin Greig

Producer's Notes - The Ear's Delight

'The language where all language ends': music's unique power is the subject of this edition of Words and Music with Tamsin Greig and Alex Jennings.

For Walter de la Mare and Charles Baudelaire, music is affecting, transporting and transformative, qualities reflected in the surging, impassioned score of Debussy's Prélude à l'après-midi d'un faune.

In EM Forster's Howard's End, a group of concert-goers attend a performance of Beethoven's Fifth Symphony. Mrs Munt likes to tap surreptitiously; Margaret only sees the music; Tibby follows the score; the German-ness of what she hears is the thrill for Fräulein Mosebach. But for Helen, 'who can see shipwrecks and heroes in the music's flood,' it's an overwhelming experience – especially the last movement.

Bertie Wooster would be letting us down if he succumbed to an overwhelming musical experience. PG Wodehouse's The Mating Season sees the likeable dimwit summoned to the country by his Aunt Agatha (the one who chews broken bottles and kills rats with her teeth) in order to 'stiffen up the programme' of a village concert 'with a bit of metropolitan talent'. As Bertie waits his turn, he fails to be moved by a violin solo: 'I'm not really authority on violin solos,' he cheerfully admits, 'It was loud in spots and less loud in other spots and it had that quality which I have noticed in all violin solos, of seeming to last much longer than it actually did.'

Rob Fleming defines himself – and everyone else – by music. In this extract from Nick Hornby's nineties novel High Fidelity, Rob, 36 going on 15, gets the hump on a car journey because he disapproves of his girlfriend's compilation tape (remember them?). Maybe 'disapproves' is not quite the mot juste. Because for Rob, liking the wrong sort of music leads to 'the bitterest of all battles between men and women…"How can you like Art Garfunkel AND Solomon Burke?"'

From the fourth century comes St Augustine's celebrated autobiography, The Confessions, which helped establish the link between sensual pleasure and sin in western Christianity.  In this passage Augustine grudgingly admits the power of sung prayer but warns that enjoying singing should be guarded against. 'The delights of the ear had enticed me and held me in their grip' – not good.  Abbess Hildegard of Bingen thought otherwise. The 'Sybil of the Rhine', whose advice was sought by the eleventh century great and good, had extraordinary and varied talents, among them writing religious poetry set to music.  Ave generosa is an ardent entreaty to sing the praises of the Virgin which fairly throbs with an eroticism matched by the ecstatic vocal line of the music. Towards the end of her life, as punishment for burying an excommunicated person in her convent's consecrated ground, the authorities hit Hildegard where it hurt and deprived her and her nuns of the consolation of the sung Office.

When an evil spirit from the Lord troubled him, King Saul found that music therapy did the trick, as supplied by David and his harp; and Robert Herrick likewise invokes music ' to becalm his fever'. Music messes with the mind of Oliver Sacks's friend when an intractable earworm stays with him for ten days. Even recounting the story to Sacks years later is enough to make 'Love and Marriage' (as sung by Frank Sinatra) return for several hours. Emily Dickinson's unsettled mind seems reflected in The fascinating chill that music leaves and Henry Cowell's spooky piano piece, The Banshee.

A striking  scene in Peter Schaffer's Amadeus comes when Salieri remembers hearing the Adagio from Mozart's Serenade for 13 Wind Instruments which begins 'like a rusty squeezebox' but within a few bars sounds like 'the voice of God.'

Music literally saved the remarkable Anita Lasker-Wallfisch, an Auschwitz prisoner who happened to be a cellist and became part of the Lagerkapelle, or camp orchestra. Its role was to play marches as the prisoners went in and out of the camp at the beginning and end of each day, and she witnessed unimaginable cruelty and atrocities. One evening, playing a string quartet arrangement of Beethoven's Pathétique Sonata, the players 'were able to raise ourselves high above the inferno of Auschwitz into spheres where we could not be touched by the degradation of camp existence.'

Music born of World War II, Shostakovich's Eighth Symphony, is the foil for Walt Whitman's 'Beat! Beat! Drums!' with its relentless beating drums and blowing bugles, symbolic music of the implacable, indiscriminate destruction of war. Siegfried Sassoon's Everyone Sang, written just after the signing of the Armistice in November 1918, describes a spontaneous outburst of song among the soldiers. Sassoon's regiment was the Royal Welch Fusiliers and I've imagined his men, at once relieved, war-weary and homesick, singing Hen Wlad Fy Nhadau (Land of My Fathers). At the lines 'O, but Everyone / Was a bird; and the song was wordless; the singing will never be done' the music segues to Vaughan Williams's The Lark Ascending.

The power of an individual's music-making is celebrated in Melvin B Tolson's Satchmo where even the Archangel Gabriel, having blown his horn on Judgement Day, accepts he's been bested by Louis Armstrong:   "I'd be the greatest trumpeter in the Universe / if old Satchmo had never been born!"

Never mind the madeleine and cup of tea in Proust's great novel on the nature of memory, Remembrance of Things Past. It's a piece of music – a violin sonata by 'Vinteuil' – that really does it for Charles Swann, causing profound personal revelation in a way that puts his teatime vittles to shame. And to go with this extract is one the most plausible suggestions for the actual music Proust may have had in mind: César Franck's Violin Sonata.

Shakespeare to end: his famous passage on the power of music from The Merchant of Venice where Lorenzo tells Jessica how 'The man that hath no music in himself, / Nor is not moved with concord of sweet sounds, / Is fit for treasons, stratagems and spoils; / The motions of his spirit are dull as night / And his affections dark as Erebus: / Let no such man be trusted. Mark the music.' (You'll never think of Bertie Wooster in the same way again.) Making the point for Lorenzo is Handel's 'Eternal source of light divine'. I hope it works for you!