Main content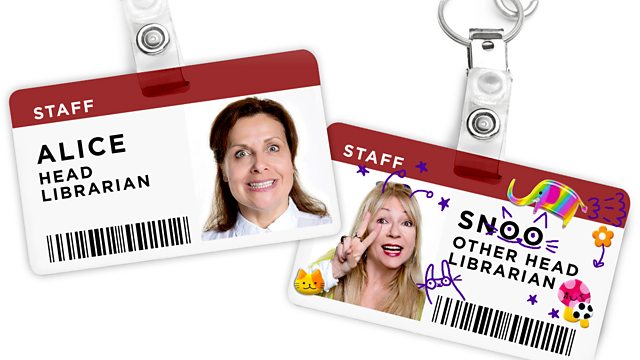 Alice and Snoo seek help to save Dr Cadogan from disgrace, as Simon's feelings hit an obstacle. With Rebecca Front. From 2015.
Alice and Snoo have to elicit the help of Alice's father to save Dr Cadogan from disgrace. Meanwhile Simon's feelings for Alice face an unexpected obstacle.
Meet Alice, a former child prodigy who won a place at Oxford aged 9 but, because Daddy went too, she never needed to have any friends. She's scared of everything - everything that is, except libraries and Snoo, a slightly confused individual, with a have-a-go attitude to life, marriage, haircuts and reality. Snoo loves books, and fully intends to read one one day.
And forever popping into the library is Dr. Cadogan, celebrity doctor to the stars and a man with his finger in every pie. Charming, indiscreet and quite possibly wanted by Interpol, if you want a discrete nip and tuck and then photos of it accidentally left on the photocopier, Dr Cadogan is your man.
Their happy life is interrupted by the arrival of Simon Nielson, a man with a mission, a mission to close down inefficient libraries. Fortunately, he hates his mission. What he really wants to do is once, just once, get even with his inexhaustible supply of high-achieving brothers.
Written by Morwenna Banks and Rebecca Front
Based on an idea developed with Armando Iannucci
Produced by David Tyler
A Pozzitive production for BBC Radio 4.
Credits
| Role | Contributor |
| --- | --- |
| Alice | Rebecca Front |
| Snoo | Morwenna Banks |
| Simon Neilson | Ben Willbond |
| Dr Cadogan | Michael Fenton Stevens |
| Daddy | Geoffrey Whitehead |
| Spong Customer | Matt Green |
| Writer | Morwenna Banks |
| Writer | Rebecca Front |
| Producer | David Tyler |