Main content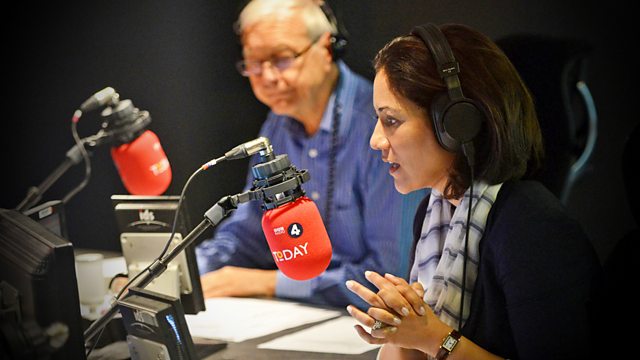 02/10/2015
Morning news and current affairs. Including Sports Desk, Weather and Thought for the Day.
Today's running order
0630
Nine people have been killed and seven injured in a shooting at a college in the US state of Oregon, say police. The gunman, 26, opened fire at Umpqua Community College on Thursday morning and was killed in a police shootout.
David Willis is the BBC's correspondent in Oregon.
0635
GP practices are being offered thousands of pounds for cutting the number of patients they refer to hospitals, according to a new investigation. A Freedom of Information study found practices were being given large financial "incentives" for not sending patients to hospitals for appointments such as consultations with specialists, scans and operations.
Adam Brimelow is the BBC's Health correspondent.
0640
West Yorkshire Police will make a public appeal for information into the murder of 14 year old girl Elsie Frost. Killed on 9th October 1965, a new police investigation has been launched as a result of a BBC investigation into the murder which was broadcast by BBC Radio 4's iPM programme and has been serialised in the BBC's 'Who Killed Elsie Frost?' podcast.
Frankie McCamley is a reporter for BBC News.
0645
The Burmese opposition leader Aung San Suu Kyi is on the campaign trail ahead of a national election next month. She's barred by law from running for president but if her party does well she could choose who becomes leader. But to do that she has to win support in ethnic minority states like Kachin, which has seen decades of fighting between rebels and the Burmese army. She is visiting Kachin today.
Jonah Fisher is the BBC's Myanmar correspondent in Kachin.
0650
We have had two days of air strikes by Russia in Syria and reports now that Iranian troops are coming into the country to support President Assad.
Seyed Mohammed Marandi is an Associate Professor at the University of Tehran.
0655
High Street banks earn seven and a half billion a year from current accounts, but according to the consumer group 'Which?' Most people don't know who much they're being charged, and are reluctant to switch banks in search of a better deal.
Simon Gompertz is the BBC's personal finance correspondent.
0700
Further analysis of the college shooting in Oregon (see 0630).
0710
Further analysis of Russian air strikes in Syria (see 0650).
Crispin Blunt is Chairman of the Foreign Affairs Select Committee.
0720
120,000 Uber supporters have signed a petition against proposed regulation in London that would force drivers to pass English language and map reading tests. Drivers of traditional London taxis or "black cabs" have protested against services like Uber for years and hold frequent rallies in the streets of the British capital, accusing them of unfair competition.
Gareth Mead is a spokesman for Uber.
0725
Further analysis of GP referrals (see 0635).
Nigel Praities is Editor of Pulse, a website that caters exclusively for GPs.
Maureen Baker is Chairwoman of the Royal College of GPs.
0730
The Football Association has come under fierce attack from one of its own board members for its "seriously disappointing" handling of the case of former Chelsea team doctor Eva Carneiro and said she had "major concerns" regarding the FA's disciplinary process in the case.
Heather Rabbatts, who made the comments, is an independent board member and the head of the FA's inclusion advisory board.
0750
Further analysis of the murder of Elsie Frost (see 0640).
John Manel is a BBC reporter for The World At One and PM on Radio 4 whose investigative work contributed to a new investigation being launched into the murder of Elsie Frost.
0810
Further analysis of the college shooting in Oregon (see 0630 & 0700).
Hannah Miles was one of the teenage students who managed to escape.
John Sopel is the BBC's North American Editor.
0820
We're set for a weekend more of fine end-of-summer weather before Autumn sets in. Time to put on the wellies, wrap up and get out to enjoy the changing seasons and the countryside's colourful autumnal displays.
Tom Bateman is the Today Programme's correspondent.
Fiona Reynolds is Chair of the International National Trusts Organisation and author of a forthcoming book on beauty and how it makes us feel.
0825
Further analysis of Russian air strikes in Syria (see 0650 & 0710).
Rami Ruhayum is a reporter for BBC Arabic.
Bridget Kendall is the BBC's Diplomatic correspondent.
0830
A major new study has found that psychoanalytic psychotherapy can help people suffering from chronic depression, where other treatments, such as anti-depressants, short term counselling and cognitive behavioural therapy have failed.
Dr David Taylor is Clinical Director at the Tavistock and Portman NHS Foundation Trust.
0840
Further analysis of current accounts in High Street Banks (see 0655).
Richard Lloyd is executive director for 'Which?' magazine.  
0845
Do the following names mean anything to you? PewDie Pie? Jenna Marbles? Thatcher Joe? Or how about Smosh and KSI? If not, you're almost certainly over 20.  If you're a teenager you probably know already that they are huge stars online.  And they're becoming big business. 
Vincent Dowd is the BBC's arts correspondent.
All times subject to change.