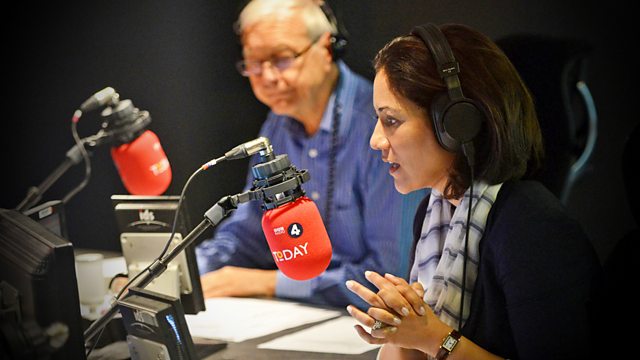 01/10/2015
Morning news and current affairs. Including Sports Desk, Weather and Thought for the Day.
Last on
Thursday 1st October
0630
Russian warplanes have attacked targets in Syria for the first time. A series of airstrikes was launched in rural Homs and rural Hama after parliament voted to allow Russian forces to take part in military action. And while the Russians say they were targeting so-called Islamic State, Syrian opposition groups say they targeted civilians and moderate opposition groups.   
Quentin Somerville is the BBC's Middle East correspondent in Beirut.
0635
Smokers are being given one more reason to quit as new laws come into force today across England and Wales which make it illegal for anyone to smoke in vehicles with children present. The new law is designed to help protect children from the dangers of second hand smoke. Under the ban both the driver and the smoker can be fined £50 if anyone smokes in a vehicle with a person who is under 18.
Sharon Barbour is the BBC's North East health correspondent.
0640
A law comes into force today which allows US style class actions in the UK for the first time, which will make it much easier for groups of consumers and small businesses to seek compensation from companies that have fixed and inflated prices and formed cartels.
Clive Coleman is the BBC's Legal Affairs correspondent.
0645
Austria is outsourcing some of its asylum seekers. It's expecting 80,000 by the end of the year, for a country of just 8.5 million. In July, Slovakia agreed to house 500 of them temporarily to ease the pressure on Austria's overcrowded asylum processing centre at Traiskirchen. Earlier this summer Amnesty International described conditions at Traiskirchen as scandalous. The first 100 people have just been taken to Slovakia from Austria.
Bethany Bell is the BBC's Foreign Correspondent.
0650
A study claims to have found evidence that mummification may have been widely practised throughout Bronze Age Britain. Archaeologists have been comparing British skeletons with known mummies from Ireland and Yemen and have found similarities in bone fragments, leading them to believe that smoking bodies over a fire and burying them within a peat bog were among some of the techniques that ancient Britons may have used to mummify their dead.
Dr Tom Booth is from the Department of Earth Sciences at London's Natural History Museum
0655
Former Science Minister Lord Drayson says it was a mistake for government to push drivers to buy diesel cars, which now account for around half of the UK market. It comes as Volkswagen says it will start contacting the owners of more than a million diesel cars and vans in the UK affected by the emissions testing scandal in the next few weeks.
Rory Cellan Jones is the BBC's Technology Correspondent.
0657
Researchers from Plymouth University are tackling antibiotic-resistant bacteria through new research that will scale the production of a new family of antibiotics. Antibiotic resistance has in recent years been identified as one of the biggest threats to global human health, so techniques for the production of new antibiotics is just what the doctor ordered.
Dr Matthew Upton is Associate Professor in Medical Microbiology at Plymouth University.
0710
Further analysis of Russian air strikes on Syria (see 0630).
Bridget Kendall is the BBC's Diplomatic Correspondent.
0715
A leading female surgeon has told this programme that the operating theatre is 'a hostile environment for women'.  Consultant urologist Jyoti Shah says women in her field face sexism everyday - because it's engrained into the culture.  It comes as the first woman President of the Royal College of Surgeons says there needs to be a focus on the development of women in surgery to enable more of them to become leaders.
Sima Kotecha is the Today Programme's reporter.
0720
Jeremy Corbyn's admission on this programme yesterday, that he would not authorise the use of nuclear weapons if he was Prime Minister, sparked a  debate among senior Labour figures, including some of his own shadow ministerial team, several criticising him for it.
Professor Michael Clarke is Director General of the Royal United Services Institute.
0735
Further analysis of smoking ban in cars (see 0635).
Dr Gina Radford is the Deputy Chief Medical Officer for England.
0740
Jeremy Corbyn spoke of immigration on this programme yesterday, saying: Don't look upon it as a problem, but as "often a very great opportunity". His critics see it as a sign that the Labour leader is out of touch with real concerns in some of the party's traditional heartlands. In fact just hours later, Mr Corbyn's own home affairs spokesman Andy Burnham appeared to contradict him, saying EU migration is widening inequality. So what do their voters make of it?
Tom Bateman is the Today programme's reporter.
0750
We all remember the images from the terrible accident on the Smiler Ride at Alton Towers from June this year. A train carrying 16 riders and travelling approximately 20 mph (32 km/h) collided with an empty, stationary train. Of the eleven riders who required medical treatment, five were seriously injured. Two required partial leg amputations in the weeks following the incident. Not one life was lost, largely due to the work of paramedics and rescue teams that got to the crash so quickly. Tonight at the Daily Mirror Pride of Britain Awards they are being honoured.
Major David Cooper is an Army Doctor working with Midlands Air Ambulance.
0810
Further analysis of Russian air strikes on Syria (see 0630 & 0710).
Dmitry Babich is a political analyst and freelance writer and commentator for Sputnik radio in Moscow. Sir Malcolm Rifkind is former foreign secretary and former chair of the Commons Intelligence and Security Committee.
0820
A film is released in cinemas here tomorrow that offers a harrowing perspective on the spate of killings of young black men by white people in the United States. It was made by Ron Davis whose son Jordan was shot dead by a white man called Michael Dunn back in 2012  in a petrol station in Florida.
Ron Davis, father of Jordan Davis.
0830
Further analysis of smoking ban in cars (see 0635 & 0735).
Steve White is Chair of the Police Federation.
0835
The Afghan city of Kunduz, seized by the Taliban three days ago in their biggest military gain for over a decade, may be back in the hands of the Afghan army.
Jawad Ludin is a former deputy foreign minister of Afghanistan and was chief of staff to former president Hamid Karzai.
0840
Further analysis of sexism in the surgical field (see 0715).
Clare Marx is President of the Royal College of Surgeons.
0845
The first two free schools sponsored by universities have taken their first pupils this term. The primary school in Cambridge and secondary school in Birmingham will be used to train new teachers and research educational techniques.
Branwen Jeffreys is the BBC's Education Editor.
All subject to change
So you think you know the Today programme?