Main content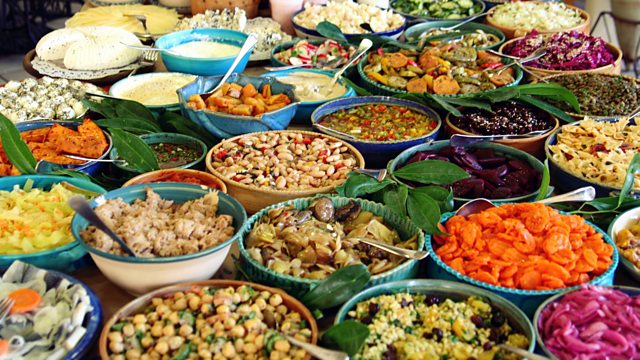 Food Stories from Syria 1
From daily bread to the loss of an ancient food culture, Dan Saladino hears what the conflict and displacement means for thousands of Syrians.
The continuing conflict in Syria has caused millions of people to flee the country. Images of men, women and children living in camps, walking vast distances and even risking perilous journeys by boat or stowed away on trucks have been shown around the world. Life in many regions for those who remain is also in turmoil. While seeking safety, many also face a challenge to survive. Dan Saladino asks how those from Syria - the world's biggest producer of both internally displaced people and refugees - manage to eat and feed their families and the cost and long-term effects of both the conflict and displacement.
Syria has an ancient food culture and was once a bread basket for the Middle East but conflict has damaged agriculture and food supplies to many areas. The World Food Programme explain how they manage to transport food through territory occupied by so-called 'Islamic State' and also how they feed the thousands in refugee camps in bordering countries like Jordan.
Dan hears from one refugee who paid traffickers to get him to Europe after he was threatened by IS and the Assad regime. He explains how he survived and ate when on an extended and dangerous journey. Now in the UK he shows Dan what he buys to cook and eat. Ingredients for Syrian dishes can be hard to come by or out of budget so he shows how he's adjusting to make it work.
From daily bread to the loss of an ancient food culture, hear how the the conflict and displacement of Syrians means for the long-term rebuilding of infrastucture and tradition in the place they call home.
Music used in programme: Qoum Ya Nadim by Zein Al Jundi
Presented by Dan Saladino
Produced by Anne-Marie Bullock.
Credits
| Role | Contributor |
| --- | --- |
| Presenter | Dan Saladino |
| Producer | Anne-Marie Bullock |