Main content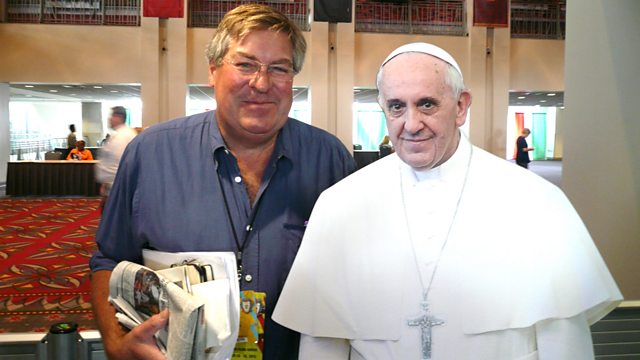 Pope Francis in the USA
Religious news. Edward interviews US secretary of state John Kerry, explores Philadelphia and discusses the significance of the Pope's visit to the United States.
In an exclusive interview for Sunday, the US Secretary of State John Kerry discusses his own Catholic faith and how it impacted on his career in politics and if it's easier now to hold views that go against Church teaching.
Matt Wells reports on the rise of anti-immigration rhetoric as the Presidential election gathers pace, and looks at how the Papal visit is affecting New York's most recent Catholic arrivals.
As nearly 2 million people prepare to gather for Mass on the Benjamin Franklin Parkway on Sunday, Edward hears from the faithful about what Pope Francis's first trip to the US means to them. He also visits the Curran-Fromhold Correctional Facility to meet some of the inmates who will see the Pope from behind bars.
The main event on Sunday will be the Festival of Families and The World Meeting of Families. What is the definition of family in Philadelphia? Marianne Duddy-Burke, the Executive Director of Dignity USA explains how they are trying to change the Catholic church - slowly - from the inside.
The Catholic Bishop of Northampton Peter Doyle is also in the city. He will be in Rome for the October Synod on the Family. Does this trip give him any clues on how October's synod will go?
Catholic commentator and author John Thavis assesses some of the political statements the Pope made and whether the trip has been a success.
Reflecting on the Pope's visit more broadly, Edward talks to Professor Anthea Butler from the University of Pennsylvania and Father Patrick Brady from the Archdiocese of Philadelphia's seminary.
Producer: David Cook
Editor: Amanda Hancox.
Chapters
John Thavis

The Catholic commentator and author assesses if the Pope's US trip has been a success

Duration: 04:38

New York Catholics

Matt Wells on how the Papal visit is going down with recent Catholic arrivals in New York

Duration: 05:52

Families

What is the definition of families in Philadelphia?

Duration: 06:49

Bishop Peter Doyle

The Catholic Bishop of Northampton looks ahead to October's Synod on the Family

Duration: 03:54

Philadelphia Prison

Edward has a tour of Curran-Fromhold Correctional Facility

Duration: 06:49

John Kerry

Edward speaks to the US Secretary of State about his Catholic faith and its impact on him

Duration: 07:15

Discussion

Anthea Butler and Grant Gallicho analyse the Pontiff's trip as it nears its conclusion

Duration: 05:04