Main content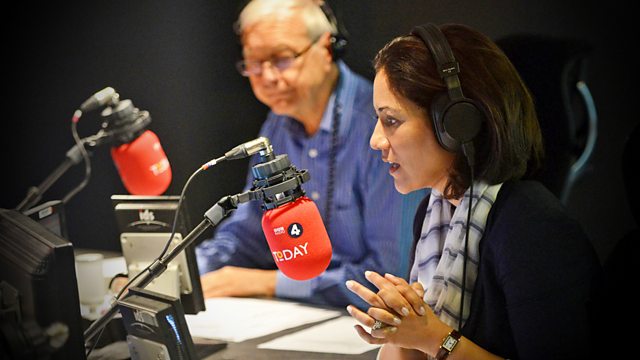 26/09/2015
Morning news and current affairs. Including Sports Desk, Weather and Thought for the Day.
Today's Running Order
0710
Sepp Blatter appears to want to stay on as FIFA president until February, despite now being the target of a criminal investigation for corruption by the Swiss authorities, who raised his office yesterday. But the pressure for him to step aside immediately is now greater than ever.
Yuchiro Nagjima was the executive director of Japan's world cup bid for the 2022 tournament. He says he can't see how Mr Blatter can stay in the job until February, when his replacement is due to be announced. Richard Conway is our sports news correspondent.
0715
The woes of Volkswagen are growing. Switzerland has now banned the sale of new diesel models models and governments across Europe are setting up their own investigations into what has been happening. The former Liberal Democrat transport minister, Norman Baker, has told Newsnight that David Cameron delayed imposing maximum automotive emission levels, after a personal request from the German Chancellor. Mr Baker says he believes the German government was motivated by the need to protect its own motoring industry.
 0720
The last British resident being held in Gauntanamo Bay is being released. Shaker Aamer has been in American custody since 2001 when he was detained in Afghanistan. He's never faced a trial, nor has any charge been made against him. He says he was beaten and tortured. His case has been a subject of a campaign by some MPs, Human Rights group and, among newspapers, the Daily Mail which hails his release on its front page today as a victory for justice. There are sceptics however. Robin Simcox is of the neo-conservative think tank the Henry Jackson Society, based in London.
One of the organisations campaigning for Shaker Aamer's release has been Reprieve. Cori Crider is a director there and has acted as Shker Aamer's lawyer.
0730
The Green Party conference this weekend is and it is being called the biggest in its history. Natalie Bennett, the leader, says that radical politics in the tenor of the times. But what about Jeremy Corbyn? The new Labour leader presents the Greens with a problem as well as an opportunity. They may say that his election as Labour leader helps to put some of their policies and concerns into the mainstream debate but will they lose some support to a more left-leaning Labour Party? Our political correspondent Eleanor Garnier has been leafletting with Green Party members, in Jeremy' Corbyn's Islington constituency in north London. We are joined by the leader of the Green Party, Natalie Bennett.
0750
The government is getting worried  about what the  Russians are doing in Syria. The foreign secretary Philip Hammond has said that Russia's military build-up there is strengthening President Assad and "increases Moscow's moral responsibility in the crimes committed by the Assad regime". Andrei Klimov is a Russian senator and deputy chairman of the senate's committee on foreign affairs and he says it is nothing like that at all. 
0810
For years, Sepp Blatter kept criminal investigations at bay. But in May, seven senior officials at football's world governing body were arrested in Zurich. The Swiss authorities say that the FIFA president himself is now the subject of a criminal investigation. He denies any wrongdoing, and his lawyer says he is cooperating fully. But it's no longer enough for him to brush aside rumours and accusations of wrongdoing at FIFA. The fact that his most likely successor, Michel Platini, has also been questioned over a contract,  is evidence that FIFA is no longer able to prevent investigation from outside, despite Mr Blatter's long record in doing so. We're joined by Jonathan Calvert, editor of the Insight team at the Sunday Times which has alleged corruption in the organisation. He's the author of The Ugly Game, about the awarding of the World Cup to Qatar. Gordon Taylor is chief executive of the Professional Footballers' Association.
0820
The Pope took a mass in New York last night with 20,000 people packed into Madison Square Garden. It was his last big appearance in the city before he goes to Philadelphia. John Humphrys has been talking about his first trip to the United States to Austin Ivereigh, who is following his trip. He has written a biography of the Pope called The Great Reformer.
0825
There are more positive stories to tell about the Israel Palestinian conflict. There is a new book chronicling an extraordinary friendship which has endured for decades between the wife of one of Israel's most famous generals, a war hero, and the mother in law of the Palestinians' most celebrated leaders. Ruth Dayan, who was married to Moshe Dayan, and Raymonda Tawil whose daughter married Yasser Arafat first met in the immediate aftermath of the six-day war in 1967. They remain friends to this day. Our Middle East correspondent Kevin Connolly went to Malta to meet them.
0835
The Labour Party Conference starts this weekend and it's maybe one of the most interesting for a generation. People are intrigued as to what Jeremy Corbyn will say in his big speech but equally important is how he will be received. He has a lot of support among the Labour newcomers who signed up during the campaign and he has little support among his own MPs. It is not so clear how the country as a whole is reacting to him.
 0850
If you get up very early on Monday morning, and there is a clear sky, you'll see something remarkable, a so-called 'blood moon' in the sky. This is when it seems to be illuminated by an eerie reddish light, soon after three o'clock. Professor Michael Merrifield, head of the school of Physics and Astronomy at Nottingham Unviersity can explain.
All subject to change.