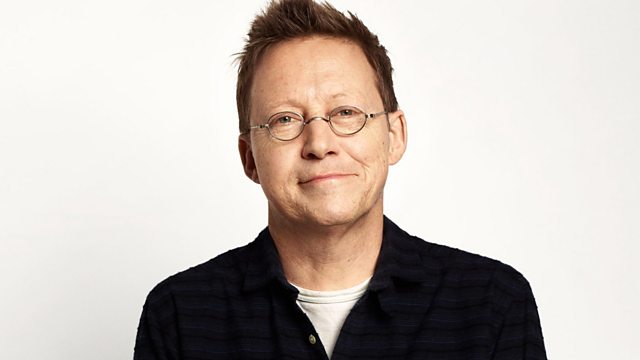 Baking Bread
Resident chef Nigel Barden is here with today's mouth-watering 'Foodie Thursday' dish. Plus, Simon has another one of your confessions for the collective to mull over.
Last on
Plaice Fish Fingers with Tartare Sauce
by Mat Follas from Fish – Delicious Recipes for Fish & Shellfish (Ryland Peters & Small) 
I love a good fish finger/stick & these are some of the best, they're not perfectly rectangular but then again, neither are fish.  These goujons have lots of flavour & plaice make the ideal base.
Prep time: 10 mins
Cooking time:  15 mins
Ingredients
2 slices of white bread
salt, to season
1 heaped tsp smoked paprika
30g / ½ cup grated fresh Parmesan cheese
plain / all-purpose flour (as required)
1 egg gently beaten
vegetable oil, for frying
2 whole plaice (each about 225g/8oz), skinned, filleted & sliced into finger-sized portions
Tartare Sauce
100ml / 7 tbsp mayonnaise
½ red onion, peeled & finely diced
1tsp Dijon mustard
15g / 1½ tbsp capers
15g / 1½ tbsp. cornichons, thinly sliced
Method
1. Preheat the oven to 180C / 350F / Gas 4.
2. Make the tartare sauce by mixing all of the ingredients together.  Set aside.
3. Put the bread slices directly onto the shelf of the preheated oven & bake for 5 mins, until it is crispy & golden.  Cool then place in a resealable bag.
4. Crush to coarse breadcrumbs using a rolling pin, add a generous pinch of salt, the paprika & Parmesan, reseal the bag & shake to combine.  
5. Transfer to a large plate, & on separate plates, put the flour & beaten egg.
6. Heat a little oil (about 2mm deep) in a large frying pan/skillet set over a medium heat. 
7. Drag the plaice portions through the flour, then the egg & finally the breadcrumbs before carefully placing in the pan.  
8. Cook on each side for 1 minute, until golden brown, then serve immediately with the tartare sauce.
Basic White Bread
by Robert Swift from Born & Bread (Away with Media) available from www.heyeveryone.com  
This is the cornerstone of all bread making.  A basic white loaf was the first loaf that I ever baked - & I've made millions since.  Once you've mastered this, you'll be on your way & can look forward to successfully tackling more complex bakes, like sourdough or speciality loaves.  
Makes 1 x 2lb/900g loaf (2lb Tin is 22cm long x 12cm wide approx), or 2 x 1lb/450g loaves (1lb Tin 16x11cm)
Prep time: 30mins
Proving time: 3-3.5 hours
Cooking time: 25-45 mins
Ingredients
500g strong white bread flour
320ml water
8g salt
5g fresh yeast (or 8-10g of dried yeast, but not Fast Acting)
Method:
1. Combine the flour & salt. Set aside.  
2. Add the 320ml of water to the yeast. 
3. In a large bowl add the yeasty water to the flour & salt. Do this in stages, mixing with your hands so you can feel how the dough is changing.  It needs to be well hydrated in the bowl before bringing on to the table to begin kneading.  
It should be sticky & wet to allow the gluten to absorb the water as it becomes stronger through kneading. You can add up to 40ml more water if needed.
3. On a work surface start to work the dough vigorously & firmly by stretching it away from you then folding it back towards you.  Continue this until the dough takes in any residual water & loses its stickiness, by which time the dough should be firming up & becomes easier to handle (at least 10mins).
4. Continue to work it for a further 5 mins then allow it to rest for 5.  Then work it firmly with considerable downwards force & don't be worried if it rips & stretches.  Eventually it will become like crinkly cabbage.
5. Rest it for a further 5 mins.  Then work it gently for a minute or two & check the dough has a smooth finish, sits up well on the table & doesn't collapse.
Check for a gluten window, by simply pinching a small piece of dough & stretch it until it becomes translucent.  The light should peer through it & it should not tear or snap. If it tears, knead it more.
6. Then its ready for it's first prove. Leave it at room temperature in a large bowl covered in cling film for around 90mins. The dough will start to rise.
7. Knead it for a second time.  This is referred to as 'knocking back'.  We're looking to do a series of turns & folds.  Don't spend more than a minute doing this.  Now leave it for its second rest of 2hrs (again in a cling film covered bowl at room temp).
(If the first proving goes quickly & it rises very rapidly, especially if using dried yeast, then reduce the time on the second proving by 30 mins).
8. The dough should now be ready to be divided, if your are making two 1lb loaves. 
9. Roll the dough out into a rectangle using your hands & then into a Swiss roll shape, to fit your oiled loaf tin. 
10. Bake in a preheated oven 230C/ 220C fan/ AGA highest setting.  After 10 mins, drop the temperature by 10C. The loaf should be golden & risen.
For a 2lb loaf 40-45mins; for a 1lb loaf 25-30mins. 
11. Turn out onto a wire rack to cool.
White Bread Loaf - BBC Good Food
Prep Time: 60-90mins, incl. 1 hour rising time
Cooking Time: 30-40mins
Ingredients
15g/½oz fresh yeast or 2.5ml/½tbsp dried yeast
300ml/½ pint lukewarm milk
450g/1lb strong white flour
1 tsp salt
25g/1oz butter
Preparation method
1. Mix the yeast with a little of the milk to get a creamy liquid.
2. Put the flour and the salt in a bowl & rub in the butter.
3. Stir in the yeast liquid & the rest of the milk to get a soft dough.
4. Turn on to a lightly floured work surface & knead until the dough is smooth & elastic, about 10-15 minutes. 
5. Use plenty of force during kneading. Slam the dough down & use your palm to push it away from you, stretching it, then fold over & turn the dough through 90 degrees. Keep repeating. Use a rubber scraper/spatula to keep adding any wayward dough. Be aggressive & the dough will begin to bind together. 10 mins minimum kneading. When the dough is ready, you can hold it up to the light & stretch it quite thinly, to create a window. If it tears, knead it more.  
6. Put in a clean bowl & cover with clingfilm. Stand in a warm place for 1 hour to rise.
7. Heat the oven to 220C/425F/Gas 7. Lightly oil a 1kg/2¼lb bread tin.
8. Turn the dough on to the work surface again & knead for 5-10 minutes. Shape the dough into a loaf shape to fit the tin & place in the tin. Cover with a clean tea towel & allow to rise back up again, about 15 minutes.
9. Bake in the oven until golden & risen, about 30-40 minutes. The base of the loaf should sound hollow when you tap it. Turn on to a wire rack to cool.