Main content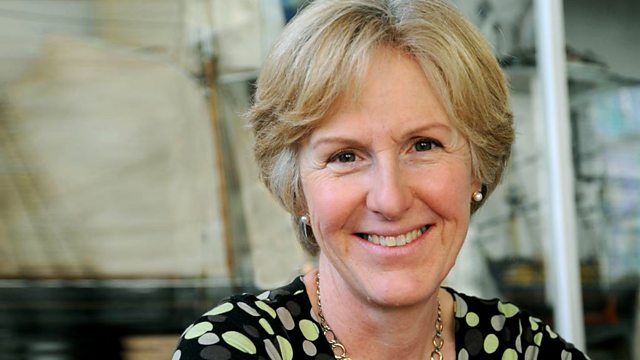 Grieg, Dohnanyi, Bartok - Kerteminde Festival
Catriona Young's selection includes a concert of Grieg, Dohnanyi and Bartok from the Kerteminde Chamber Music Festival in Denmark.
With Catriona Young.
12:31 AM
Bartók, Béla (1881-1945)
Contrasts Sz.111 for violin, clarinet and piano
Soo-Jin Hong (violin), Jens Alvekjaer (piano), Olli Leppäniemi (clarinet)
12:48 AM
Dohnányi, Ernõ (1877-1960)
Serenade in C major Op.10 for string trio
Jon Gjesme (violin), Ettore Causa (viola), Andreas Brantelid (cello)
1:09 AM
Grieg, Edvard (1843-1907)
Sonata in A minor Op.36
Andreas Brantelid (cello), Håvard Gimse (piano)
1:35 AM
Grieg, Edvard (1843-1907)
Triumphal March from 'Sigurd Jorsalfar'
Danish Radio Concert Orchestra, Roman Zeilinger (conductor)
1:46 AM
Lange-Müller, Peter Erasmus (1850-1926)
Tre Madonnasange (Op.65)
Danish National Radio Choir, Stefan Parkman (conductor)
1:52 AM
Nielsen, Carl (1865-1931)
Symphony No.4, Op.29 'The Inextinguishable'
Danish National Radio Symphony Orchestra, Michael Schønwandt (conductor)
2:31 AM
Mozart, Wolfgang Amadeus (1756-1791)
Clarinet Quintet in A major (K.581)
Kimball Sykes (clarinet), Pinchas Zukerman (violin), Donnie Deacon (violin), Jane Logan (viola), Amanda Forsyth (cello)
3:05 AM
Weber, Carl Maria von (1786-1826)
Missa sancta No.2 in G major (Op.76) 'Jubelmesse'
Henriette Schellenberg (soprano), Laverne G'Froerer (mezzo), Keith Boldt (tenor),
George Roberts (baritone), CBC Vancouver Orchestra, Vancouver Chamber Choir, Jon Washburn (conductor)
3:30 AM
Rameau, Jean-Philippe (1683-1764)
Fanfarinette
Colin Tilney (harpsichord)
3:34 AM
Kaski, Heino (1885-1957)
Prelude (1912)
The Finnish Radio Symphony Orchestra, Okko Kamu (conductor)
3:38 AM
Vaughan Williams, Ralph (1872-1958)
Romance for viola and piano
Steven Dann (viola), Bruce Vogt (piano)
3:45 AM
Le Febure, Johannes (?-1609/12)
Motet: Isti sunt viri sancti
Currende, Herman Stinders (organ), Erik van Nevel (conductor)
3:49 AM
Handel, Georg Friedrich (1685-1759)
Concerto Grosso in A minor (Op.6 No.4)
The Sixth Floor Ensemble, Anssi Mattila (conductor)
4:00 AM
Liszt, Franz (1811-1886)
(Schubert) Ave Maria (D.839) transcribed for piano
Sylviane Deferne (piano)
4:07 AM
Simpson, Christopher (c.1605-1669)
Prelude and Divisions upon a Ground
Vittorio Ghielmi (Viola da Gamba), Luca Pianca (Lute)
4:15 AM
Gabrieli, Andrea (1532/3-1585)
Sento un rumor (madrigal à 8)
Chorus of Swiss-Italian Radio, Theatrum Instrumentorum, Stefano Innocenti (conductor)
4:20 AM
Rózycki, Ludomir (1884-1953)
Stanczyk - Symphonic Scherzo (Op.1) (1904)
National Polish Radio Symphony Orchestra, Janusz Przbylski (conductor)
4:31 AM
Boulogne, Joseph - Chevalier de Saint-Georges (c.1748-1799)
Ouverture to the opera 'L'amant anonyme' (1780)
Tafelmusik Orchestra, Jeanne Lamon (conductor)
4:39 AM
Schmeltzer, Johann Heinrich [c.1620-1680]
Fechtschule (Fencing School)
Stockholm Antiqua
4:47 AM
Bárdos, Lajos [1899-1986]
Winter is gone (Elmúlt a tel)
Hungarian Radio Choir, Lajos Bárdos (conductor)
4:52 AM
Wiedermann, Bedrich Anton (1883-1951)
Notturno in C sharp (1942)
Pavel Cerny playing 1902 Heinrich Schiffner organ of the Jesus Church, Prague
5:01 AM
Novak, Vitezslav (1870-1949)
V Tatrach (In the Tatra mountains) - symphonic poem (Op.26)
BBC National Orchestra of Wales, Richard Hickox (conductor)
5:19 AM
Karlowicz, Mieczyslaw (1876-1909)
Zasmuconej (Op.1 No.1)
Jadwiga Rappé (alto), Ewa Poblocka (piano)
5:21 AM
Karlowicz, Mieczyslaw (1876-1909)
Smutna jest dusza moja (Op.1 No.6)
Jadwiga Rappé (alto), Ewa Poblocka (piano)
5:23 AM
Karlowicz, Mieczyslaw (1876-1909)
Na sniegu (Op.1 No.3)
Jadwiga Rappé (alto), Ewa Poblocka (piano)
5:25 AM
Castro, Jan de (c.1540-c.1600)
Je suis tellement langoureus (Chansons, odes et sonnets.... By Pierre de Ronsard, Lovanio 1576)
Ensemble Daedalus, Roberto Festa (director)
5:31 AM
Schumann, Robert [1810-1856]
Symphonische Etuden Op.13
Beatrice Rana (piano)
5:57 AM
Forqueray, Antoine (1672-1745)
La Rameau & Jupiter (from Suite no. 5 in C minor for viola da gamba and continuo)
Teodoro Baù (viola da gamba), Deniel Perer (harpsichord)
6:07 AM
Debussy, Claude (1862-1918)
Trois Nocturnes: Nuages, Fêtes, Sirènes
National Radio of Ukraine National Chorus (director: Lesya Shavlovska),
NRCU Symphony Orchestra, Vyacheslav Blinov (conductor).