Main content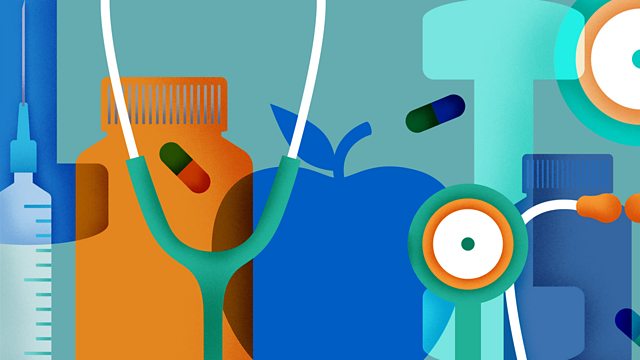 Cancer drugs fund, Winter flu vaccine, Bandy legs and knock knees, Peer review
The Cancer Drugs Fund provides cancer drugs for English patients, but its days are numbered. Dr Mark Porter hears about the turmoil the proposed changes mean for cancer patients.
For five years the Cancer Drugs Fund has supplied seventy five thousand patients in England with cancer drugs, but its days are numbered. Spiralling costs have led to a reduction in the number of drugs the CDF will pay for, meaning newly-diagnosed patients may miss out. Dr Mark Porter talks to Vicky Rockingham about the anxiety that reform of the CDF is causing. Vicky is a mother of two, working full time, and receiving regorafenib paid for by the CDF for her rare type of gastrointestinal stromal tumour, or GIST. She tells Mark that the drugs from the CDF are giving her extra time with her family and enabling her to carry on working. And Jonathan Pearce, Chair of Cancer 52, an alliance of organisations that represent people with less common and rarer cancers like Vicky's, tells Mark why any new-model CDF must take into account individual patient needs. Regular Inside Health contributor, Dr Margaret McCartney, describes how patients access cancer drugs in Scotland, Wales and Northern Ireland and discusses with Mark the difficult decisions that access to expensive and innovative new cancer medicines present for the NHS.
Last season's winter flu vaccine provided only limited protection to those who received it. An exceptional year where there was a mismatch between the flu virus that eventually circulated, and the vaccine that had been developed by international teams. The result was just 30% protection (down from its usual 70-80%). Dr Mark Porter asks the chair of the Joint Committee on Vaccination and Immunisation (JCVI), Professor Andrew Pollard, whether confidence in this year's vaccine could be dented.
Babies, toddlers and pre-school children often seem to have bow legs and knock-knees and parents frequently turn up at their doctor's surgery asking for reassurance about the way their children walk. Manoj Ramachandran, consultant children's orthopaedic and trauma surgeon based at The Royal London and Bart's Hospital tells Mark that up to a quarter of the children referred to his clinics have normal, developmental lower limb variants. Children are naturally bow legged when they first walk and by the age of three, there's another natural re-alignment which tends to lead to knock knees. At both these ages his clinic receives a peak in referrals but by the age of seven, he says, most childrens' legs straighten up naturally.
Inside Language: Carl Heneghan, Professor of Evidence Based Medicine at the University of Oxford and Dr Margaret McCartney continue to demystify the scientific language of medicine. This week, peer review.
Producer: Fiona Hill.
Last on

Programme Transcript - Inside Health
Downloaded from www.bbc.co.uk/radio4 
THE ATTACHED TRANSCRIPT WAS TYPED FROM A RECORDING AND NOT COPIED FROM AN ORIGINAL SCRIPT.  BECAUSE OF THE RISK OF MISHEARING AND THE DIFFICULTY IN SOME CASES OF IDENTIFYING INDIVIDUAL SPEAKERS, THE BBC CANNOT VOUCH FOR ITS COMPLETE ACCURACY.
INSIDE HEALTH
Programme 4.
TX:  22.09.15  2100-2130
PRESENTER:  MARK PORTER
PRODUCER:  FIONA HILL
Porter
Coming up today:  Flu jabs - last year's vaccine didn't work that well, so is this year's going to be any better?
Peer review - nothing to do with the Upper Chamber, but a key process in the publication of new research. But what does it actually mean? Margaret McCartney and Carl Heneghan continue their series demystifying the scientific language of medicine.
And our guide to knock knees and bandy legs – what's normal and what's not.
Clip
Pretty much all children are born slightly bow legged and the worst of the sort of bow leg appearance is around the age of 18 months.  Then the next thing that happens is by the age of three to five years old the knee undergoes a sort of normal change in morphology and becomes knock-kneed.  Then we get a spate of referrals that are more to do with knock-knees.
Porter
More from that children's orthopaedic surgeon later.
But first controversial changes to the way the NHS funds some cancer treatments - changes that could mean an increasing number of patients will be denied access to the latest therapies.
Five years ago media coverage about cancer invariably centred on reports that many people were missing out on expensive new drugs that could extend their lives - albeit often by not very much.
The Cancer Drugs Fund was introduced in 2011 in England to address those concerns. It enables doctors to apply for special funding to offer individual patients new drugs that haven't been approved by NICE and would not normally be available on the NHS.  But the CDF has been a victim of its own success and demand has blown the budget with an overspend of nearly £140 million this year alone. As a result the number of drugs the CDF will pay for has been cut, and the whole scheme is being phased out in March next year and it is still unclear what will replace it.
Vicky Rockingham was diagnosed with a rare form of cancer in her stomach - a gastrointestinal stromal tumour or GIST - in 2007. At the time of diagnosis there wasn't much that could be done and the cancer spread. She has since tried various drugs but they only slowed the inevitable.  But earlier this year her specialist applied to the CDF to pay for her to have a new treatment regorafenib, which costs around four and a half thousand pounds a month.
Rockingham
This is the first drug I've taken that's actually done something to my tumours and it's made them less dense and so it appears to be killing the cancer cells.  So for me this was like an amazing thing.  It's a drug that I take orally, it still allows me to function – I'm a mother of two young boys, a wife and I also work full-time for the Environment Agency who I must admit are a very supportive organisation.  I still exercise regularly as well and do five k runs at least twice a week, so it's not changing my life dramatically by taking this drug but what is dramatic is it's actually effectively giving me time.  It's not going to cure my cancer but it seems to be affecting it enough that it will give me a lot more time in my life.
Porter
As someone who was already on the drug you're supposedly guaranteed to keep getting it but how is the uncertainty over the future of the CDF affected you, I mean at one stage your drug was delisted wasn't it?
Rockingham
That's right.  It's had a really big impact because as a group of patients we have a very rare cancer, so there's not a lot of support for us apart from organisations such as GIST Support UK, which has been set up by patients.  So we had to mount our own E-petition to try and get this drug put back on to the Cancer Drug Fund.  So it was a very worrying time for us and when you're living with a cancer that you know will – there isn't any current cure that puts a lot of strain on families and people around you to then have to put lots of energy and effort into launching these campaigns at the same time.
Porter
One of the issues with this debate Vicky is that the general perception is that the CDF is about drugs that are very expensive and that they don't add much – maybe three or four months of life – to some people but what you're saying in your case is this drug really has potentially transformed your life, I mean you're still carrying on a perfectly normal life – you're working?
Rockingham
Absolutely.  I recognise these drugs are expensive but in most cases, such as myself, I'm not on full dose, I'm on a three quarter dose, so the actual cost will be slightly less.  I'm able to still work and contribute tax, I'm able to support my family with my husband and offer my children a lot of opportunities.  It's expected that this drug – it's not been around for long, only since about 2013 – it may give me a good few couple of years or work for a good few couple of years, it doesn't mean at the end of those couple of years I will then die, it's just that I will then be around for a couple more years while hopefully they will have found another drug that is just as effective or even perhaps a cure.  If I'd been diagnosed in the year 2000 my consultant would have offered me a cup of tea and palliative care.  The advances in technology in medicine since 2000 has been incredible and this drug is actually effectively killing my cancer cells.  So who knows what's round the corner in terms of trials etc. in the next few years whilst I'm on this drug.
Porter
Vicky Rockingham talking to me from Salford.
Jonathan Pearce is Chair of Cancer 52 - an alliance of organisations that represents people like Vicky with rarer cancers. 
Pearce
It's complicated and it's confusing, it causes a lot of anxiety because people are uncertain about what's going to happen.  You hear stories in the media that these drugs are automatically going to be axed when the reality is there's still a process of negotiation going on behind the scenes between the NHS and the pharmaceutical companies that produce the drugs.  For people that are grappling with a cancer diagnosis, cancer treatment, that's really difficult.
Porter
We know that the Cancer Drug Fund's going to come to an end at the end of March next year, there's going to be something put in its place, I mean it's likely that that's going to have a lower budget, that's one of the aims of ending the CDF isn't it?
Pearce
Yes and I think most people, certainly at Cancer 52, we do understand that you've got to manage your budgets and you can't have blank cheques for everything.   However, I suppose the way we see it is that there's got to be a proper understand and listening to the patient perspective and getting priorities right because the Cancer Drugs Fund was set up originally, one of its objectives, was to help people with rare and less common cancers access new and innovative treatments.  What's happened in practice is that the majority of its treatments have gone to people with the more common forms of cancer and so they're disadvantaged and people with rare and less common cancers are already disadvantaged in that you're less likely to get a rare and less common cancer but if you do you're more likely to die from it.  So it's vitally important that the CDF caters for that need.
Porter
And so proportionately these new treatments are probably even more important for the sort of people that you represent?
Pearce
They are and I don't think there's always an understanding that you've got a whole bag of different forms and types of cancer in that sort of rare and less common cancer group that counts as nearly half of all cancers.  And within that you've got cancers where people are coming forward for treatments with curative intent – so they're trying to get them cured – they may be at an end of life situation, they may also have chronic forms of cancer which aren't going to be cured but people can live with for ages.  So you've got lots of different nuances around how you decide which treatments to give to which people.
Porter
At the moment NICE uses a threshold which applies to basically everybody with cancer, it's a one size fits all, and what you're saying is that you should take into consideration the patient's circumstances, their condition and their likely outcome.  It might be a surprise to people that they don't already do that.
Pearce
No, no and there's really only one set of assessments that's used across all treatments, as you've just highlighted, and particularly for treatments for cancers that are rare and less common there are scores where they can't rate highly on them and there are things around the overall effectiveness and the progression through survival, so how these drugs impact on people.  They can't score at all on those measures because they don't have the clinical data and they don't have the clinical data because you're talking about a small group of people, so you can only have a relatively small trial.  And so there's a distortion in favour, if you like – no one wants to deny anyone cancer treatments – but in favour of larger cancer groupings, common cancers, where you can get that critical mass of numbers to do the phase three clinical trials, even though there may be issues around some of that data as well but rare and less common cancers are disadvantaged from the very outset on many of these scoring systems.
Porter
Jonathan Pearce, and listening to that in our Glasgow studio is Dr Margaret McCartney. Margaret, we have talked about the CDF in England, but this is a challenge across the whole UK isn't it, so how's it being managed elsewhere?
McCartney
Well there are different arrangements in different parts of the UK.  So in Scotland we have a patient access scheme who seek to make judgements about drugs that are not routinely available on the NHS.  In Wales they decided not to create a Cancer Drugs Fund, even after a petition recently, and instead they have individual patient funding requests for drugs that are not routinely available.  Northern Ireland, it's a bit different, they have got an individual funding request system but they've been consulting on whether or not to change this and there have been suggestions that this may be an appropriate time to reconsider the provision of free prescriptions in Northern Ireland so that there would be money from otherwise free prescriptions, so you would start charging for them instead, and use that cash to bolster a fund for access to cancer drugs not otherwise routinely available.
Porter
This is such a difficult issue and I'm glad I'm not in a position where I have to make these sorts of decisions but if we spend a lot of money on new treatments that may or may not be very helpful for the patients that are receiving them that means we're not spending the money elsewhere.
McCartney
Yeah, that was the conclusion really from a report from the National Audit Office, who reported very recently on the 17th September, who looked into how good the Cancer Drugs Fund was and whether there should be something better instead.  And they found that 51% of patients who got drugs from the Cancer Drugs Fund had got treatments NICE had previously appraised and found wanting and decided not to recommend, so there's a really big issue.  We've got this system called NICE that's meant to give us fair – transparent as it can be – evaluations of drugs and treatments and yet the Cancer Drugs Fund has been used to get around that and I think that has created a big problem in inequality.
Porter
But we did hear – Jonathan made the point there that the NICE criteria and this quality of life and how much they're prepared to pay for that is a sort of one size fits all and maybe we should have a parameter that can be adjusted to suit the individual case more?
McCartney
So what you're really looking for there is a bit of flexibility within the system, a system that's flexible enough to say well actually in this case there are exceptional extenuating circumstances so we're not going to apply the rules here.  And that conflicts with the idea that you have this very fair system with rigid rules that everyone must follow, so everybody gets the same underneath it and there is an inherent conflict there, how to marry up a bit of flexibility that allows for a bit of manoeuvrability when people don't fit into the rules but also having rules that apply to everyone and therefore appear fair.
Porter
Well consultation on what should replace the CDF is due to start imminently - a process, I suspect, will be watched avidly across the UK. Thank you very much Margaret. As usual there are some links to more background information on the Inside Health page of the Radio 4 website.
This year's flu jabs have arrived at surgeries across the country but if my experience has been anything to go by, reports that last year's vaccine didn't work that well have left some people wondering whether it's worth having.
Every year flu vaccine manufacturers work with the World Health Organisation and others to predict what strains of virus are likely to cause outbreaks, so production can start early enough to beat the virus to our shores. Their track record is pretty good but last year was an exception with the vaccine only offering 30% protection - down from its usual 70-80%.
So, has that dented confidence in this year's campaign? Professor Andrew Pollard is Chair of the Joint Committee on Vaccination and Immunisation and I put the question to him on a line from Geneva.
Pollard
Yes I mean I think that's inevitable that it's very difficult for all of us to understand that there's this gestimate that has to go on.  I think the importance of being vaccinated – it can't be underestimated because it's such an important cause of serious illness every winter, so even if – if it doesn't work very well it will save some people's lives.
Porter
Looking forward now as to what's going to be happening this flu season.  First of all are we expecting a bad one and secondly are we anticipating that this year's vaccine will be as good as the best ones have been in the past?
Pollard
I mean I don't think we're going to be let off lightly this winter with a mild flu season but I have every confidence that the vaccine will have some impact and I'm hopeful that the selection this year will mean that we'll do extremely well.  But to be honest we have to wait to see which virus turns up when our flu season starts and that's the only time that we'll really know how well this year's vaccine matches.
Porter
The latest edition to the groups offered the vaccine is young children, why is it so important that they're vaccinated?
Pollard
Well the vaccine for young children is not really the same as the vaccine that we're giving in the adult and the at risk programme.  The vaccine given to children in fact doesn't even have a needle, it's a vaccine that is squirted up the nose and it's a slightly different vaccine in that it's a weakened strain of the virus and it's alive, so it actually in very young children, as of primary school age and pre-school, makes fantastic immune responses and gives them huge protection which keeps them in school and keeps those who are in risk groups healthy.  The added benefit of having a comprehensive childhood flu programme is that we know that children are very important in the spread of flu in the population and if you vaccinate school age children not only do you protect them from getting ill but you actually protect everyone else in the population, to the extent that that programme could prevent many of the cases that we see in adults and will potentially over the next few years have a huge impact on the winter pressures that the NHS faces.  So that programme has started rolling out pre-school children were included over the last few years and we're now moving in England for the first two years for primary school with the hope that within a few years from now all children will be vaccinated in primary school and that's when I think we'll start to see a very big impact.  Now there's some very exciting data just released from last winter already shows that in some of the areas of the country where we've been piloting a slightly wider flu programme for children we're already seeing the suggestion of a big impact on the whole community.
Porter
Professor Andrew Pollard talking to me from Geneva. And there is a link to the current recommendations on who should have a flu jab this year on our website.
Now, if you are parent or grandparent, you will be all too aware of the different ways that young children develop, but that won't stop you comparing your toddler with their friends - particularly when it comes to how they walk. Concerns about knock-knees and bandy legs are common in consulting rooms like mine and a significant proportion end up in specialist clinics for a definitive answer as to whether there is anything to worry about.  Clinics like this one at the Royal London Hospital where a four year boy is seeing consultant children's orthopaedic surgeon Manoj Ramachandran.
Actuality
Ramachandran
So he wakes up at night crying?
Mother
Wakes up at night.
Ramachandran
And he's always pointing to one…
Mother
Just only one knee… he's telling me it's there.
Ramachandran
And how often does it happen – every night?
Mother
Not every night, it used to be like every three weeks, then it's two weeks and then it's every week…
Ramachandran
So when's the last time it happened?
Mother
Happened two days ago.
Ramanchandran
Okay.  And then you didn't notice anything wrong with the shape of his legs but your GP noticed…
Mother
The GP noticed it yes.
Ramanchandran
That one of his legs was turned inwards.
Mother
Yes he did…
Ramanchandran
The right one.
Mother
…he checked it.  Yes.
Ramanchandran
Okay, can I have a look at him?  Darling can you go for a walk for me, can you go and touch the wall there and come back, that's it, that's it.  So both knees turn in slightly when he walks, I don't know if you can see that.  Do it one more time, have a look – if you look at his kneecap when he walks back towards us… just come back now, yes good touching, his kneecap's just turning slightly – just turning a little bit.
Mother
Probably you can notice…
Ramanchandran
And then can you just sit him on your lap, that's fine, I'll just examine him here, that's fine.  So first of all he's got good turning in of his legs, good turning out, very flexible, in fact you're quite flexible aren't you, look at that.  Are you very flexible?  I'm not, I can't do very much.
Mother
I'm not, sorry I can't do that.
Ramanchandran
Well he can.
Mother
Oh dear how did that happen?
Ramanchandran
How did that happen?  That's how he's born, so that's normal for him.  And his hips – move normally.  So he actually can turn in a long way – in and out – so he tends to walk slightly turned in because that's what most children do at this age, they tend to walk slightly in – and actually his knee shape altogether is completely fine.  You can put his clothes back on.  I've had a look at his x-rays, his x-rays are completely normal.  So this is a very common thing we see – sometimes it's linked to having slightly low levels of Vitamin D but you've had your supplements for that.  But it's mostly linked to growing pains and growing pains are slightly more common in children who are loose jointed, he's quite loose jointed, he can get his… yeah, it's often not a daytime thing, they're completely active during the day, they're running around no problems at all, but it's something that happens at night.  It's nothing to be concerned about and they're usually related to periods of growth, so whenever he's growing a little bit around his knee it will hurt more.  Okay, so from our side of things we don't need to do anything, we're not worried about him, we're discharging – you can take this to the front desk.
Mother
Okay that's good, I'm happy now, I'm happy to hear that he's okay.
Porter
And the outcome in that boy's case - that both Mum and GP were worrying unnecessarily - is not that unusual.
Ramachandran
In my clinics up to a quarter of the patients that we get sent tend to have essentially normal variances, nothing wrong, it's often parents, extended family and sometimes the GP that's stressed or worried about these conditions being something more pathological or abnormal but in fact they're just normal developmental variance.
Porter
Let's talk about what's normal then.  What happens to children's legs as they develop?
Ramachandran
There's two aspects.  One is when you're looking at them from the front and you're looking at how their legs line up.  So you can either be knock-kneed or bow legged.  Now pretty much all children are born slightly bow legged and the worst of the sort of bow leg appearance is around the age of 18 months and you start walking, on average, somewhere between 12 and 18 months.  Most children are naturally bow legged.  So we tend to get a lot of referrals around that age, when they first start walking, because people are worried that this an abnormal when it isn't.  Then the next thing that happens is by the age of three to five years old the knee undergoes a sort of normal change in morphology and becomes knock kneed, so then we get a spate of referrals that are more to do with knock knees.
Porter
And this is in the pre-school child?
Ramachandran
This is in the pre-school child.  And by the age of seven you sort of reach your adult alignment which is slightly knock-kneed in most people but there's a bit of variation and often bow legs can run in some families and knock knees can run in other families but overall you see bow legs and knock knees and then straight legs.  So we get referrals at the times you'd expect.  But if it's your child and you're watching your child walk and comparing that to other children around them at school you're right to be concerned.
Porter
Let's talk about the way that they walk because I mean you've talked about the way their knees look, the other thing that we get a lot of is people concerned about the position of the feet as they're walking and pigeon toed probably is the most common that I would see in general practice, people come in, what's happening there?
Ramachandran
When people come to see me in clinic I show them that I actually have out toes, so my feet face outwards and I walk on my – dad's foot faced outwards, my granddad's foot faced outwards – so it's something like a third of the population in the world tend to walk with their feet turned inwards, a third tend to walk with their feet turned outwards and a third walk feet pointing straight forward.  Add to that that some children are more loose jointed, so they can get their feet into all sorts of extreme positions and they tend to become comfortable either in-toed or out-toed, these are all normal variants.  And most of these just get better year on year, some of it is occasionally from the hips, some of it's from the knees but that's how your hip joint's developing or knee joint's developing and they will improve with time.
Porter
So the difficult thing – I mean you're an expert in this field – but the difficult thing for parents and for GPs like me is that we've got to look at what could be a normal variant or could not be, what are the suspicious signs – going back to the knees, when would you start to worry that something wasn't right?
Ramachandran
So I like to talk about the Ss, so if someone's symptomatic, so they've got pain or stiffness – it's another S – in and around any particular joint, particularly the knee or the hip, then we'd like to see them because there maybe something underlying that.  If they're asymmetrical – another S – so one side is more in-toed or out-toed than the other then we're a bit more worried.  If they're shorter than you'd expect them to be for their age then they may have something underlying.  I'm talking about extremes of height rather than just slightly shorter than their peer group.  If they've got any other sort of underlying condition such as syndromes or systemic problems such as hormonal problems, like thyroid issues, that can be an underlying cause.  But most often it's parents who are stressed – and that's my final S – which is they're worried about it and that's transferred to the GP unfortunately and that's difficult because we know that most of them will be okay but we end up seeing them.
Porter
There's been a lot of concern about the changing shape of our children – I'm talking about the obesity epidemic as it's referred to – has that had an impact in clinics like yours, is that bad for people's bones or gait?
Ramachandran
Yeah I mean that's been shown in our current literature too.  So something like 10% of boys and girls at reception level at school are considered clinical obese, this was from back in the 1990s, a sort of national obesity survey…
Porter
Probably worse now.
Ramachandran
Probably worse, exactly and it's 20% when you get to primary school leaving age, so year six.  We know that if you carry more weight you tend to put more weight on your feet, so you tend to be more flat footed when you walk.  You can walk with more of a knock-kneed or bow legged effect and you can get more pain in your joints, particularly the hip and the knee.  At extreme levels, when you're morbidly obese for example, so you're carrying a lot of weight, you can put so much weight on your joints, particularly the hip and the knee, that you can end up with certain much rarer conditions that we don't tend to see very often but we are seeing more and more of these conditions such as a slipped hip or a slipped epiphysis, where the ball of the ball and socket joint of the hip tends to fall out of the hip or something called Blount's Disease where you have very severe bow-leggedness mainly because there's so much pressure on the growth area of the knee.  So those are extreme conditions but we're seeing an increase in incidents globally and we think that's related to obesity.
Porter
But for the "normal" (in inverted commas) overweight child just being the fact that they're overweight may accentuate the traits at that particular age – so if they're an overweight toddler they might be a little bit more bow-legged, if they're an overweight pre-schooler they might be a little bit more knock-kneed.
Ramachandran
And have more pain, so they're more symptomatic as a result and that means that even their day-to-day activities, they're taking part in sports they find it more difficult, they find it more difficult to even go to sleep at night sometimes because they have more night pains.  There are all sorts of effects of carrying more weight around with you.
Porter
Orthopaedic surgeon Manoj Ramachandran with some reassuring guidance for parents …. and their doctors.
Now to the next instalment of our special series - Inside Language - where  Dr Margaret McCartney and Carl Heneghan, Professor of Evidence Based Medicine at the University of Oxford, demystify the terms used by researchers and the journals that publish them. This week, what does peer review mean?
Heneghan
Peer review is the process by which academic journals select publications that they want to put in their journals.  And I'll just take you through the process of say the last journal publication that we sent a piece of research to a journal.  You send the article in in an electronic system and then an editor looks at that and makes an initial internal review decision of should we send this out for peer review or not.  If he decides yes, they sometimes say no because they say it's not of interest or the question's not important, but they then send it out to peer review.  It goes out to a number of reviewers in the academic arena who are potentially experts in that area who will then look at that article and comment and critique that article and then send their comments and critiques back to you as the author.  You then get an opportunity to respond to them, improve the article in some way and then they go back to the journal, look at all of that response, your response, and then make a decision to publish or not.  And it really is a way of trying to say that actually we've improved this article, it's worthy of publication, and we've ironed out the problems.  However, there are substantial issues with peer review that do occur.
Porter
Well let's come back to those issues in a moment.  First of all Margaret when you're looking at something why is it important that it's been peer reviewed from your perspective as a reader?
McCartney
It's very often used as a quality marker.  So one of the things that we all look for in a journal article before we even begin is say is this published in a peer review journal or has this just been chucked on to someone's website and there's been no quality control whatsoever.  But as Carl says there are big problems with peer review.
Porter
So the advantage is that you would expect better quality, what can go wrong?
Heneghan
The problem is people say well it's been peer reviewed, that means this is a robust valid piece of research, which is actually nonsense.  And we've worked with a lady called Sara Schroter at the BMJ who did a study about 10 years ago that sent out an article with 14 deliberate flaws in it to about 600 reviewers, who were regular reviewers at the BMJ, and asked the reviewers to pick out the flaws and basically the reviewers were miserable, on average they could pick out three of about nine major flaws.  And so that shows that peer review is actually a pretty flawed process.
Porter
Well the quality of the process has got to be dependent on the quality of the peers hasn't it?
McCartney
You're really asking an unpaid army who are kind of themselves unchecked, it's a bit random about who gets selected for peer review, in fact sometimes authors are asked who they would like to peer review their work, have to suggest peer reviewers, so the whole system just seems – once you start to pick it apart – a bit more dodgy than one might expect.
Heneghan
There's actually even a website where you can go to, it's called Retraction Watch, Retraction Watch has picked up people who have been putting spoof names in which are themselves to peer review their own articles.  So that's one major gaff you can see.  But I think the issue is I get to peer review articles, I only have a very small amount of time and actually in that small amount of time I'm supposed to be able to look at an article that could be somebody's two years' work and try and complete a whole scientific critique.  It's practically impossible.  So what we say to people is okay it's in a journal, it's gone through some preliminary process, but you should still have your own skills to assess is this robust, is this an important valid piece of information.
Porter
And that's the take home message then Margaret, that peer review is good but it's not infallible, don't take it as a guarantee of quality.
McCartney
Absolutely and certainly when something's not been peer reviewed I suppose you're going to be a bit more concerned about it.  But the bottom line is this is why I go and look at big powerful reviews where someone else has already done the peer - post-publication peer review for me, someone else has already looked at the data like Cochrane reviews or systematic reviews, where people went through the data, that went and said look what are the flaws in the study, can we trust this study or not, just because something has been printed in a medical journal does not mean that it's any good.
Porter
Carl Heneghan and Margaret McCartney who will be back for more next week, when we will also be investigating the link between some types of commonly prescribed medicines and falls - and discovering how repeated falls are a red flag for underlying health issues, and one that shouldn't be ignored.
Join me then to find out why?
ENDS
Broadcast