Main content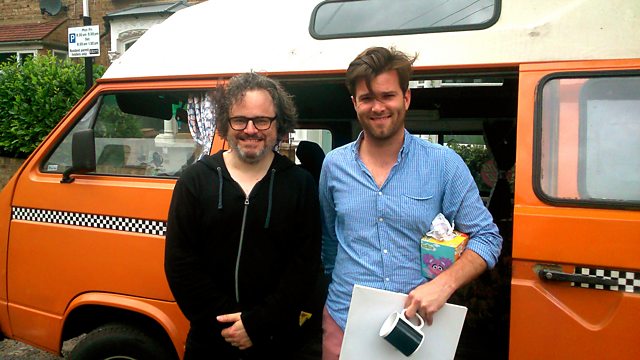 Tom Ravenscroft's Campervan of Vinyl Dreamers
Tom Ravenscroft tracks down some of the pioneering DIY musicians from the 1970s and 80s and invites them into his old campervan to tell the story of the private pressing.
Tom Ravenscroft takes up residence in an old campervan for a journey into the pioneering DIY music world of the 70s and 80s when the first private pressings were made. This is what Tom calls real people music and some of it is so odd it could never be released.
It all started when companies like SRT in Luton began to offer a new mail order trade in record pressing. The idea was to subvert the major record labels' hold on the 70s music industry and offer anyone the chance to release a record.
Janet Newton of the band Grannie recalls their heady story and eventual bankruptcy. Tom also meets Tom Morley of Scritti Politti who went on to be signed by Rough Trade but started as passionate DIY artists, hand-printing every sleeve of their first album. He hears the story of Eric the Gardener - a novelty dance single self released by Andrew McGibbon in the late 80s which dumbfounded DJs around the country.
'I've always had a fondness for people's unwavering need to put out the music they've made, often with no idea of what's really driving them to do it,' says Tom.
Much of the music was too personal (or too bad) to go anywhere. Sometimes though, it was inspirational. Artists often borrowed hundreds, sometimes thousands, of pounds in order to fulfil their dream. SRT founder, David Richardson describes how his studio turned into a factory as more and more bands arrived to press their first album.
Today these private pressings turn up in charity shops or record fairs under miscellaneous. 'There's definitely something of the League of Gentlemen about the whole scene', says Tom. But as we find out, some albums were rediscovered later on and became priceless collectables.
Produced by Sarah Cuddon.
A Falling Tree production for BBC Radio 4.