Main content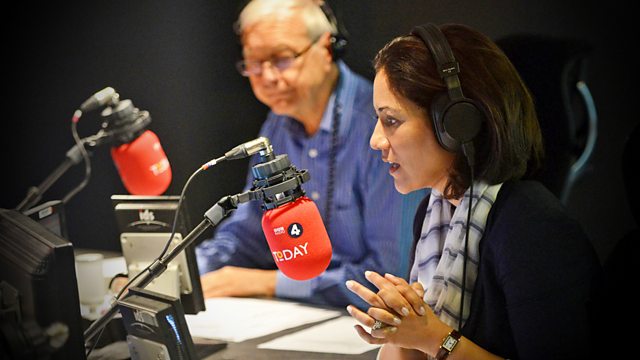 22/09/2015
Morning news and current affairs. Including Sports Desk, Weather and Thought for the Day.
Tuesday 22nd September
0650

We should stop thinking of autism as a disorder and recognise the contribution made by people on the autistic spectrum. That's the argument made by Steve Silberman in his book "NeuroTribes: The Legacy of Autism and How to Think Smarter about People Who Think Differently". We speak to the author Steve Silberman and Laura Pease, vice principal of Whitefield Schools, which provide special teaching for children with autism.

0655

A new study published today that show findings from tests carried out on burying beetles shows that bad parenting creates bad parents-to-be, while well-cared for larvae mature into high quality parents. Rebecca Kilner is a professor of evolutionary biology at Cambridge University.

0710

The chancellor George Osborne is in Shanghai today, and will be delivering the main speech of his five-day trip at the city's stock exchange. He argues that Britain should be "running towards China", despite the economic turmoil that has gripped its markets. Robert Peston reports.

0715

Head of the Confederation of British Industry John Cridland will say today that the government risks sending a 'worrying signal' to businesses by cutting support for energy from the sun, wind and plants. Roger Harrabin reports.

0720

The Met Police said yesterday that its historic child abuse investigation into the murder of three young boys is taking time but is still ongoing. The statement comes amid reports that Operation Midland was not progressing. We speak to Lord Macdonald, former Director of Public Prosecutions.

0735

One of England's top teaching hospitals Addenbrooke's has been placed into special measures. The Care Quality Commission has rated Cambridge University Hospitals NHS Foundation Trust, of which it is a part, as "inadequate". We speak to Dr Mike Richards, chief inspector of hospitals at the Commission, and Jane Ramsey is the chair of Cambridge Hospitals University Trust.

0745

Today is the 60th anniversary of Independent Television. ITV's first broadcast was on the evening of 22nd September 1955. We look back at some of the sounds of ITV's regional channels over the past 60 years. Can you recognise the jingles? Tweet or email us if you can identify them.

0750

European Union home affairs ministers are meeting in Brussels later today to try to resolve a damaging political dispute about relocating recently arriving refugees across the EU. Efforts to forge a consensus have so far fallen short. Matthew Price is in Lesbos and Bethany Bell speaks to us from Vienna. We also speak to Claude Moreas, Labour MEP for London and deputy leader of the European Parliamentary Labour Party.

0810

George Osborne will announce in a speech today that Britain should be 'running towards China' and that the UK is "China's best partner in the west". We speak to Mr. Osborne and find out why this move had come at a time when China's markets are gripped by economic turmoil.

0820

On the 60th anniversary of Independent Television, we ask whether ITV has retained its original character in the face of huge change and regional mergers. We hear a clip from one of those first broadcasts and speak to Lord Grade, former chairman of ITV.

0825

Volkswagen shares have plunged more than 18% after US regulators found that some of its cars could manipulate official emissions tests. Could something similar happen in the UK? Are EU tests as easily cheatable? We speak to Greg Archer, clean vehicles manager at Transport & Environment, a campaign group that promotes sustainable travel.

0840

Is bridge a game or a sport? That question is at the centre of a judicial review being held at the High Court today. Heather Dhondy is a board member of the English Bridge Union and Phil Smith is the director of sport at Sport England.

0850

The more lurid allegations about David Cameron in the 'Call Me Dave' book once again put the lifestyle of a certain type of student at Oxford University into the spotlight with tales of initiation rituals, boozy balls and drugs. Are things different these days? Or is there a class divide in students' social lives even now? Rachel Johnson is author of 'The Oxford Myth' and Lucy Tobin wrote 'The Guide to Uni Life'.


All subject to change.