Main content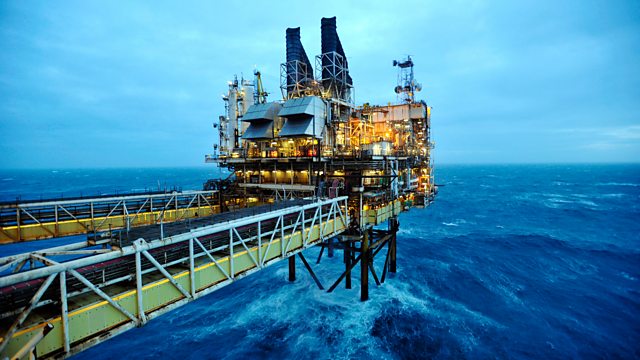 Previously seen as a gushing font of power, it is now more a sluggish dark stream running under UK politics. James Naughtie asks if Britain squandered North Sea oil.
Enough oil and gas has been drawn from the UK continental shelf to fill almost 3-million Olympic-sized swimming pools. In recent years though, the global oil price has slumped, the UK industry tax-take is well down, and redundancies are being made across the board.
Moreover, the estimated 15- to 24-billion barrels of oil left to be recovered are in ever deeper and harder-to-reach areas. What is the future for the North Sea, and for areas that rely on oil and gas for jobs, like Europe's 'oil capital' Aberdeen? Oil no longer feels transformational for Britain in the way it did 40 years ago. Far from being a gushing font of power, it is now the sluggish dark stream which runs under Britain's politics.
In this final episode of Oil: A Crude History of Britain, James Naughtie also speaks to decision-makers about the long term impact of oil on the British State. In a world in which Russia, China and the OPEC countries all use their gas and oil reserves as tools of geo-politics, did Britain make the most of its North Sea oil rush?
Last on

New Year's Day 2016
07:30
More episodes
Next
You are at the last episode
Broadcasts
New Year's Day 2016

07:30