Main content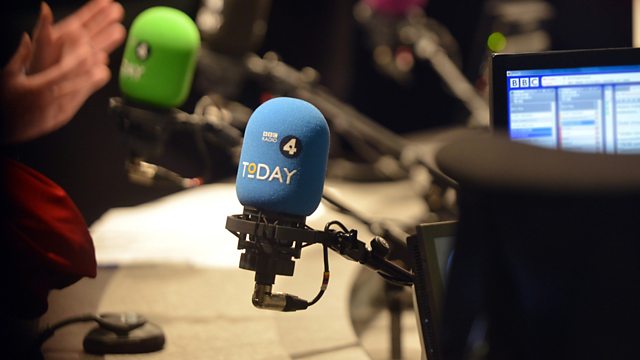 19/09/2015
Morning news and current affairs. Including Yesterday in Parliament, Sports Desk, Weather and Thought for the Day.
Last on
Today's running order
0710
Which routes are open to refugees and migrants trying to cross central Europe? The picture is increasingly confused as governments change policies in recent days. Our Europe correspondent Lucy Williamson is on the Croatian-Serbian border.
0715
Tomorrow's Greek election will be the third vote in 2015 - after the general election of January and the referendum in July - and the fifth general election in six years. Our World Affairs correspondent Richard Galpin reports.
0720
At about this time tomorrow, the upgraded Birmingham New Street station will be unveiled to passengers after a five year renovation. Our Midlands correspondent, Phil Mackie, was one of the first reporters permitted to see it.
0725
In June David Cameron appointed the Foreign Office minister Baroness Anelay as his special representative on preventing sexual violence in conflict. We spoke to the Baroness in her first broadcast interview since her appointment.
0730
Volkswagen has been ordered to recall half a million cars in the US after claims the company has used software designed to evade environmental regulations. We hear from Cynthia Giles, an assistant administrator with the US Environmental Protection Agency, and Nick Molden, founder and CEO of Emissions Analytics, an independent company measuring car emissions.
0740
New statistics from Eurostat show that only one in every five migrants claiming asylum in Europe is from Syria. Steven Woolfe is UKIP's migration spokesman and MEP, and Professor Alex Betts is director of the Refugee Studies Centre at Oxford.
0750
At the end of a week in which we have been looking at the development of artificial intelligence, we ask how effective computers can be in tracking suspected sex offenders or terrorists. Our correspondent Gordon Corera has been hearing about one British company - founded by people with a background in government and intelligence - to see what its technology can do.
0755
What can the Government do to help restart production at a Teesside steel plant which employs up to 2,000 people? Matthew Price has been speaking with Cornelius Louwrens, chief operating officer of SSI UK, and we hear from Business Minister Anna Soubry.
0810
Senior US and Russian defence officials have held their first talks in more than a year to discuss the Syrian conflict, the Pentagon says. We hear from Dmitry Babich, of the state news agency Sputnik, and Arkady Ostrovsky, The Economist's Russia editor and author of The Invention of Russia.
0820
South Africa play their first game of the Rugby Union World Cup later today, taking on Japan. One of the Sprinboks' star players is Tendai Mtawarira, but he is among a minority of black players in the squad. Our Southern Africa correspondent Karen Allen has been looking at how much has changed in South African rugby since the end of apartheid more than twenty years ago.
0825
Why has choral music been such an important part of our musical heritage? We hear from Andrew Gant, composer, choirmaster and author of O Sing unto the Lord.
0830
New statistics from Eurostat show that only one in every five migrants claiming asylum in Europe is from Syria. Lyse Doucet spoke to a Syrian man in a crush as thousands of people tried to get on buses at Tovarnik close to the Serbian-Croatian border.
0835
75 years ago today, Polish army officer Witold Pilecki walked into the midst of a roundup the Nazis were carrying out in Warsaw, gave a false name, and was arrested and sent to Auschwitz, with the intention of gathering information. His final post war report on Auschwitz has been translated into English for the first time and the translator Jarek Garlinksi is in our Tunbridge Wells studio.
0840
The row in New York over whether women should be allowed to parade topless in Times Square has turned into a debate over the pros and cons of pedestrianisation. One solution, to stop creating more pedestrian plazas in Times Square, has urban planners up in arms. Our New York correspondent Nick Bryant reports.
0850
Alastair Darling told us yesterday that Jeremy Corbyn needed to lay out his economic policies or he "would never get off the ground". We hear from James Meadway, chief economist at the New Economics Foundation, and John Van Reenen, director LSE Centre for Economic Performance.
0855
Will humans be replaced by machines? What tasks can machines already perform just as well - or even better - than we can?  We have learned they can compose jazz music and even predict a winning ticket at the races, however our business presenter, Simon Jack, found out while reporting from Seattle, that they're not perfect - yet.
All subject to change.
Broadcast