Main content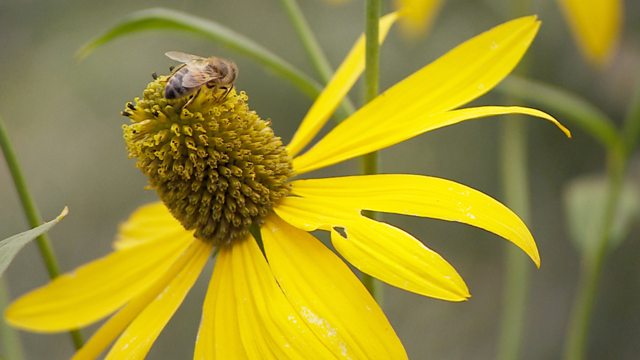 Monty Don tackles some seasonal gardening jobs at Longmeadow and guest presenter Matthew Wilson has some ideas to brighten up a dark, north-facing wall.
Clips

Garden visited
Bath WI Garden
The Royal Victoria Park
Bath
BA1 2XT 
This beautiful 57 acre park is just a short stroll from the city centre.  Opened by Queen Victoria when she was only 11 years old, it was the first park to carry her name.
Kitty's pickled runner bean recipe
340g (12oz) runner beans
340g (12oz) granulated sugar
0.5 litre (1 pint) cider vinegar
1 tsp juniper berries
Fresh ginger
Mint sprigs
Top, tail, de-string and cut the runner beans to a desired length.
Pour cider vinegar into a pan and warm through gently.
Keeping the pan on simmer add the sugar, stirring until fully dissolved.
Add prepared runner beans and juniper berries to the sugar vinegar and simmer until just tender, approximately 8 min.
Drain the beans and pack them into pre-sterilised pickling jars.
Pour the sugar vinegar over the beans covering their tops.
Peel and lightly bruise the ginger by gently bashing it with a rolling pin. Cut into pieces.
Add a section of ginger and some fresh mint to each jar.
Seal, label and leave for 2 weeks before opening.
Refrigerate after opening. They should last for at least one month in the fridge.
Serve with cold meats, cheese or leftovers.
More tips on how to successfully grow and wall train a camellia
Camellias grow well in a neutral to slightly acid, well-drained, light but humus-rich soil.
Where possible water camellias and other acid loving plants with rain water rather than tap water, which is alkaline. 
Water base of the plant to avoid potentially unsightly white marks left by calcium deposits in alkaline tap water.
When the soil is moist apply a mulch of well-rotted pine needles or shredded bark and renew in spring.
Remember to water regularly during summer months as this is when flower buds for the following year form.  Lack of moisture at this crucial period could result in reduced flowering the following year due to flower buds dropping.
Pruning is best done in spring, immediately after flowering.
Feed camellias when they are in active growth which is usually spring and summer.  Choose from a range of fertilisers specifically blended for camellias and other acid loving plants or organic fertilisers such as blood, fish and bone or seaweed products.  
Avoid feeding plants after the end of July as the resulting new growth will not have time to harden off before winter cold and is likely to be damaged.  There is little point in feeding over winter as the plants are more or less dormant and unlikely to take up the nutrients which will get washed out of the soil.
Avoid planting camellias on an east facing wall as early morning sun following a frost the night before can destroy flowers and buds.
Jobs for the weekend: Divide congested agapanthus
Although agapanthus like their roots constricted, to improve flowering they should periodically be divided and potted on.  This can be done in early autumn, after plants have finished flowering, or between spring and early summer.  As the roots can be very tough it is best to use either an old bread knife or other cutting implement with serrated edge, such as a pruning saw, to saw the root ball into smaller sections, making sure a couple of growing points remain in each divided section.    Large clumps should only be split every four to six years as dividing plants too frequently will reduce flowering. 
Jobs for the weekend: Take hardwood cuttings of roses
September and October are good months to take hard wood rose cuttings.  Select healthy plants and then cut a length of stem about the width of a pencil.  Remove the leaves and soft growth from the top.  Cut into lengths of 15-30cm (6"-12") with a sloping cut just above a leaf node at the top and a horizontal cut at the bottom to identify top from bottom.   The site chosen for the cuttings should be sheltered, open not shady, with no competition from other plants.  Insert each cutting about half way down into free draining, weed free soil, and leave undisturbed until the following winter when they can be carefully dug out and, if successfully rooted, replanted into their permanent position in the garden.   
Jobs for the weekend: Sow green manure
Green manures are plants grown to improve soil.  It is a useful and relatively inexpensive thing to do, in particular with soil in vegetable beds after harvesting crops for the season.  Depending on your choice of plant, green manures can stop nutrients leaching, as well as improve soil structure and build nutrients. Prepare a seed bed by raking soil to create a fine surface ready for sowing. Scatter smaller seeds on the soil surface and rake/tamp down. Cut down, hoe off or mow green manure four weeks before the soil is needed and/or before plants flower (whichever is sooner).  In no-dig systems, hoe foliage of short term green manures, like mustard, and leave as a mulch on soil surface. 
Credits
| Role | Contributor |
| --- | --- |
| Presenter | Monty Don |
| Presenter | Rachel de Thame |
| Presenter | Matthew Wilson |
| Series Producer | Chloe Rawlings |
| Series Editor | Liz Rumbold |