Main content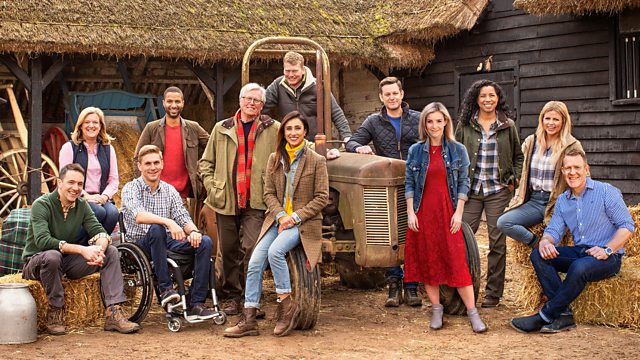 Cumbria
Countryfile is in Cumbria, where John Craven takes to the skies to discover a new line of defence in the battle against flooding - river restoration.
Countryfile is in Cumbria, where John Craven takes to the skies with the Environment Agency to discover a new line of defence in the battle against flooding - river restoration. Returning the rivers to their original meandering routes also has a positive impact on wildlife, as John finds out.
Anita Rani meets the rural farming community that lost its livelihood to foot and mouth. The community is now pulling together and, with the support of rural reverend Sarah Dunn, are rebuilding their lives and businesses. Anita also meets the horse whisperer whose life was turned around by her love of horses. Will Anita have what it takes to tame a feral pony?
It is almost two years since a group of controversial pesticides were banned from fields across Europe over fears they were harming bees. Charlotte Smith discovers that the search is still on to find conclusive evidence to back up that fear, and that there is no end in sight to the ban.
In three weeks' time, Countryfile hosts the One Man and His Dog 2015 sheepdog trial championship. Between now and then we meet the teams from England, Ireland, Scotland and Wales, all hoping to take home the trophy. Adam Henson heads to Ireland to meet the team hoping to retain the title for the Irish, and Charlotte Smith goes north to meet the Scottish contenders.
River mapping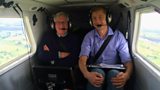 The last decade has seen the worst flooding in Cumbria for centuries. John Craven goes on a journey of discovery to see how the Environment Agency is now restoring Cumbrian rivers to their original courses after many waterways were straightened out by the Victorians. By doing this they hope to reduce flood risk in the future. John then takes to the skies to get see how high resolution photography allows scientists to identify which rivers need restoring and monitor those that have been restored. Finally, back on the ground John is shown the success stories that the river restoration has achieved – an increase in wildlife and better natural habitats. With the help of some volunteers, John dons his wellies to help survey the salmon and crayfish whose numbers have boomed since one Cumbrian river was restored.
Supporting the community
At the foot of the Cumbrian fells, the Eden Valley spreads wide and wild. Almost everyone here is connected to farming in some way. Anita Rani meets a community which has been rebuilding itself after the foot and mouth crisis. She discovers there's a strong sense of community here and at the heart is the church. Anita meets Sarah Lunn, a vicar here who looks after 13 parishes. Her rural roots run deep and she has taken to the role like a duck to water – breeding sheep and keeping ducks and geese. Sarah has been a key community figure and Anita visits the people who she had supported in these hard.
Neonicotinoids and bees
It is now almost two years since a group of controversial pesticides called neonicotinoids were banned from fields across Europe. This insecticide is chiefly used to protect oil seed rape from the cabbage stem flea beetle, but its use has now been restricted because of fears that it is leading to the loss of bees. Charlotte Smith looks at claims that farmers have been hit hard by the ban, as well as suggestions by others that the oil seed rape harvest has been a success without the use of these insecticides. But, as Charlotte discovers, with scientists still researching whether there is a connection between the loss of bees and neonicotinoids, there is still no end in sight to the ban. 
One Man and His Dog: The teams
One Man and His Dog is about to return to Countryfile. Over the next two weeks we will profiling the teams who will be taking part in this year's competition, which will be showing on the programme later this month. As usual, there are four teams. England, Wales, Ireland and Scotland will each be represented by a pair of handlers – one highly experienced 'senior' and a younger 'junior'. In this week's programme Adam Henson meets the contenders from Ireland and Charlotte Smith is in Scotland meeting their hopefuls.
Team Ireland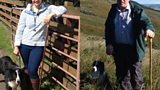 Adam heads to the Mourne Mountains in Northern Ireland, to meet the senior competitor and 2014 Irish National Champion, John Maginn. John is a fourth generation sheep farmer. He works up to a thousand black face sheep on Northern Irelands' tallest mountain, Slieve Donard, with his faithful dog Mozz. Adam then travels north-west to meet John's junior partner in the competition. Thirteen year old Shannon Conn and her nine year old dog Bill have just been crowned Irish junior champions, despite only having been trialling for the last two years.  Adam watches as Shannon trains Bill's daughter and protégé, Tori, and finds out whether she's nervous ahead of the competition.
Team Scotland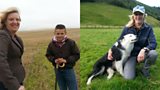 Charlotte meets 2014 Scottish National winner Julie Hill – the first and only woman to win the International Supreme Championship.  Julie introduces us to her dog Ban, who she bred and trained herself. She explains the complicated world of working with a brace – that's two dogs at the same time. Then, in a mown barley field, Charlotte discovers junior handler Joe McKenzie, who makes up the other half of Julie's team. He tells Charlotte how he persuaded his mum and dad to buy him a sheepdog, even though they had no sheep.  Now he trains his dog Tweedie every day after school.  Joe was inspired after seeing One Man and His Dog on television and says it's been his ambition to take part in the competition.
Horse whisperer
Anita Rani meets Victoria Smith, a remarkable woman who, after overcoming some personal difficulties, decided to turn her love of horses into a career and became a horse whisperer. Using alternative therapies, Victoria trains and rehabilitates horses that are injured or problematic. Anita meets Victoria as she takes on her next challenge – a Cumbrian Fell Pony which needs breaking. Victoria demonstrates the processes she goes through with the horses, but will Anita have what it takes to tame a feral pony? 
Credits
| Role | Contributor |
| --- | --- |
| Presenter | John Craven |
| Presenter | Charlotte Smith |
| Presenter | Anita Rani |
| Presenter | Adam Henson |
| Executive Producer | William Lyons |
| Series Producer | Joanna Brame |