Main content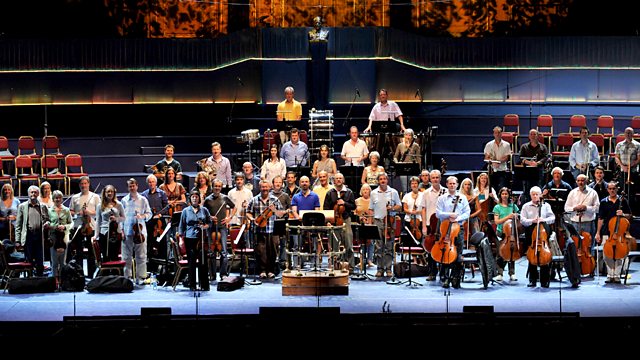 Why Music? - BBC Concert Orchestra: Human Story
Sarah Walker and philosopher Angie Hobbs seek to define what it means to be human, with the BBC Concert Orchestra under Michael Seal in a 20th- and 21st-century repertoire.
Live from Maida Vale studios, London
As part of Why Music? - Radio 3's special weekend exploring the way in which music make our spines tingle and manipulate our minds - and with the help of philosopher Angie Hobbs, the BBC Concert Orchestra and conductor Michael Seal will seek, through music, to express what makes us human. Childhood, love, marriage, fear and death all feature.
Presented by Sarah Walker
Judith Weir: Welcome Arrival of Rain
Frank Bridge: Summer
Samuel Barber: Adagio
Rodgers: Carousel Waltz
Interval: Griff Rhys Jones's Wellcome Objects. In the second of a series of five special features, comedian and actor Griff Rhys Jones explores some of the weird and wonderful objects on display in Wellcome Collection's Reading Room. With the help of Simon Chaplin, Wellcome Trust's Director of Culture & Society, Griff finds out about the Pohl Omniskop. Although resembling a Heath Robinson contraption, the Omniskop is an early example of an X-ray machine, cutting-edge medical technology, 1920s-style.
Bernard Herrmann: Psycho -Suite
Elgar: Dream Children
Jonathan Dove: A Portrait of Aung San Suu Kyi
Peter Maxwell Davies: Orkney Wedding with Sunrise
BBC Concert Orchestra
Michael Seal (conductor)
The concert's 20th- and 21st-century repertoire conveys wide-ranging themes, from the nostalgia imbued in Frank Bridge's evocations of the pre-First World War halcyon days, through politics associated with Jonathan Dove's A Portrait of Aung San Suu Kyi, to the basic life-giving elements represented in the works by Judith Weir and Peter Maxwell Davies.
Last on