Main content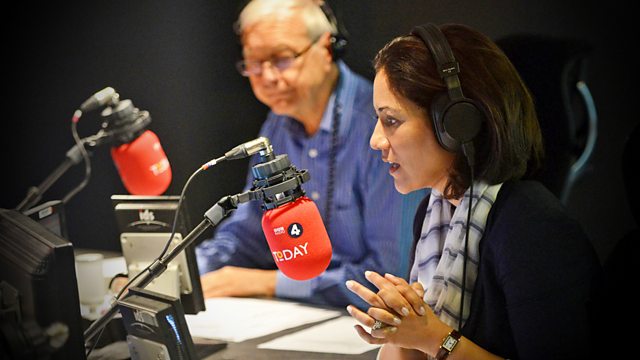 16/09/2015
Morning news and current affairs. Includes Sports Desk, Yesterday in Parliament, Weather and Thought for the Day.
Clips

Wednesday 16th September
0650
The Wellcome Trust has unveiled a £75 million fund to pay for a series of research projects to look into how the health of humans is tied into the health of the planet. Clare Matterson, director of strategy at the Wellcome Trust, tells us about the findings of the pilot studies.

0655
Demis Hassabis, the co-founder of Deep Mind, says that artificial intelligence could be as transformative as the industrial revolution. He speaks to the BBC Business Editor Kamal Ahmed as part of this week's series on intelligent machines.

0710
Kate Green, shadow minister for women and equalities talks to us about the voicing of policy disagreements among Jeremy Corbyn's new shadow cabinet.

0715
A Royal Navy warship could soon be involved in operations to target people smugglers in the Mediterranean Sea. Admiral Lord West was First Sea Lord 2002 to 2006, and security minister, 2007-2010.
0725
The photograph of Aylan Kurdi washed up in a beach in Turkey a stir around the world. Twelve years ago there was a similar response to a photo of twelve year-old Ali Abbas, who lost his arms in a coalition airstrike on his home town of Baghdad in 2003. Matthew Price has recently been to meet him.
0730
Refugees and migrants will have to find new routes into northern and western Europe after Hungary completed a new border fence, and criminal offences penalising those who cross into its territory illegally have been put into force. Lyse Doucet, our chief international correspondent, reports from Hungary.

0735
A new history of Britain tells the story of the nation through our portraits. From the iconic to the comparatively lesser known, Simon Schama's history reveals the stories behind some of our most famous portrayals of five key themes: power, love, fame, the self and people.

0745
Jeremy Corbyn is said to have received more than 30,000 replies after asking Labour supporters what he should ask David Cameron when he faces him for the first time in the House of Commons today. Our political correspondent Ross Hawkins looks at the proposed 'different sort' of Prime Minister's Questions.

0755
The New Schools Network – the charity which advises people on setting  free schools in England - is calling for greater power to be put into the hands of parents when their local school is failing to perform. Dame Rachel de Souza is the chief executive for Inspiration Trust and Tony Draper is the  president of National Association of Head Teachers (NAHT).

0810
Jeremy Corbyn will make his debut at Prime Minister's Questions today. He has called for 'less theatre and more facts' at the weekly showpiece. BBC Political Editor Laura Kuenssberg reports.
0815
Hundreds of migrants have spent the night at the closed Hungary-Serbia border, with many facing the choice of finding a new route to northern Europe. Hungary earlier warned that anyone who crosses the border illegally would face charges. We speak to Melota Sunjic, west Balkans spokesperson for the UN refugee agency UNHCR.

0820
A piece of our national comedy heritage has been found in the estate of Sir David Frost. Two episodes of 'At Last The 1948 Show' were found last year and now another two have turned up. They're being shown at the Radio Times festival today.

0830
Lord Howard, former leader of the Conservative Party and Elinor Goodman, Channel 4 News' political editor from 1988 to 2005 speak to us ahead of Jeremy Corbyn's first PMQs today.

0835

Reports emerged last week of homemade mustard gas being used by so-called Islamic State militants in Syria and Iraq. There is a history of modern jihadists experimenting with chemical weapons, dating back to al-Qaeda's training camps in Afghanistan in the 1990s. Our security correspondent, Frank Gardner, reports.

0840
A year ago today, the leaders of the three main Westminster parties made the so-called 'vow' to the people of Scotland, promising they would devolve further powers to Scotland if it rejected independence. Tonight, in his Inaugural Lecture as Chief Executive of the British Academy, Alun Evans will give his personal a year on from the Scottish Referendum. He joins us in the studio.

0845
A report in the BMJ is calling for an outright ban on artificial trans fats in processed food in England. It says thousands of lives could potentially be saved by preventing or postponing deaths from things like coronary heart disease. Jonathan Pearson-Studdard is the author of the BMJ report author and Professor Ian Givens is the head of food chain nutrition at Reading University.

0850
The technology around intelligent machines is rapidly improving and some of its products are becoming known beyond the scientific community. Our technology reporter Jane Wakefield has been to New York to meet the power couple of Artificial Intelligence, Watson and Amelia.


0855
Hunslet Mill in Leeds; St Luke's Church in Wolverhampton; Kinmel Hall in Wales – otherwise known as the Welsh Versailles.  Not necessarily household names all over the country but according to the Victorian Society they're among the top ten most endangered buildings. Griff Rhys Jones is vice-president of the Victorian Society, who produced a report on the buildings.

All subject to change.